'Fifty Shades Darker' Movie Update: Jamie Dornan Spotted Wearing Christian Grey Suit On Set [PHOTO]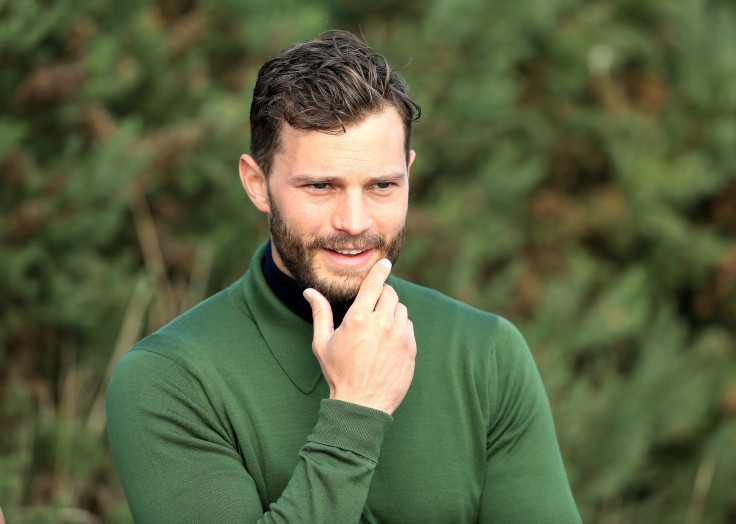 Christian Grey is in the building. Two weeks after production began on the "Fifty Shades of Grey" sequels, the movie's male lead has arrived in Vancouver to begin shooting.
While his onscreen counterpart, Dakota Johnson, has already filmed scenes for back-to-back movies "Fifty Shades Darker" and "Fifty Shades Freed," Dornan was spotted on set for the first time Monday. JustJared has photos of the 33-year-old film star exiting a vehicle and sporting his billionaire businessman character's famous gray suit.
The images are not the first glimpse of the sequels we've seen. Last week, "Fifty Shades of Grey" author E.L. James shared a candid of Johnson, 26, who plays Christian's lover Ana Steele, on Instagram. While the image was meant to feature the film's director of photography, John Schwartzman, fans were more interested in Johnson's profile in the corner of the shot.
"Fifty Shades Darker" will continue Christian and Ana's love story. The sophomore installment will feature a cavalcade of new characters, including Christian's former submissive Leila Williams, played by "Pride And Prejudice And Zombies" star Bella Heathcote. Oscar-winning actress Kim Basinger has signed on to star as Christian's former dominant turned business partner, Elena Lincoln/Mrs. Robinson.
In the sequel, Ana will land her first post-college job. Actor Eric Johnson will portray her boss, Jack Hyde. "Teen Wolf" star Tyler Hoechlin was recently announced as her co-worker, Boyce Fox.
While the "Fifty Shades Darker" cast has yet to dish any big spoilers about the film, Johnson did tease the movie will stay true to its name. "It is going to be interesting to go back and develop characters further and the story," she told Access Hollywood in January. "It's sort of like a thriller now and it kinda gets scary and its awesome."
"Darker" and "Freed" kicked off production in Vancouver in February. Some scenes will also be shot in Paris. The movies are due to wrap in July. "Darker" is due in theaters Feb. 10, 2017. "Freed," the last film in the series, will follow in February 2018.
© Copyright IBTimes 2023. All rights reserved.