'Finding Dory' Becomes Highest-Grossing Animated Movie On An Opening Weekend: How Much Has Film Made At The Box Office?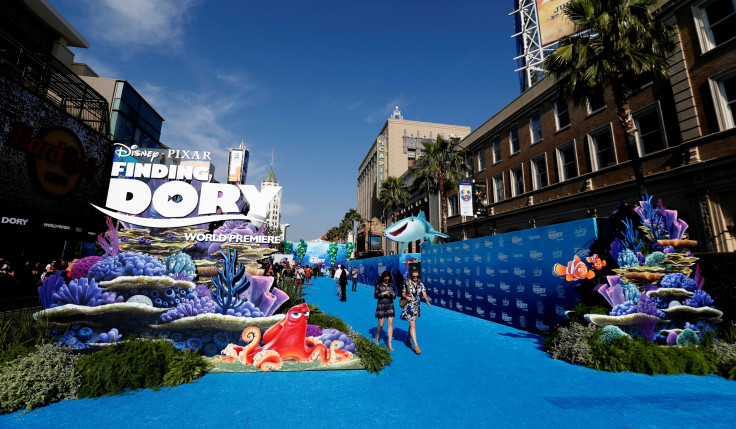 It has been a swimmingly successful weekend for Walt Disney and its Pixar Animation Studios. "Finding Dory" opened with the highest-grossing weekend ever for an animated film, with receipts of $136.2 million. The movie came 13 years after "Finding Nemo," which was one of the most popular animated productions of all time, pulling in $936.7 million.
"Finding Dory" opened in 4,305 theaters with families constituting more than 65 percent of its viewers this weekend, CNN Money reported. The forgetful Pacific blue tang fish Dory is voiced by comedian Ellen DeGeneres.
In "Finding Nemo," Dory helped the clownfish Marlin (Albert Brooks) look for his son. Now, after suddenly regaining her memory, Dory is off on a quest to find her own family in this sequel.
"My family — I remember my family," Dory says in the film. "They're out there somewhere. I have to find them. Guys, you got to help me, guys, guys — hello? Guys, where are you?"
A female leading character appeared to help drive the film's box office success in its opening weekend. "It was girl power all the way with this terrific female character. The female audience powered this opening weekend," said Paul Dergarabedian, a senior media analyst at comScore.
Coming in a distant second this weekend with $34.5 million was the comedy "Central Intelligence," starring Dwayne "The Rock" Johnson and Kevin Hart. Before "Finding Dory," the most successful animated movie during its opening weekend had been "Shrek the Third," which took in $121.6 million in 2007. Final weekend box office figures for all motion pictures are expected Monday.
While "Finding Dory" swam past the competition, it did not open with across-the-board positive reviews. Kenneth Turan of the Los Angeles Times wrote, "As the 13-year gap between 'Nemo' and 'Dory' indicates, this was not a concept that cried out to be made."
Meanwhile, the film's success has animal rights experts worried that people will rush out to buy the fish normally found in Indo-Pacific waters.
"They have a huge distribution [in the Indo-Pacific] but are under threat from illegal collection," Culum Brown, a behavioral ecologist at Macquarie University, told NPR. "They graze algae on coral reefs, which is a very important job because it prevents the corals from being overgrown."
© Copyright IBTimes 2023. All rights reserved.
FOLLOW MORE IBT NEWS ON THE BELOW CHANNELS