'Firework' Singer Katy Petty And Boyfriend Orlando Bloom Cheer Up Sick Children By Visiting Children's Hospital Los Angeles [PHOTOS]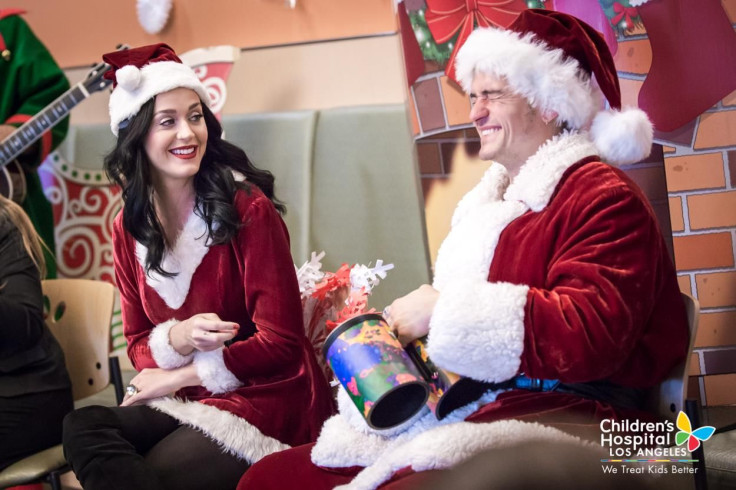 Katy Perry and her boyfriend Orlando Bloom were on a mission to spread some holiday cheer on Tuesday. The couple visited the Children's Hospital Los Angeles in California dressed as Ms. Claus and Santa Claus.
The "Dark Horse" singer and "The Pirates Of The Caribbean" actor donned red colored Santa caps and signed autographs, sung songs, posed for photos and met several sick children at the hospital. The 32-year-old songstress even performed her sit song "Firework," considerably lifting up some of the children's spirits this festive season.
The hospital staff uploaded photos of the joyous occasion on their Instagram and Facebook accounts. The adorable pictures reveal that Bloom had performed a drum solo. The couple had also sung Christmas carols. One photo shows baby Zion's hand cradling the 39-year-old actor's chin.
Several children received photographs of them posing with the celebrities.
Perry has visited the hospital before. She spoke at the hospital's Once Upon a Time Gala in July, according to Entertainment Weekly. The singer was also honored as a UNICEF Goodwill Ambassador in June. Her boyfriend also received the same honor in 2015.
The "Roar" hit-maker has always supported the welfare of children throughout her illustrious career. In May 2016, she worked with UNICEF to improve child care quality in Vietnam. She organized a fundraiser during her California Dreams Tour and donated a third of the proceeds to the Children's Health Fund.
Bloom is also no stranger to contributing to charitable organizations. The English actor has visited schools and villages in Nepal in order to support education and sanitation programs.
Although Bloom and Perry have never formally acknowledged their relationship, reports claim that they started dating in early 2016, soon after the Golden Globes after party. Bloom split from wife Miranda Kerr in 2013 while Perry ended her relationship with John Mayer in 2014.
© Copyright IBTimes 2023. All rights reserved.