First Marine Court Martialed In Nude Photo Scandal
The first Marine was court-martialed in the organization's naked photo scandal, the United States Marine Corps announced Monday. An investigation was launched after explicit pictures of female soldiers proliferated on a Facebook group called "Marines United" and elsewhere on the internet alongside their full names and ranks.
The unidentified service member pleaded guilty to the court martial June 29 and was sentenced to 10 days behind bars, the loss of three ranks and two-thirds of one month's pay. The process to "administratively separate," or essentially fire the Marine, was also underway.
Read: Explicit Photos Of Marines Being Sold On Dark Web
Two other Marines were already "administratively separated" as a result of the photo scandal, while 67 active duty or reserve members and 22 civilians were identified as persons of interest. The Marines also announced updates to training, policies and orders in order to address some of the issues brought to light as a result of the photo scandal.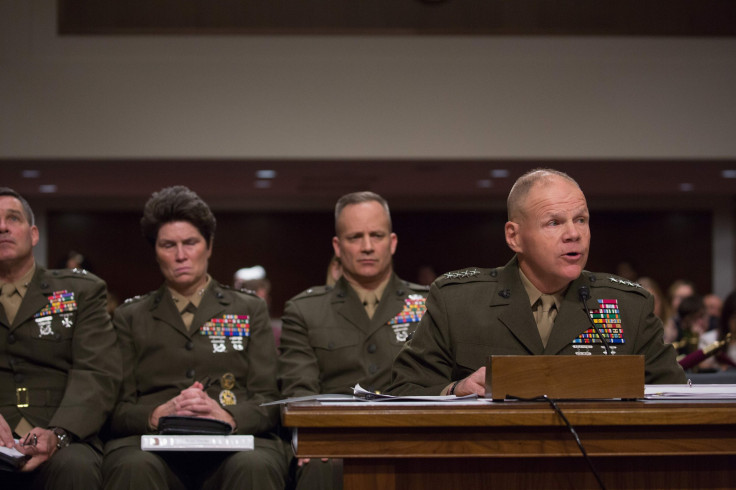 "While those changes address the immediate behavioral issue, we also remain committed to addressing and evolving our culture by changing the way we educate, train and lead our Marines," Gen. Glenn Walters, Assistant Commandant of the Marine Corps and head of the Marine Corps Task Force addressing cultural issues within the organization, said in a press release Monday. "We will not tolerate a lack of respect for any member of our team."
The Marines, as well as the Navy, changed regulations in April to ban sharing explicit photos without consent.
Read: Marines Make Sharing Private Nude Photos A Crime
"I think it's important to recognize that our understanding of the issue has evolved over time," said Walters. "How we handle cases today is much different and more effective as a result of what occurred with Marines United. Moving forward, we are planning to establish a permanent structure that can address all of the factors that contribute to the negative subculture that has allowed this behavior to exist."
© Copyright IBTimes 2023. All rights reserved.
FOLLOW MORE IBT NEWS ON THE BELOW CHANNELS