First 'Starfield' Gameplay Revealed At 2022 Bethesda Showcase [Watch]
KEY POINTS
"Starfield" can be played in either first-person or third-person
The game features customizable ships and base building
"Starfield" will feature hundreds of explorable planets
The much-awaited sci-fi RPG "Starfield" from "Skyrim" developer Bethesda Game Studios has finally unveiled its first official gameplay trailer, several years after its original announcement.
A 15-minute-long gameplay showcase was presented during the 2022 Summer Game Fest, where Bethesda's Todd Howard walked viewers through a few of the exciting things they can experience in the game.
"Starfield" is a roleplaying game that's expected to feel much like Bethesda's other titles. It can be played in either first-person or third-person perspective, and it will put players in the boots of their own fully customized character in a unique "NASA-punk" setting.
The game shies away from the over-the-top and highly-stylized space fantasy in favor of an aesthetic that's closer to the real world. Instead of sleek space suits, flashy laser weapons and imposing starfighters, "Starfield's" world incorporates semi-realistic designs inspired by modern-day spacefarers.
In the first parts of the trailer, the player can be seen landing on a seemingly barren planet. The strange fauna, flora and the accompanied resource-gathering mechanics make "Starfield" somewhat similar to "No Man's Sky," but the comparison ends the moment the player reaches a planetary outpost.
A brief firefight between the player and hostile pirates demonstrated "Starfield's" combat. A basic selection of ballistic weapons, from pistols to shotguns and automatic weapons, was shown in the snippet. Later on, the existence of heavier weaponry was suggested in a character creation menu.
The trailer then proceeded to show the capital city of New Atlantis, which will serve as a hub location for players to explore. There will be several joinable factions in the game, each with its own motives and aspirations.
In the final part of the showcase, Bethesda showed off base-building and shipbuilding. Outposts can be constructed in a fashion similar to "Fallout 4's" settlement building, while space ships can be fully customized in terms of layout and armaments.
The demo ended with a short space battle clip and Howard's promise of explorable planets across hundreds of star systems.
So far, "Starfield" is shaping up to be everything fans expected it to be. The game was originally slated to release this November, but it has since been pushed back to early 2023.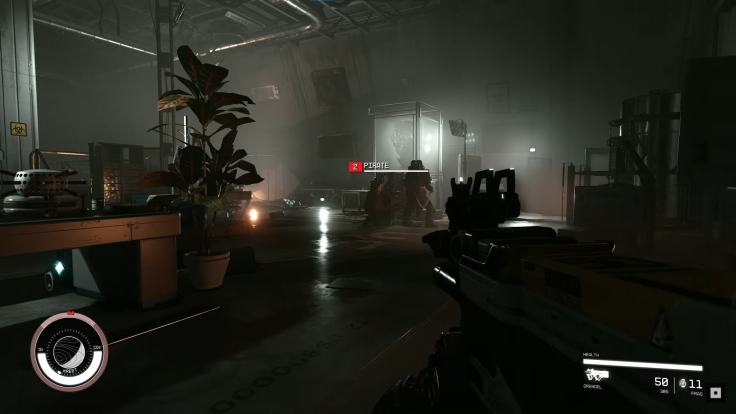 © Copyright IBTimes 2023. All rights reserved.