'The Flash' Season 1 Spoilers: Barry Gets A Visit From Felicity Smoak In Episode 4; What Happened In Mini 'Arrow' Crossover? [RECAP]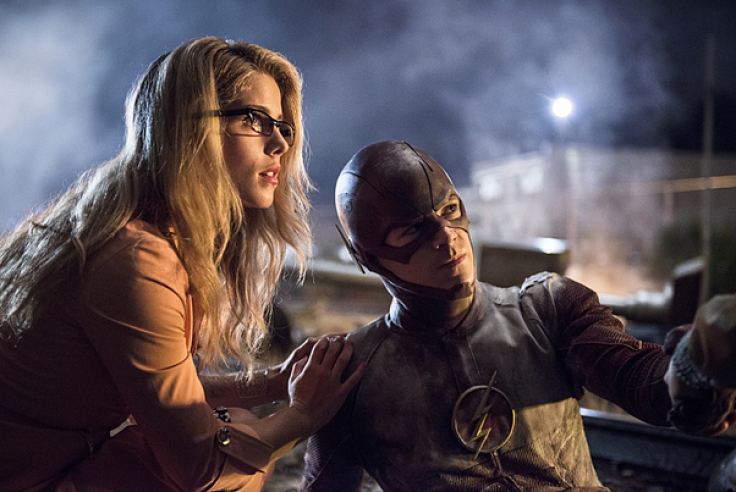 In episode 3 of "The Flash" on the CW, S.T.A.R. Labs set up a prison in the basement of the lab to house the meta-humans Barry was taking down. But in episode 4, "Gone Rogue," Barry (Grant Gustin) would need some help to take down his next foe -- help in the form of a special "Arrow" guest.
The episode began with Barry halting an attempted armed robbery of a diamond from an armored truck. Barry saw the face of one of the robbers, and with help from Joe (Jesse Martin), was able to identify the man as Leonard Snart.
Barry then got a visit from Starling City when "Arrow" character Felicity Smoak (Emily Bett Rickards) showed up at the police station. She had overhead Barry and Oliver Queen (Stephen Amell) when Barry went to Starling in the premiere, and she came to check out his powers for herself. She also has a crush on Barry and goes with him, Iris (Candice Patton) and Eddie (Rick Cosnett) to a trivia night. Things are going well until Eddie gets a call about some trouble.
Snart had shown up at the museum where the diamond was displayed and he was armed with a powerful new weapon. It turned out that back at S.T.A.R. labs, Cisco (Carlos Valdes) had built a cold gun to counteract Barry's powers in case he wasn't trustworthy. Unbeknownst to Cisco, the weapon had been stolen and made its way to Snart.
When Barry tried to stop the criminal in the museum, he was clipped by a blast from the gun and, while not seriously injured, was slowed down and unable to stop Snart from killing one of the museum's employees. But Barry did manage to chase away Snart before the diamond was stolen.
Back at S.T.A.R. labs, Barry chastised Cisco for building the gun, angry that the engineer did not trust him. Felicity tried to talk Barry down and convince him that their team was still a work in progress and not to be too hard on Cisco.
Barry wasn't over it just yet, however, and when Snart showed up at the museum in the middle of the night and stole the diamond, Barry went to chase him without turning off his earpiece. When Barry caught up to Snart on a train, Captain Cold (as Cisco called him) used Barry's compassion to his advantage, destroying the train and putting the passengers in danger to gain the upper hand. By the time Barry was able to stop the train from crashing, Snart had him at gunpoint with the cold gun.
Luckily, Cisco showed up just in time to save Barry from Snart, pretending a S.T.A.R. Labs vacuum was a prototype of another cold gun. Snart let Barry live, but took the diamond as Captain Cold made his escape. It seems this villain will be back to face Barry again.
When Barry got back to S.T.A.R. Labs it was time for Felicity to leave, but not before he caught up with her train for a more personal goodbye. While the two agreed they loved other people (Oliver and Iris), they shared a kiss. Fans will have to wait for the "Arrow" and "Flash" crossover episode to see them together again.
What did you think of "Gone Rogue?" Tweet your thoughts to @Ja9GarofaloTV.
© Copyright IBTimes 2023. All rights reserved.