'The Flash' Season 3 Spoilers: 'Justice League 3000' Version Of Scarlet Speedster Coming To Central City? [PHOTOS]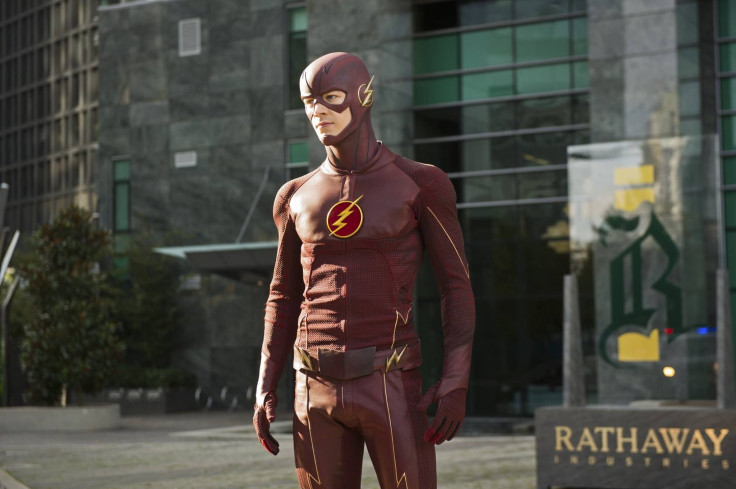 It looks like another version of the Scarlet Speedster is heading to Central City in an upcoming Season 3 episode of "The Flash."
The CW series was filming some scenes in downtown Vancouver earlier today, and YVRShoots spotted a new mysterious character in costume.
It's unclear who this character is, but a fan on Twitter pointed out that the unidentified character bears some similarities to the "Justice League 3000" version of the Flash.
For those who are unfamiliar with it, "Justice League 3000" is a comic book series that shows the future of the DC Universe as part of The New 52. It features a 31st century iteration of the Justice League, with new incarnations of Superman, Batman, Wonder Woman, Green Lantern and the Flash, who are actually cloned versions of the original characters.
Although the "Justice League 3000" version of The Flash and the mysterious character photographed in downtown Vancouver both have goggles strapped on their heads and scarves covering the majority of their faces, some fans on Twitter think that the two characters aren't the same. For one, those fans think that the costume of the mysterious character looks more like period clothing rather than a modern outfit, which shouldn't be the case if he's really from the 31st century.
Whoever this character is, it's likely that he will appear on the show sometime next year, as "The Flash" is scheduled to air its midseason finale next week and won't return on air until January.
Next week's episode of "The Flash," titled "The Present," airs on Tuesday, Dec. 6 at 8 p.m. on The CW. Check out the synopsis for Season 3, episode 9 below:
"With Alchemy (Tom Felton) and Savitar still looming threats, Barry (Grant Gustin) is unable to focus on the Christmas holiday, and especially his relationship with Iris (Candice Patton). Determined to stop Savitar, Barry goes to Earth-3 to get advice from Jay Garrick (John Wesley Shipp). Wally (Keiynan Lonsdale) wants to help Barry fight Savitar and reveals that he's been training with H.R. (Tom Cavanagh), which doesn't go over well with Barry. As Cisco (Carlos Valdes) faces his first Christmas without his brother Dante (Nicholas Gonzalez), old wounds are reopened."
© Copyright IBTimes 2023. All rights reserved.