'The Flash' Season 3 Star Joey King Shares Behind-The-Scenes Photo Of Grant Gustin, Expresses Excitement For Episode 3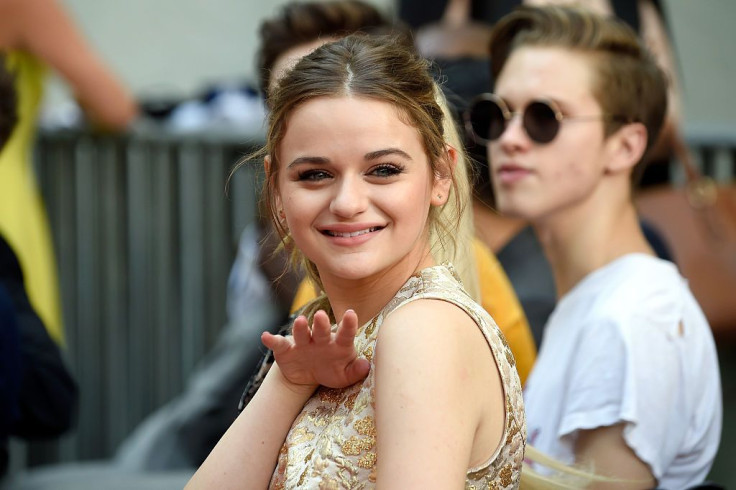 Joey King is excited for Season 3, episode 3 of "The Flash."
King, who is making her series debut as metahuman Magenta in the hour, took to Twitter to express her excitement about the episode. "Stoked on this photo I snapped of Grant [Gustin]. Can't wait for Tuesday. #Magenta," the 17-year-old tweeted on Sunday, along with a behind-the-scenes photo of Gustin in his full Flash costume.
Last Wednesday, King also gave fans a glimpse of her "The Flash" character in a promo photo she shared on Twitter.
In the comics, Magenta was one of the characters who formed the New Rogues. As part of this criminal group, she was paired with Girder (played by Greg Finley on the show) and used her magnetic powers to prevent him from rusting.
At one point in the comics, Magenta dated Wally West (played by Keiynan Lonsdale in the series). After winning the lottery, Wally bought a mansion in Middle Hampton, Long Island, and asked her to live with him. However, things were moving too fast for her, so she eventually moved out.
In the CW series, Comicbook.com reported that Magenta, a.k.a. Frances "Frankie" Kane, is a teenage metahuman with a troubled past. Just like the popular "X-Men" baddie Magneto, Frankie has the ability to control metal. Her power, however, comes with a dangerous side-effect, causing her villainous alter-ego to emerge.
"The Flash's" "Magenta" airs on Tuesday, Oct. 18, at 8 p.m. ET on The CW. Check out the synopsis for the episode below:
"Barry and Team Flash are thrilled to reunite with Earth-2 Wells (Tom Cavanagh) and Jesse (Violett Beane). Wells confides to Barry and Caitlin that Jesse has all the powers of a speedster and has been saving people on his Earth. He is concerned about her safety and wants them to talk her out of using her powers. Meanwhile, Magenta, a new meta who can control metal, terrorizes the city."
© Copyright IBTimes 2023. All rights reserved.