Florida Coronavirus Cases Surpass 10,000 For Fifth Straight Day; State Needs Lockdown, Says Rep. Shalala
KEY POINTS
Florida reported 12,478 new COVID-19 cases Sunday
Its reported more than 11,865 daily cases on average over the past seven days
Florida Rep. Donna Shalala believes the state should "close down"
There remains no mask mandate or the hint of a statewide lockdown from Gov. Ron DeSantis, R-Fl, even as his state recorded a fifth straight day of new COVID-19 cases in excess of 10,000.
The Florida Department of Health (FDOH) reported 350,047 total cases of COVID-19 in the state Sunday. Of this total, 12,478 were reported Sunday. Florida also has to mourn 5,091 deaths.
Miami-Dade County alone accounts for 84,238 cases, or 24% of the total for the entire state and 1,302 deaths (26% of total Florida deaths).
Florida reported more than 11,865 daily cases on average over the past seven days, a huge 28.9% jump compared to a week ago, according to a CNBC analysis of data from Johns Hopkins University. Over the past 10 days, Florida reported more than 10,000 new cases per day on nine of those days. It reported a record high 15,244 new cases on July 11, shattering the single-day record high reported by any U.S. state.
Florida is now considered the epicenter of the Memorial Day coronavirus resurgence in the United States. State health authorities say the continuing spike proves the virus is spreading and infecting more and more Floridians.
Florida's positivity rate was a high 11.6%, as of Sunday morning. Epidemiologists said community spread of COVID-19 can't be controlled if the positivity rate is above 5%. The positivity rate average for the entire U.S. last week stood at 8.5%.
Florida has conducted 3 million tests as of Sunday among its total population of 21.5 million persons. Hospitalization are rising. Forty-nine hospitals no longer have adult intensive care units, said the Florida's Agency for Health Care Administration. A total of 1,751 patients were hospitalized from July 13 to 17.
"We need to close down in Florida," Rep. Donna Shalala, D-Fl, told ABC's "This Week."
"Our economy will not come back until we meet this virus at its head and bring it down."
She said Florida residents are terrified "and I'm terrified, for the first time in my career because there's a lack of leadership. It's terrible. We have community spread, which means the virus is out of control."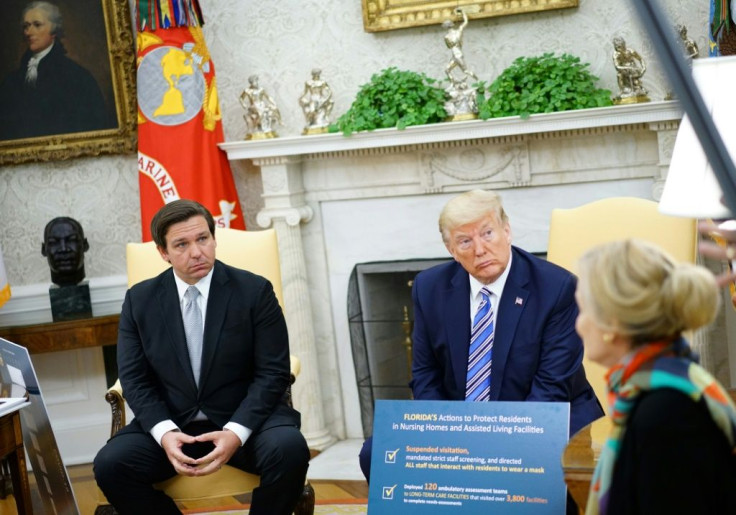 Shalala says the lack of state leadership from DeSantis has hampered local officials' ability to bring the resurgence under control. She also said Florida didn't shut down for long enough to "starve the virus" and faults DeSantis for not issuing a statewide mask order.
On June 30, DeSantis reaffirmed his opposition to reinstating movement restrictions or closing businesses to stanch the spread of COVID-19.
"We're not going back, closing things," he said. "I don't think that that's really what's driving it. People going to a business is not what's driving it. I think when you see the younger folks, I think a lot of it is more just social interactions, so that's natural."
When DeSantis made this statement, Florida had more than 3,500 deaths, over 152,000 confirmed cases and more than 14,500 hospitalizations.
© Copyright IBTimes 2023. All rights reserved.
FOLLOW MORE IBT NEWS ON THE BELOW CHANNELS