Florida Man Accused Of Making 'Mother Of Satan' Bomb Arrested
A man was arrested after a dangerous explosive substance was found at his home in Lake Helen, Volusia County, Florida, on Tuesday.
Volusia County Sheriff's Office (VCSO) said an anonymous tipster informed Lake Helen Police Department that a resident in the area had a homemade bomb under his bed. Authorities found triacetone triperoxide (TATP), a dangerous substance used by terrorist organizations to make "Mother of Satan" bombs in the house. The substance was used in the 2015 Paris attacks and the 2017 Manchester Arena bombing at an Ariana Grande concert.
"It is highly volatile. Al Qaeda has dubbed this chemical 'the Mother of Satan.' It has been used in terror attacks all over the world," Volusia County Sheriff Mike Chitwood said, Click Orlando reported.
The FBI and the Bureau of Alcohol, Tobacco, Firearms and Explosives reached the home Tuesday evening to help with the investigation.
"Throughout the rest of the night, the robot is going to take it out. We're going to pre-dig a hole, put it in and detonate it in the hole because it is too volatile to put in our trucks, move to our range to blow up," Chitwood added.
The man was identified hours later as 37-year-old Jared E. Coburn. Officials said nearby residents could be evacuated as the agencies continue to investigate.
"Everybody's here because everybody understands how volatile this stuff is," Chitwood said.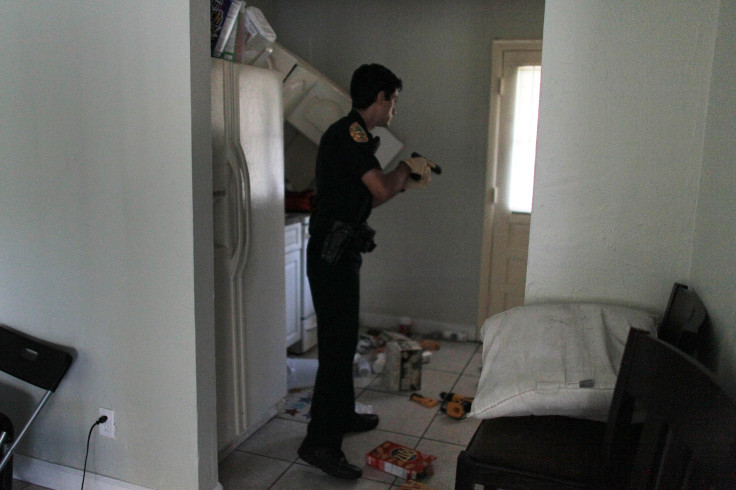 Officials also said Coburn was very skilled in handling the substance as they were very dangerous.
"I think the general consensus from the experts is this guy is pretty intelligent and pretty savvy, that he's able to produce this and not have blown himself or anything else up accidentally," Chitwood said.
He also thanked the citizen who gave them the tip and said they are glad the situation ended without anyone getting hurt.
"This just goes to show that these anonymous tips really help us out when it comes to protecting the general public. If we wouldn't have gotten that tip, who would know if we would've ever found out. Or it may have been after the fact, a very volatile situation would have taken place and somebody could've gotten hurt or, God forbid, killed. So we're very grateful for that anonymous tip," VCSO bomb squad Lt. Lou Marino said.
Coburn was charged with manufacturing an explosive device and additional charges could follow.
The discovery of the substance has however left residents of the area terrified.
"It's usually quiet, pretty quiet around here we have never had this happen, anything like that big happen in Lake Helen," said Nicole Sullivan, a nearby resident, My News 13 reported.
© Copyright IBTimes 2023. All rights reserved.