Florida School Bonfire Explodes, Shoots Debris In Different Directions [Watch]
A bonfire lit to mark a homecoming event at a Florida school erupted into a massive ball of fire, sending flames high up into the sky and wooden pallets shooting in different directions.
The shocking incident was caught on camera, and the video has since gone viral on social media.
No injuries have been reported till now in the accident, according to Miami Herald.
The incident took place Wednesday as Mosley High School in Lynn Haven was celebrating their annual homecoming event.
A video obtained by the publication shows a fire pit sitting in a grassy area. It then shows an adult approaching and tossing a flaming torch into it to ignite it, amid screams and whoops from a crowd of onlookers that gathered nearby.
As the torch makes contact with the fire pit, a loud explosion takes place, causing a column of thick smoke to fill the sky and debris to shoot in random directions.
The abrupt turn of events sends the cheering crowd into a tizzy. "Oh my god," a person is overheard saying in the video after the explosion.
In a statement on Facebook, the school called the incident "disturbing," adding they were investigating the cause of the explosion.
The Bay County Sheriff's Office said the school resource officer, who had been lighting the bonfire for the past seven years, had carried out the ritual this time too. However, he won't be doing it in the future, the sheriff's office said, according to KCRG-TV.
Bay County Sheriff Tommy Ford said the department took responsibility for the incident.
"Safety precautions were in place, to include the fire department on site and the students positioned at a safe distance behind a fence, That prevented injury or fire, but it still should not have happened," Ford said in a statement. "We apologize for any distress this has caused, and I assure you that we are officially out of the bonfire business."
The video has been widely shared on social media by onlookers, who said they heard a loud noise that came from the school grounds. "Thought it was a sonic boom!" one person wrote. "Nah, just Mosley bonfire."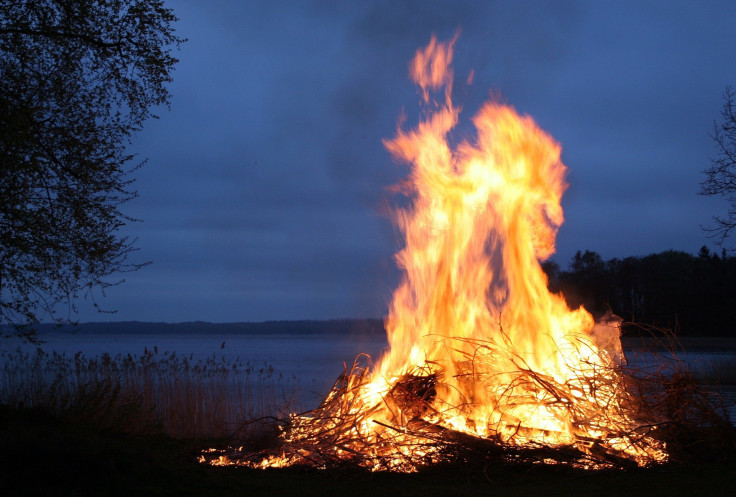 © Copyright IBTimes 2023. All rights reserved.