Florida Woman Caught With Baby Alligator In Pants, Turtles In Bag
A Florida woman pulled out a baby alligator out of her pants at a traffic stop Monday.
After a pickup truck drove past a red light in Charlotte County at 3 a.m. EDT, the deputies from the sheriff's office ordered the driver of the vehicle to pull over. After being questioned by the police, the 23-year-old Michael Clemons –the driver of the pickup – told authorities he and his co-passenger – Ariel Marchan Le Quire, 26, – were trying to collect frogs and snakes at an underpass.
After one of the deputies gave the driver a warning for the stop sign violation, he asked to see what all wildlife animals the duo had collected to make sure they were not in possession of any illegal creatures. That was when Le Quire opened a backpack to reveal 41 three-striped mud turtles inside it. According to NBC-2, there was also a softshell turtle inside the bag.
When the authorities asked the woman if the pair was carrying any other illegal animals, she pulled a foot-long baby alligator out of her yoga pants and placed it on the cargo bed of the vehicle. Following this, the investigation was handed over to the Florida Fish Wildlife and Conservation Commission [FWC].
According to the FWC, the two turtle species and the American alligator were native to the state but were regulated. The reptiles were seized and released into the wild. Both the man and the woman were cited for possessing the regulated species and for violating bag limits for the reptiles.
"Not to be outdone by #Floridaman, a #FloridaWoman pulled this alligator out of her pants this morning during traffic stop after being asked the standard 'Do you have anything else?' She also had 41 3-stripe turtles in the car. @MyFWC responded to take over the investigation," the Charlotte County Sheriff's Office wrote in a Facebook post.
While some Facebook users condemned the woman for her actions, others found humor in the situation. "It's sad she took that baby alligator from its mother! She should be ashamed! Not to mention those little turtles! She definitely deserves what she gets! If anything!" commented one user on the sheriff's post, while another wrote, "Look, the gator was with the turtles chillin [sic] when he thought he found a fish farm... instead he found himself in a tight spot with no good explanation for the FWC officers..."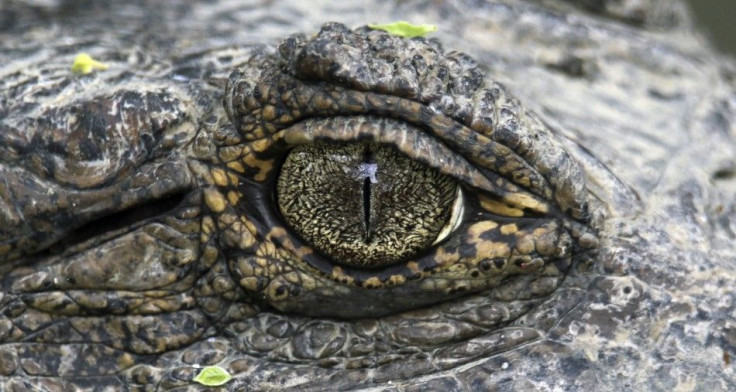 FOLLOW MORE IBT NEWS ON THE BELOW CHANNELS