Following Feud With Twitter, Trump To Sign Executive Order On Social Media
KEY POINTS
The White House confirmed Trump will issue an executive order affecting Twitter, and likely all social media firms
Twitter corrected, but didn't remove, two of Trump's tweets about mail-in voting
"Twitter is completely stifling FREE SPEECH, and I, as President, will not allow it to happen!," Trump tweeted
President Donald Trump's "big action" threat against Twitter, for fact checking two of his patently false tweets Monday, might target all social media companies, which the president and conservative allies often criticize as liberal outlets out to oppress and silence them. The right has also often railed against the liberal bias among tech firms.
The White House said Trump on Thursday will sign an executive order on social media but refused to reveal any details about it. Trump's action against Twitter, for appending stark warning labels to two of his tweets making false claims about mail-in voting, might involve rehashing one of his executive orders in 2019 that didn't see the light of day.
Back then, the administration drafted an executive order, "Protecting Americans from Online Censorship," that would have permitted the Federal Communications Commission to change the interpretation of Section 230 (or CDA 230) of the Communications Decency Act (CDA).
This law gives platforms such as Twitter legal immunity for content posted by third-party users. It also gives social media firms legal protection to make good-faith efforts to moderate their platforms. Trump's executive order might strip away this legal protection. Doing so, however, will open Trump to charges of violating the First Amendment guaranteeing freedom of expression.
Proof Trump might trod this route was evident in his warning Wednesday that the federal government would "strongly regulate" or "close them (social media companies) down" if they continue to "silence conservative voices."
"Republicans feel that Social Media Platforms totally silence conservatives voices," tweeted Trump. "We will strongly regulate, or close them down, before we can ever allow this to happen. We saw what they attempted to do, and failed, in 2016. We can't let a more sophisticated version of that happen again."
CDA 230 has been hailed as one of the best tools for protecting freedom of expression and innovation on the internet. It states, "No provider or user of an interactive computer service shall be treated as the publisher or speaker of any information provided by another information content provider."
This means online intermediaries that host or republish speeches are protected against laws that might otherwise be used to hold them legally responsible for what others say and do. Legal experts noted the protections provided by CDA 230 are unique to the United States law. Other countries such as those in Europe and most other nations don't have similar statutes on the books.
Other sources cited by the media said the new executive order will have to do with countering what Trump and right-wingers allege is a suppression of conservative viewpoints by both social media and tech firms. Trump was previously reported to be considering setting-up a panel to review anti-conservative bias in Twitter, Facebook and other social media platforms.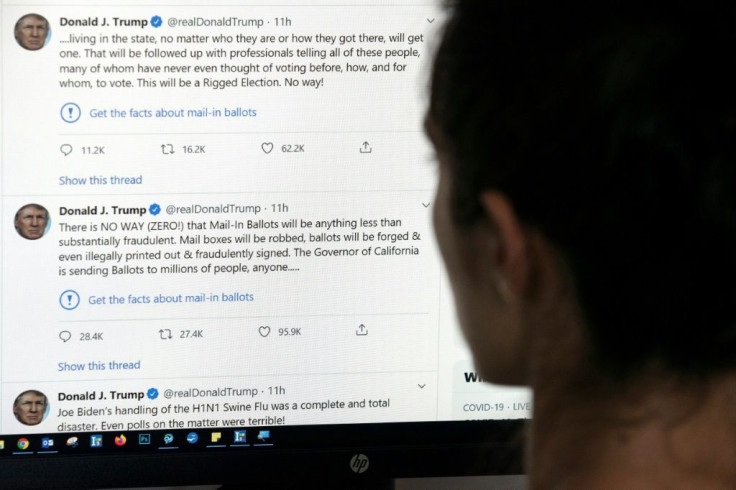 © Copyright IBTimes 2023. All rights reserved.