Former Sheriff David Clarke's Twitter Account Still Intact After Violently Threatening Media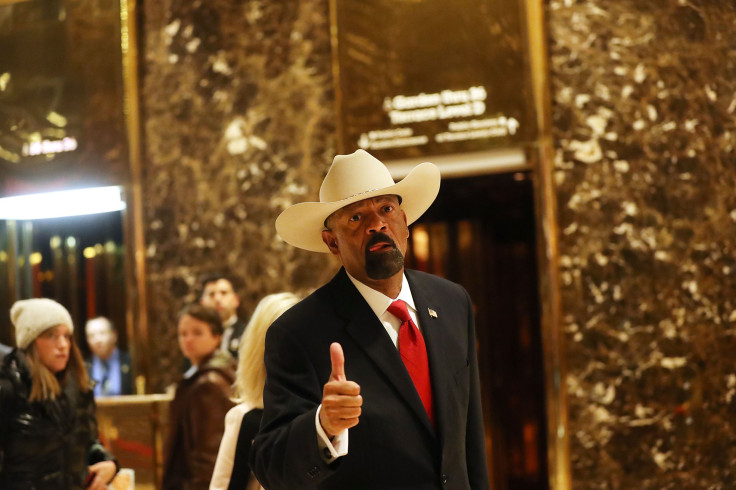 Former Milwaukee County Sheriff David Clarke lashed out at media outlets Sunday, making number physical threats against them for reporting his misuse of power.
"BREAKING NEWS! When LYING LIB MEDIA makes up FAKE NEWS to smear me, the ANTIDOTE is gone right at them," Clarke tweeted on New Year's Eve with a meme of a photoshopped image of him kicking a man which the word "CNN" for his head, who was restrained by a photoshopped President Donald Trump. "Punch them in the nose & MAKE THEM TASTE THEIR OWN BLOOD. Nothing gets a bully like LYING LIB MEDIA'S attention better than to give them a taste of their own blood #neverbackdown"
"Nothing like getting under the skin of lefties like I did today," he wrote in a different tweet. "I fight to win. You come at me libs you better bring a hard hat, some aspirin, and your veggie wrap because it's going to be a long day and I'm going to smack you around until you crawl back to your mom's basement."
Twitter has laws against expressing violence and physical threats using their medium. "You may not make specific threats of violence or wish for the serious physical harm, death, or disease of an individual or group of people," reads one of the rules of the social networking site.
However, Clarke proudly put up evidence of the fact that Twitter had investigated his account, following complaints from users, and found that the former sheriff was not in violation of any rules.
Clarke's latest outpour of anger was following an FBI affidavit – unsealed on Thursday – that showed that in January 2017, a flight passenger who was traveling with the former sheriff, filed a police complained alleging that Clarke had used his reach in the law enforcement in order to harass him, the Huffington Post reported.
Dan Black, the passenger, had shaken his head after he recognized Clarke and engaged in a brief conversation with him. The gesture was taken by Clarke as mockery and he texted his deputies to detain Black after the plane they were on landed in Milwaukee.
"Just a field interview, no arrest unless he becomes an asshole with your guys," Clarke wrote in the text, according to a screenshot obtained by the FBI. "Question for him is why he said anything to me. Why didn't he just keep his mouth shut?"
The affidavit, which was originally filed in March in order to obtain a search warrant to access Clarke's emails goes on to mention that Black was met by six deputies and two police dogs as soon as he exited the plane. He was then questioned and escorted out of the airport.
Although an investigation was conducted into the incident by the Audit Services Division of the Milwaukee County controller's office and they found that "Clarke had "used his official position as sheriff of Milwaukee County in excess of his lawful authority to direct his deputies to stop and question Black without legal justification," no charges were pressed against the Trump ally.
© Copyright IBTimes 2023. All rights reserved.