David Clarke, Milwaukee Sheriff And Prominent Trump Supporter Plagiarized Parts Of His Postgraduate Thesis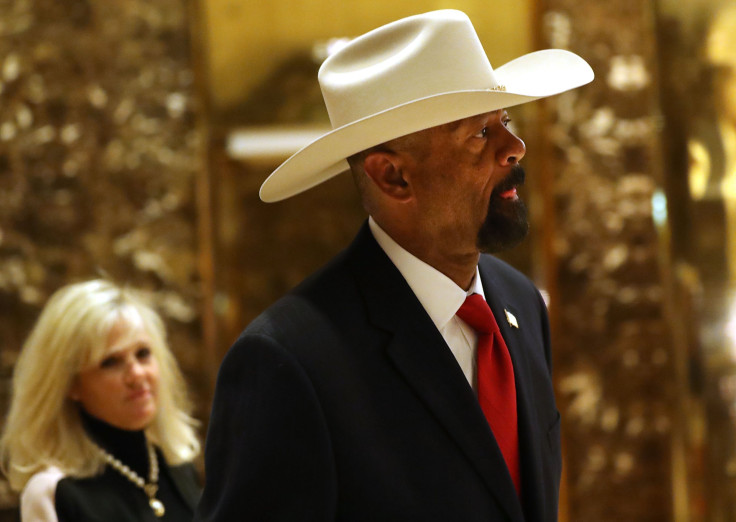 Milwaukee Sheriff David Clarke, a prominent ally of President Donald Trump during the 2016 presidential elections, who recently said he accepted a position at the Department of Homeland Security (DHS), has been accused of plagiarism by a CNN report released Saturday.
In Clarke's 2013 master's thesis on "Making U.S. security and privacy rights compatible," he failed to properly attribute his sources at least 47 times. He completed his master's degree from the Naval Postgraduate School in Monterey, California.
Read: Donald Trump Cabinet: Anti-Black Lives Matter Sheriff David Clarke Eyed For Department Of Homeland Security
The Naval Postgraduate School spokesperson, Lt. Cdr. Clint Phillips told CNN the standard procedure after accusations of plagiarism is to open an investigation. The thesis had been removed from the school's website; however it is still available via online databases.
According to guidelines on plagiarism posted on the Naval Postgraduate School's website, "If a passage is quoted verbatim, it must be set off with quotation marks (or, if it is a longer passage, presented as indented text), and followed by a properly formulated citation. The length of the phrase does not matter. If someone else's words are sufficiently significant to be worth quoting, then accurate quotation followed by a correct citation is essential, even if only a few words are involved."
The school's honor code defines plagiarism as "submitting material that in part or whole is not one's own work without proper attribution. Plagiarism is further defined as the use, without giving reasonable and appropriate credit to or acknowledging the author or source, of another person's original work, whether such work is made up of code, formulas, ideas, language, research, strategies, writing or other form(s)."
The CNN report showed Clarke did not attribute text directly taken from a 2002 ACLU report about "The Government's Demand for New and Unnecessary Powers After September 11," a 2007 ACLU report on "fusion centers," a 2003 ACLU report critical of the FBI's records-collection practices, and a 2011 ACLU report on the need to maintain secrecy laws.
Read: Can Donald Trump Still Win? Sheriff David Clarke Calls For 'Pitchforks And Torches' To Stop 'Rigged' Election
He also reportedly plagiarized words from several other reports including the 9/11 Commission Report, various think tanks like the Pew Research Center, a 2012 report by the Constitution Project, a 2003 report by the US General Accounting Office, and media outlets like a 2013 Washington Post article and former President George W. Bush's book, "Decision Points."
Clarke was contacted for comment by CNN, but instead of replying he tweeted saying one of the authors of the report, Andrew Kaczynski is a "sleaze bag" and it is a "hack" by CNN and that Kaczynski had also done similar stories previously accusing Sen. Rand Paul and Monica Crowley.
Clarke said Wednesday he had accepted a job in the Department of Homeland Security. However, the DHS did not confirm his claim.
Clarke told conservative radio host Vicki McKenna during an interview: "I'm both honored and humbled to be appointed to this position by Secretary Kelly, working for the Trump administration."
During the 2016 presidential race, Clarke was a close ally of Trump and had praised him since the president took office in January. At the Conservative Political Action Conference (CPAC) in February, Clarke also expressed his support for Trump's executive orders on immigration.
"In President Trump, we have chosen a leader," Clarke told the crowd at CPAC. "A leader who I expect many of you in this room well know that I both campaigned and vigorously supported for the highest office in this land."
© Copyright IBTimes 2023. All rights reserved.