'Forza Horizon 3' FAQ Details Special Cars, Street Racing, Hub Progression And More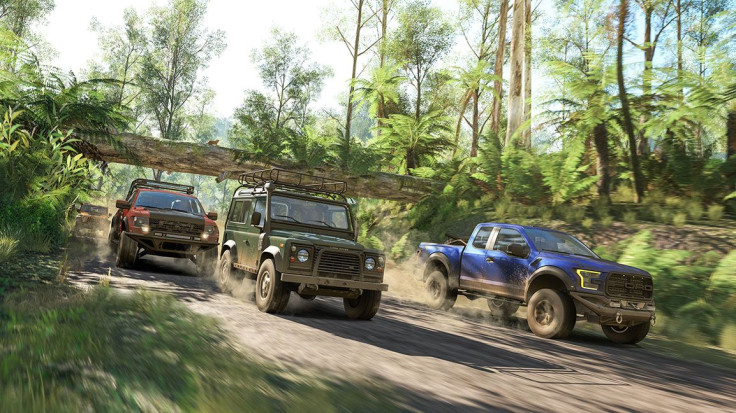 "Forza Horizon 3" details have arrived in a recently surfaced Xbox Live FAQ. Within the dense document lies new info about cars, street races and progression systems.
First off, it appears that special cars, called Horizon Edition Cars, will offer bonuses like skill multipliers and XP boosts. Probably the most dubious thing about these trumped-up vehicles is that it's not revealed how they unlock. Fans on Reddit suggest the possibility of Horizon Edition content as a pre-order bonus, but that's not confirmed. Alternatively, they could be earned or found through traversal of the open-world map.
In the tradition of souped-up rides, "Forza Horizon 3" will also include a street racing mode that becomes available after success in head-to-head races. This match type puts players on tracks with no barriers and increased traffic density. If enough cred is earned, victors will be able to take on challenges from top street racers in the area.
Every one these new concepts feeds into "Forza Horizon 3's" hub-based progression system. During the course of the game, racers will be able to create up to four expandable festival sites with their own cache of fans. Getting more fans to join festivals means access to more races, PR stunts and Bucket List challenges. Upgrading each base is essential to unlocking more content.
Such big-picture elements aren't the only unique highlights in the manual, however. We've also uncovered a small tease about how music functions too. "Forza Horizon 3" introduces a new soundtrack-focused perk called Skill Songs. Periodically during gameplay, the virtual DJ reminds drivers that a Skill Song is coming. While it's playing, artful maneuvers earn double Skill Points.
"Forza Horizon 3's" developers at Playground Games hope their next racing game is the biggest and most diverse "Horizon" experience yet. The title's E3 2016 debut offered insight into its Australian setting, varied locations and inclusive avatars.
"Forza Horizon 3" comes to Xbox One and PC on Sept. 27.
What do you think of "Forza Horizon 3's" hallmark features? Is street racing a cool idea? Tell us in the comments section!
© Copyright IBTimes 2023. All rights reserved.
FOLLOW MORE IBT NEWS ON THE BELOW CHANNELS