'The Fosters' Season 5 Spoilers: Callie, Aaron Share Sweet Episode 7 Moment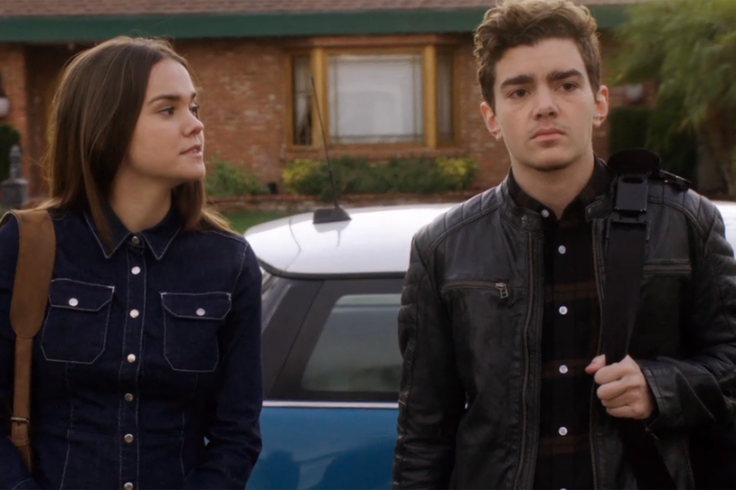 "The Fosters" Season 5, episode 7 will see Callie and Aaron becoming closer to each other.
In "Chasing Waterfalls," Callie (Maia Mitchell) tells Aaron (Elliot Fletcher) that some of her classmates don't like the self-portrait that she submitted. Aaron will be quick to give Callie praise and remind his girlfriend that she is beautiful.
Callie stresses an important point about being confident in one's self. The lead character notes that Aaron is very sure of himself, since he transitioned to a man, while she, on the other hand, is still struggling with discovering who she really is and what she wants.
In the exclusive sneak peek released by Freeform for episode 7 (via Entertainment Weekly), Callie and Aaron have a conversation about it while seated in front of a pile of huge rocks, with a waterfall surrounding them. Aaron is shirtless, while Callie only has her underwear on. At one point, Aaron wraps Callie with a blanket to keep her warm.
Meanwhile, "Chasing Waterfalls" will also see the arrival of Lena's (Sherri Saum) parents. In the photo released by the network (via Spoilers Guide), Lena and her dad have a heart-to-heart outside of her home. Both of them have huge smiles on their faces. It is still unclear what the purpose of Lena's parents' visit really is, but this will be revealed on Tuesday night's episode.
Elsewhere, Mariana (Cierra Ramirez) will continue to get close to their neighbor, Logan (Christopher Meyer), but this backfires when Logan's girlfriend catches on. In the previous episodes, Mariana has been trying to flirt with Logan, and he has been giving her mixed signals. A possible confrontation between the three characters may take place in "Chasing Waterfalls."
Additionally, Brandon (David Lambert) will be preoccupied with planning an engagement party since he has been chosen to be the best man for one of his friends. But will he be able to rise up to the challenge when Mariana tells him that there are so many things that a best man needs to do?
"The Fosters" Season 5, episode 7 will air on Freeform on Tuesday at 8 p.m. EDT.
© Copyright IBTimes 2023. All rights reserved.