Fox Hunting Fight Fires Up UK Animal Lovers: Conservative Party Told To 'Keep The Ban'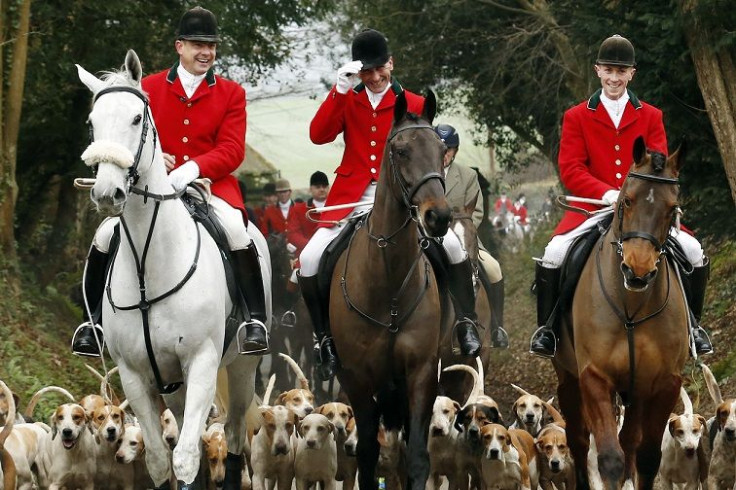 The fur is flying in the U.K. Thousands of animal lovers across England and Wales are telling British Prime Minister David Cameron to keep a ban on fox hunting in place after some members of the Conservative Party said they hoped to see the controversial blood sport return to the English countryside.
The Labour Party outlawed fox hunting in 2004 as part of a widespread ban on the practice of hunting wild animals with dogs. But Cameron, a conservative, has said he would like to see the fox-hunting ban lifted. And with the Conservative Party having seized an outright majority in national elections earlier this month, he just may have the means to do it. Simon Hart, a Conservative MP for Carmarthen West and South Pembrokeshire, told Britain's Sky News Sunday that he hopes a debate on the issue will begin as early as this fall.
Not so fast, say supporters of the ban. Two online petitions on the Petition Site have gathered more than 75,000 and 62,000 signatures, respectively. Signers of the petitions create an email to their parliamentary representatives telling them to keep the centuries-old practice illegal. "Fox hunting involves setting a pack of dogs on a fox and then chasing it on horseback," petitioner Beth Granter wrote. "Once caught, the dogs will rip apart the fox until it dies a horrific death."
On Change.org, a third petition has attracted an additional 304,000 supporters. If that wasn't enough, the animal-rights group Humane Society International was also asking voters to make their voices heard, posting an online form meant to streamline the process of getting in touch with members of Parliament. Supporters of the fox-hunting ban are also rallying on social media with the hashtag #KeepTheBan. To make their point, some Twitter users are tweeting photos of freshly killed foxes being violently ripped apart by dogs.
The controversial issue is likely to mobilize parliamentary members across Great Britain. Nicola Sturgeon, leader of the Scottish National party, tweeted Saturday that "[w]e certainly don't agree with repealing" the ban on fox hunting, the Guardian reported. SNP members are not required to vote on issues affecting only England and Wales but may do so in some cases.
As the Guardian reported, the Conservative party holds a slim majority of just 12 members, meaning the repeal could be easily blocked with just a handful of defectors.
Christopher Zara is a senior writer who covers media and culture. News tips? Email me here. Follow me on Twitter @christopherzara.
© Copyright IBTimes 2023. All rights reserved.
FOLLOW MORE IBT NEWS ON THE BELOW CHANNELS