'Foxcatcher' Movie: Bennett Miller, Steve Carrell Blur Line Between Comedy And Tragedy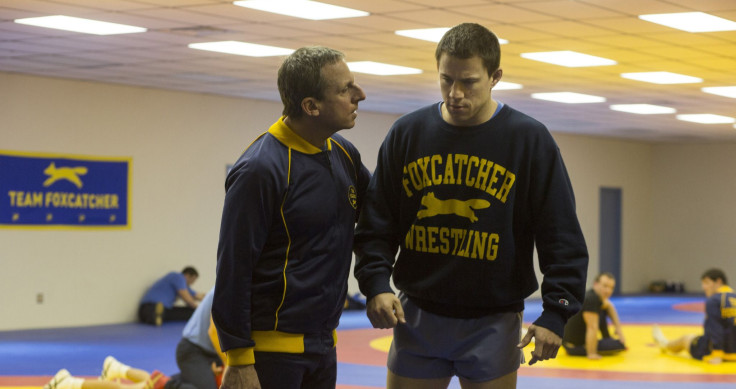 Steve Carrell's performance in Bennett Miller's "Foxcatcher," a true crime thriller about John Eleuthère du Pont's twisted quest to fulfill his robbed childhood wrestling dreams, singlehandedly makes a case for allowing actors to experiment between genres. Carrell, best known for his roles in comedies like "The Office," "The 40-Year-Old Virgin" and "Anchorman," completely disappears into the role of the intense and deeply troubled heir to the du Pont chemical fortune. And even though the story ends about as badly as any story can, there are plenty of laughs on the way there.
In a press conference after a New York Film Festival screening, Miller explained that the comedic elements of the true-life tragedy were what made the story so attractive to him.
"The dark, comic absurdity of one of the wealthiest men in America bringing a team of wrestlers into his estate to train and become their coach without knowing anything about wrestling, it was funny," Miller said. "Except the outcome was horrible."
In "Foxcather," the friendless, isolated du Pont is singularly fixated on the brothers Mark and Dave Schultz (Channing Tatum and Mark Ruffalo, respectively), who had both won Olympic gold medals in the 1984 games. du Pont poured all of his energy and a significant amount of resources in training Mark for a repeat gold medal. But his support came at a very high price.
"I think he was a very tortured individual," Carrell said at the press conference. "There was a lot of speculation about his mental state. ... and it's your best estimation as to who someone might have been."
While the man depicted in the film is impenetrable in some ways, he is clearly someone who vastly overestimates his importance and his contributions to society. This self-aggrandizement – which is responsible for some of the film's funniest moments -- is allowed to go unchecked, as almost everyone he comes into contact with is on his (often very generous) payroll.
At one point, Carrell's du Pont tells Mark that since he considers him a friend, he should stop calling him Mr. duPont, or sir. Without any context, he then says, "Most of my friends will call me Eagle, or Golden Eagle."
In "Foxcatcher," du Pont paid to make a so-called "documentary" about himself – one that was developed to present a very skewed sense of his effectiveness as a wrestling coach. Carrell said some of the unscripted, raw footage filmed for that was not intended for the final product -- that showed "the parts of himself that du Pont did not want to be seen publicly," as Carrell said -- was an invaluable resource. "That gave me probably more insight than anything as to the type of person he was. The way he was instructing the crew, the way he was going through the lines in his head trying to establish an identity for the camera."
Indeed, the scenes devoted to the making of the documentary have a certain mockumentary-like quality, in the vein of a Christopher Guest film. But there's a crawling undercurrent of darkness in those scenes and in "Foxcatcher" as a whole.
"I wouldn't call it a comedy," Miller said. "It's the kind of thing that's funny until it's not, and then it's not funny at all."
© Copyright IBTimes 2023. All rights reserved.