Freddie Gray Trial: As Baltimore Waits For William Porter Verdict, Businesses Worried More Riots Will Rage Through City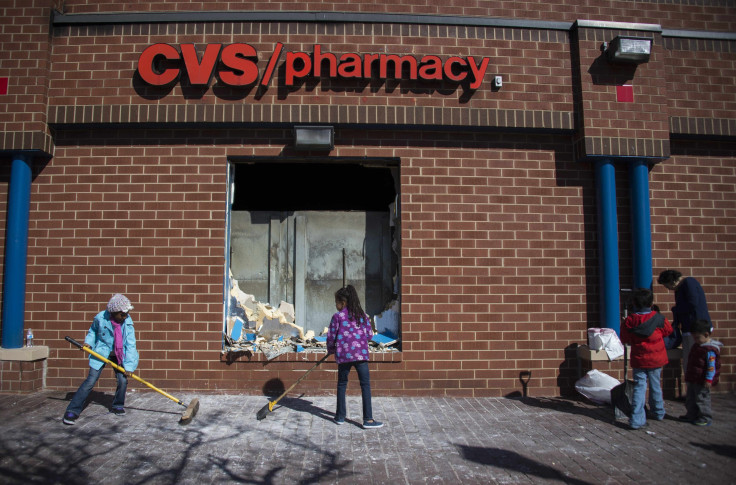 Pedro Silva, owner of Carolina's Tex-Mex restaurant in the historic waterfront Fells Point neighborhood of Baltimore, hasn't seen much business as of late. Foot traffic in the neighborhood has grinded to a halt in the past few months, as a growing crime rate has made people more wary of walking around at night — something Silva attributed to the violence that escalated during April riots following the death of Freddie Gray.
Silva, who has operated the restaurant for 11 years, is now worried that more riots could push him out of business for good. "I will have to work for somebody else," Silva said. "It's heartbreaking, it will be horrible. I will go to sell hot dogs or something, but I won't give up, I will do my best to survive; it's hard when you've been in business for so long."
As a jury deliberates Wednesday the case of William Porter, the first of six police officers charged with Gray's death, and city officials prepare for the potential of unrest, local business owners like Silva are bracing for the possibility that violence will once again sweep through Baltimore's streets. The riots in April caused an estimated $9 million in damage, with almost 400 businesses damaged as residents protested social injustice across the city. Some of the businesses looted are hopeful that similar unrest won't happen again, while others worry that the verdict will wreak havoc once more.
"I wouldn't be surprised," Silva, 50, said of the possibility of more riots. "What people did in April was not protest, that was robbery. People look for little excuse to rob people."
The death of Gray, a 25-year-old black man, initially sparked peaceful protests, but later escalated to widespread violence, including arson and looting. About 400 businesses were damaged in the riots, and while many of the stores have reopened their doors — many with beefed-up security — others have struggled or closed.
After being arrested, Gray suffered a fatal injury to his spinal cord while being transported in a police van, and was eventually found unresponsive before he died a week later. Some residents took to the streets to protest Gray's death, which many viewed as the apex of police brutality.
Amid the jury deliberations, Mayor Stephanie Rawlings-Blake has told Baltimore business owners to operate as usual, but she also activated an emergency operations center Monday, the same day the jury in Porter's case went into deliberations. The city's school system has warned students that any form of civil disorder won't be tolerated, and the Obama administration asked Monday Baltimore to be peaceful
Police reinforcements have been sent from area's surrounding Baltimore to deal with any unrest as a last resort, as many criticized the police response to the April riots, saying officers in the field lacked clear directives and the police command center was in chaos. Activists have criticized the amplified security, saying that if justice is served the increased police presence won't be needed. During the trial, Porter pleaded not guilty to involuntary manslaughter, second-degree assault, reckless endangerment and misconduct in office.
While Silva's restaurant wasn't broken into like so many other businesses in Baltimore — it has gates on its doors — he did watch a convenience store across the street get ransacked, he said. Silva said he called police, but didn't see a response.
Dwayne Weaver, owner of Baltimore's Keystone Pharmacy, also said police weren't as active as they could have been during the riots. Weaver's pharmacy, which he has owned for 30 years, was looted during the riots so badly it took Weaver seven days to restock the shelves, and he hopes that if a not-guilty verdict is rendered, police are better prepared to deal with the threat of violence.
"The police should have had time to plan, they're aware of what rioters are capable of doing," Weaver said. "Everyone underestimated what they could do [in April.]"
Weaver first heard his pharmacy was looted when his landlord, who was standing on an adjacent rooftop, called him. He was heartbroken, he said, when he and his wife came to the store the next morning to find rioters had nearly emptied his store of everything that could be taken.
While rioting is not inevitable following the jury's decision in Porter's case, Weaver said additional looting is still a concern. He's hopeful, he said, that the city will be able to contain any violence.
"Of course I'm worried," Weaver said. "I don't know how you couldn't be really, you'd have to be in a coma not to worry."
Taylor Alexander first learned the women's clothing store she owns, Flawless Damsels, was looted when she turned on the local news the morning after the riots, and saw that it had no doors and windows. "I just paused the TV and just stood there, I was in shock; I couldn't believe something I took all that time to build was in that state," Alexander said.
The store she opened in September 2013 had between $60,000 and $100,000 in damage from the looting, causing it to close for four months. Alezander, 24, was able to reopen her boutique with the help of a loan from the Baltimore Development Corporation, which promotes economic development throughout the city, and has since installed new security features such as a gate to cover the front of her store.
While she isn't worried about additional rioting, she said the prospect of it has crossed her mind, and that she can only hope and pray it doesn't happen again. There isn't much a business owner can do to stop rioters, she said.
"I can't necessarily sit on the side and fight because that puts my life in danger," Alexander said.
Rioters also looted CapitolMac, an Apple product specialist store, smashing its doors and windows to get access to the high-priced tech goods inside. The store didn't fare as badly as others after the riots, as many of the products rioters tried to grab were connected to the walls and most looters dispersed once a police car drove by, CapitolMac owner Dheeraj Vasishta said.
Insurance covered much of the damage costs, Vasishta said, and he isn't too worried another riot would break out with such intensity as it did in April. He said police seem to be better prepared now, and that there is also a sense in the city that the first riots never really accomplished anything.
"We've done probably about all we can do as far as better security and physically making it difficult to do damage to the business since April," Vasishta said.
While Vasishta said his store only had about $20,000 worth of damage, other businesses were not so lucky. Mario Diaz said his store, Sneaky Feet, had $150,000 worth of damage from the riots, during which people stole 95 percent of the store's inventory of shoes.
Sneaky Feet closed for three months, and with the help of loans from Maryland and the Baltimore Development Corporation was eventually able to reopen. Diaz said business is only at about 65 percent of what it was before the riots, with many of his previously regular customers not coming around much anymore.
While many of Diaz's friends have told him there will be a riot after the verdict, he remained cautiously optimistic that would-be rioters will not take to the streets like they did before.
"If my store is affected again I don't know if I'll have the same opportunity to work in Baltimore," Diaz, 50, said. "I might have to go somewhere else."
© Copyright IBTimes 2023. All rights reserved.