Freddie Gray Trial: Baltimore Police Prepare For Riots Ahead Of Monday Closing Arguments In William Porter Case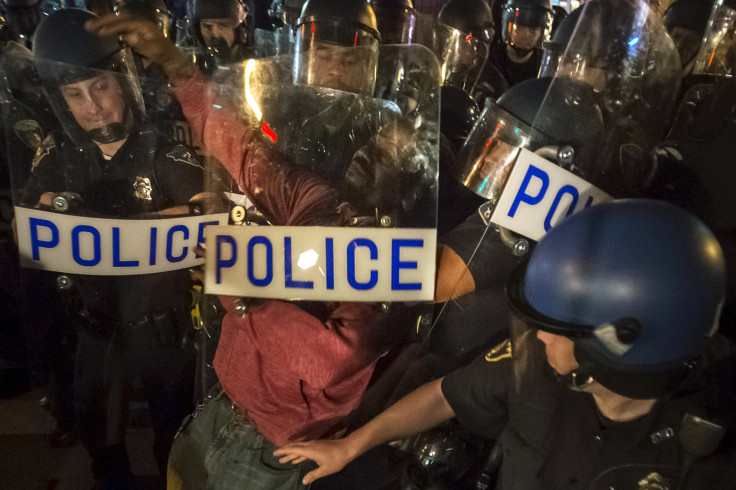 The Baltimore Police Department on Friday the canceled the leave of any officer who had it scheduled next week, local media reported. Officers were told to report Monday with their riot gear, the day closing arguments are scheduled in the first trial of one of the six police officers charged in the death of Freddie Gray.
On that day the jury will likely get its instructions to deliberate the fate of Baltimore police Officer William Porter, whose defense rested its case Friday.
The death of Gray, 25, of a spinal cord injury while in police custody in April, led to violent riots and protests throughout Baltimore. His death also led to the indictment of six officers, five of whom are scheduled to have trials between January and March, CNN reported.
The protests after Gray's funeral turned violent soon after they started, with lootings becoming common and storefronts being set ablaze, NBC News reported. A curfew was put in place, a state of emergency was declared and the National Guard was called in to try and quell the violence. Following the riots, Baltimore police Chief Anthony Batts was fired in July.
When the verdict will come in the first trial is unknown. Porter has pleaded not guilty to his charges, which include reckless endangerment, second-degree murder, misconduct in office and involuntary manslaughter, the Baltimore Sun reported.
The defense attorneys for the six officers charged tried to move the trials out of Baltimore, but in September a judge ruled they must be tried in the city, the New York Times reported. Some of the defense attorneys argued that the $6.3 million settlement given to Gray's family to not sue the city would prejudice jurors. One argued that the settlement essentially translates to the view that the officers are guilty.
© Copyright IBTimes 2023. All rights reserved.