Frontier Passenger Allegedly Punched Pregnant, Deaf Woman after Assaulting Service Dog
A man aboard a Frontier Airlines flight ended up punching a service dog as well as its pregnant and deaf owner after the former's wife complained she was allergic to the animal.
When Frontier Airlines Flight 1752 from Colorado Springs, Colorado, was about to land at the Orlando International Airport, in Florida, Petrini Manley, 56, complained she was allergic to dogs.
A family seated near her and her husband was accompanied by a service dog — a Great Dane named Zariel — who stood up when plane began to descent. According to the police report, Timothy Manley, 59, "punched it (the dog) with a closed fist, causing it to yelp" and take cover under the seat.
Timothy, however, denied the accusation that he punched the dog but admitted he swatted it away in order to put distance between the animal and his wife.
"I pushed it away," he told ABC News. "I wouldn't call it a punch."
Timothy's action annoyed the dog owners, Mathew Silvay, 30, and his fiancé Hazel Ramirez, 21 — both of whom were deaf. Ramirez said Silvay "yelled at the man to tell him, 'Never touch any dogs or service animals.'"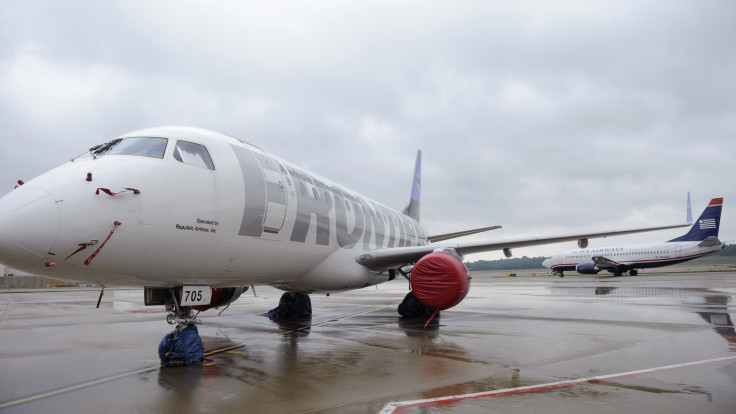 Ramirez added Zariel "didn't do anything to anyone... the man punched my dog's face" and the dog was "hurt and scared for her life."
Things turned from bad to worse after a while when 20-week-pregnant Ramirez accused Timothy of punching her stomach and also laying hands on her two children who were travelling with them.
"That's when my fiancé just became furious, because he put his hands on me and the kid and the dog," Ramirez told the Huffington Post.
Timothy dismissed the accusations, saying, "It's funny and hilarious that I would have punched her."
He claimed Silvay would not let them leave and stood in the way blocking the exit.
"Unfortunately, the man [was] determined to leave so he ran through and punched my belly, then pushed my two daughters; they fell and cried so hard," Ramirez said.
In one of the videos, reportedly shot by Timothy's son, Joshua, Silvay was seen pinning the former to the ground while children were heard crying in the background. Silvay admitted to physically tackling Timothy because he would not wait for the authorities to arrive. This account was corroborated by the police who said Timothy tried to leave as they arrived at the scene.
Another video shot inside airport terminal showed both Timothy and Silvay continued their fight after they got off the plane. In the video, one man can be seen chasing the other.
The second video was shot by an airport employee, Philip Moreno, who said the scene was one of utter chaos.
"I saw a woman, I couldn't really understand what she was saying," he said. "She was freaking out. And I couldn't figure out why this man was chasing another man."
Petrini told the authorities Silvay was the aggressor and her husband had punched the dog by accident. She also added Silvay kicked her husband's seat onboard the flight and tried to hold them hostage during departure.
The Orlando police has handed over the case to the FBI. No arrest were made.
"The FBI was contacted and a copy of this reported [sic] is provided to them," the police report stated. "Hazel does wish to prosecute and will testify in court."
© Copyright IBTimes 2023. All rights reserved.