'Frozen 2': This Song Gave Jonathan Groff 'Full-Body Chills'
A new set of songs will be featured in "Frozen 2," and the fans already got a teaser of what to expect at the D23 event. There is one particular song in the sequel that Kristoff actor Jonathan Groff said it gave him "full-body chills."
Just as "Let It Go" was the big, hit song in the 2013 movie, the new song "Into the Unknown" of the sequel is making fans sit up and take notice. In a recent interview with IGN, Groff said that the sing gave him "full-body chills" when he first heard it.
The coming movie is a continuation of the 2013 flick after a few years of time jump. Songwriters Kristen Anderson-Lopez and Robert Lopez teased that the sequel is the "second half of a musical."
Elsa (voice by Idina Menzel) will continue to deal with the problems of her magic, but the songwriters teased that her problems her bigger and more epic this time. Another change in "Frozen 2" is that story will be about the sisters coming together to solve the problem.
As far as Menzel is concerned, she said that the songs in the sequel should not be compared to the 2013. She described the songs in the two movies as "apples and oranges."
Lopez explained that they couldn't just take similar versions of the old songs and put them in the sequel. The songwriters explained that they are storytellers, and the songs in the sequel emerged from the story they are trying to tell, and each new song in the movie moves the story forward.
In an interview with Associated Press, Menzel confirmed that "Let It Go" is the biggest hit song she has at the moment. She also added that a wide demographic in the audience like this song, even though some don't admit it.
Menzel hasn't stopped being Elsa since the 2013 movie was released. The actress said that she has been on the road, singing "Let It Go" all over the world. She has also reprised her role in the TV miniseries "Lego Frozen Northern Lights" and the animation film "Ralph Breaks the Internet," The Hollywood Reporter reported.
"Frozen 2" will be released on Nov. 22.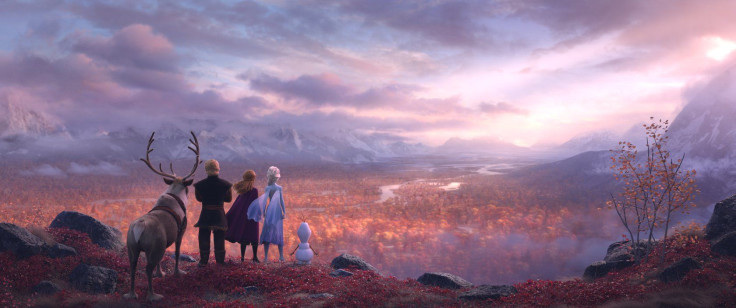 © Copyright IBTimes 2023. All rights reserved.