'Fuller House' New Trailer Released; Reveals Which Iconic Catchphrases Will Be Used In Netflix Series [VIDEO]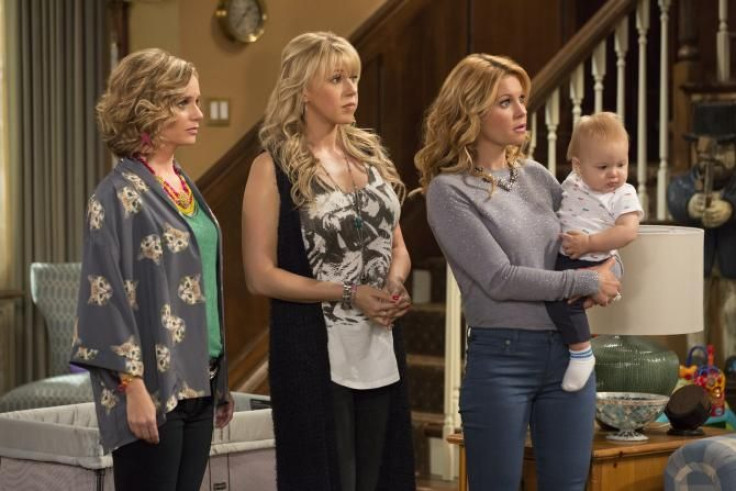 Were you looking for a new "Fuller House" trailer to obsess over? Well … you got it, dude!
On Tuesday, Netflix released a brand new featurette of the upcoming installment. The lengthy promo gave fans of the 30-year-old sitcom a behind-the-scenes look at the "Full House" reboot, as well as a peek at what to expect from everyone's favorite San Francisco family ... including their lines.
Check it out below:
According to the trailer, audiences can expect a few, beloved catchphrases to sneak their way into the series ,like Uncle Jesse's (John Stamos) iconic expression "have mercy," as well Stephanie's (Jodie Sweetin) hit line "how rude." Talk about a throw back! And according to Candace Cameron Bure, who portrays D.J., nostalgia is exactly what they want fans to feel when tuning into the new show.
"'Fuller House' carries the same emotional, loving, family-tone throughout the show that the original did," Bure says in the video. Sweetin adds that the roles of the characters have been reversed. "The original 'Full House' was three guys raising three little girls. It's now three women raising three boys."
Bure first teased the release of a new trailer on Twitter. "I have a little surprise coming to you 'Fuller House' fans at 11am et. Check back soon!!" she wrote before sharing the sneak peek — and a few set images — on Instagram.
All 13 episodes of "Fuller House" will stream on Netflix Friday, Feb. 26.
© Copyright IBTimes 2023. All rights reserved.