Gabby Petito Update: Documentary Rejects Brian Laundrie 'Seen Digging Grave' Claims
KEY POINTS
The documentary aired Friday on NBC's Peacock Streaming service
Petito's parents praised some of the online sleuths, calling them a "blessing"
Travel vlogger Jenn Bethune's finding had led to the recovery of Petito's body
A documentary on Gabby Petito's death has rejected claims made by several internet sleuths, including one which stated that her fiance Brian Laundrie was "seen digging a grave."
"The Murder of Gabby Petito: Truth, Lies and Social Media" showed the downside of Internet sleuthing and how rumors spread. Earlier, several social media users claimed that Laundrie "accidentally" went live on Instagram near the area where the YouTuber's remains were found.
The documentary, which aired on NBC's Peacock Streaming service Friday, rejected claims that Laundrie was digging a grave and also that he went live on Instagram but cut the feed off after he realized what happened.
Meanwhile, in the documentary, Petito's parents talked about the internet sleuths who were sharing their views and findings on the case online, saying that in some instances it was a "blessing" for them.
"I always say it's like a blessing and a curse, but in this instance, it was a blessing for us," Petito's stepdad Jim Schmidt said, according to the US Sun. Her mom Nicole Schmidt called the sleuths "incredible."
"The sleuths, the internet sleuths, they do a great job. They really do," she said in the documentary. She specifically mentioned travel vlogger Jenn Bethune's finding.
Bethune found their abandoned white van on the side of the road in Grand Teton National Park that ultimately led to the discovery of Petito's remains.
"I watched that video of the van and had seen the door closing like probably 100 times," Schmidt said. "I really believe that was Gabby closing the door on the van. So, I just kept watching it. I don't know."
22-year-old Petito was reported missing on Sept. 11 during what was supposed to be a cross-country road trip with her fiance, 23-year-old Laundrie. Authorities found Petito's remains at a national forest in Wyoming on Sept. 19. Her death was ruled a homicide by manual strangulation.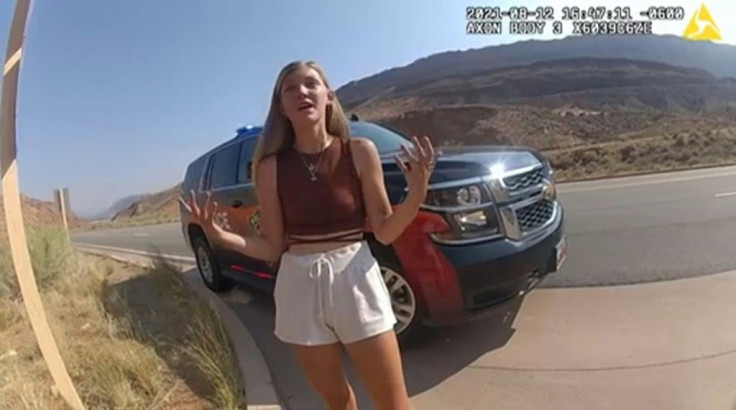 Laundrie was a person of interest in the disappearance and death of his fiancée, and the Florida police had launched a massive manhunt to find him.
After nearly a month long search for Laundrie, his remains were found in the Myakkahatchee Creek Environmental Park in Florida on Oct. 20.
Laundrie reportedly died of a self-inflicted gunshot wound to the head.
Earlier this month, Laundrie's parents, Chris and Roberta, filed a petition in Sarasota County, Florida, to gain access to the estate of their son. The family's attorney, Steven Bertolino, reportedly said that the step was taken as Laundrie, who died by suicide, did not have a will.
Neither Bertolino nor Laundrie's parents have released a statement on the Petito documentary as of Monday.
© Copyright IBTimes 2023. All rights reserved.