Gabby Petito's Mother Recalls The Moment She Felt Something Was Wrong: 'That's Not Like Her'
KEY POINTS
Gabby Petito stopped answering the phone four days into the trip
The mother said it was so unlike her daughter
Protesters gathered before Laundrie's home in North Port on Sunday
Gabby Petito's mother Nichole Schmidt has opened up about the pain and agony she experienced when she stopped hearing from her daughter during the latter's ill-fated cross-country trip.
Schmidt said she began to worry something has happened to her daughter four days into her trip with boyfriend Brian Laundrie. Petito stopped answering the phone, the mother said in an interview "60 Minutes Australia."
"Probably day 4 and 5, I was texting her every day, but I wasn't getting any responses," Schmidt recalled. "By day 6 or 7, I was checking her social media. I didn't see any activity."
Schmidt contacted Petito's father and stepfather, but they reassured her that Petito would be fine. They told her Petito and Brian were "out in the mountains" and probably "had no signal."
"But, I said no, that's not like her," she said. Schmidt then tried getting in touch with Brian and his family but got no response. She reported Petito missing in mid-September, about 10 days into the trip. Brian, however, had been back home for almost two weeks.
In an earlier part of the interview, Schmidt said she felt Petito was safe on the trip "because she was with Brian and I felt like she was O.K. I thought he would take care of her." She added that Brian came off "like a nice guy."
She also criticized Brain's family for their "lack of cooperation" in the investigation. "I think silence speaks volumes ... Why are you doing this? Can you just tell me the truth?" she said.
Amid a manhunt for Brian, protestors gathered outside Brian's home in North Port, Florida, on Sunday, chanting "Justice for Gabby." Neighbors called the police around 1:15 p.m. to monitor the situation.
This came a day after Brian's father, Chris Laundrie, was captured removing protest signs from his front yard. The 62-year-old was seen removing a sign about his daughter, Cassie, from his lawn, New York Post reported. The sign that was placed next to a photo of Petito read: "What if this happened to Cassie?"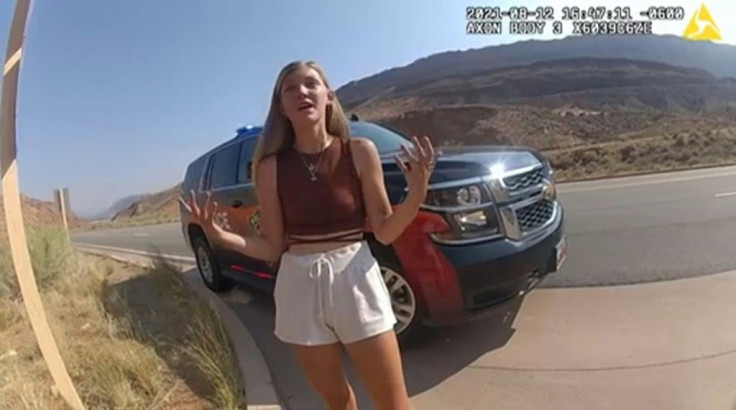 © Copyright IBTimes 2023. All rights reserved.