'Game Of Thrones' Author George R.R. Martin Laughs About The Red Wedding On 'Conan' [VIDEO]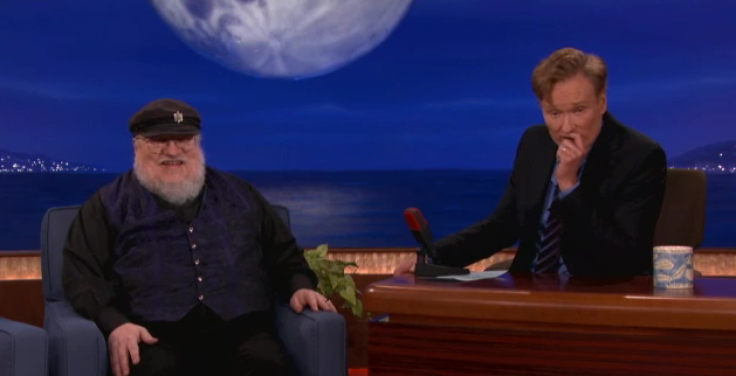 "Game of Thrones" fans were shocked about the "Red Wedding" scene during the penultimate episode of the third season. As for the mastermind behind the events, George R.R. Martin, he found the situation rather amusing on "Conan."
Martin wrote the "Red Wedding" scene more than a decade ago. "A Storm of Swords" was published in 2000, and, while fans who read the books knew what was coming, those who stuck to the HBO series were in shock. Twitter was flooded with reactions about the latest "Game of Thrones" episode, and hilarious reaction videos, in which unsuspecting fans were exposed to the "Red Wedding," went viral.
During Wednesday's episode of "Conan," Martin was shown clips of "Red Wedding" reaction videos posted to YouTube. Martin laughed along as fans were shocked, in disbelief, despondent or in awe of the show. After the video aired, Martin notes, "All those clips were set up by people who had read the books 13 years ago and knew what was coming and wanted their friends and relatives and loved ones to do that."
In addition to laughing at fan reactions, Martin also discussed different aspects of "Game of Thrones" that have made the series such a hit. While introducing Martin, Conan O'Brien said he was a big fan of the series and the recent episode "melted people's mind." The reason why "GoT" has become a cultural phenomenon is due to the way the series makes people invest in the characters before killing them off, Conan joked.
Martin said he loves the unexpected and writes in that manner, saying, "I want the suspense to be real. We've all seen the movies where the hero is in trouble, he's surrounded by 20 people, but you know he's going to get away, because he's the hero."
For "GoT," that's not the case, as several important characters and heroes, starting with Ned Stark in season one, are not safe from death. Martin said, "I want my readers, I want my viewers, to be afraid when my characters are in danger.
As for the other big fear of "GoT" readers, Martin being unable to finish the books before the HBO series catches up, he said to Conan he is hard at work on the sixth novel. "The Winds of Winter" is expected to be a 1,500-page epic, and Martin said he knows how he wants the series to end but not down to specific details. Martin does not reveal much about the yet-to-be-finished "GoT" novel but said, "I'm writing very fast, because my great fear is [the executive producers and screenwriters of HBO's 'Game of Thrones'] David [Benioff] and Dan [Weiss] will catch up with me."
© Copyright IBTimes 2023. All rights reserved.