'Game Of Thrones' Red Wedding Details Help Fans Prepare For Season 4 Of HBO Series [VIDEO]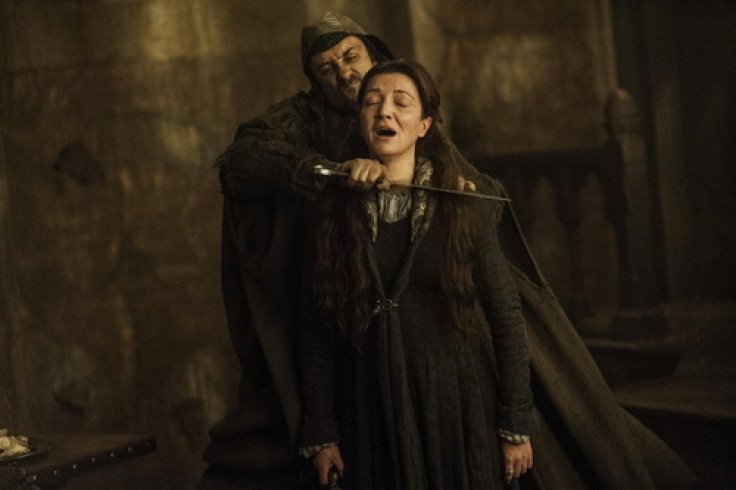 We know "Game of Thrones" is still a long way away from its season 4 premiere, but that still hasn't deterred fans from lurking around the Web looking for spoilers. And because of those pesky "GoT" enthusiasts looking for anything they can get their hands on, HBO has decided to give fans something they can chew on until the drama series returns on April 6.
No, we're not talking about the "Game of Thrones Season 4: Ice and Fire: A Foreshadowing." We are actually referring to a look back on one of the bloodiest moments to occur in "GoT" history: the Red Wedding. In the video leaked by HBO, the cast and crew talk about details never discussed before regarding the massacre, which left Rob Stark, Queen Talisa and Lady Catelyn dead on the floor of House Frey.
So what did the teasing trailer reveal? Well, in an attempt to not rehash bad memories, the video strayed from the topic of death and honed in on fashion. And, boy, did the Red Wedding have some good ensembles. Too bad they were stained with blood.
"I was very excited when I eventually got a new costume," Richard Madden, who played Robb Stark, said. "It's season 3, episode 9 -- so we've done three full seasons and I've been in the same costume." It's about time! And the cloak -- complete with Robb's Sigel -- was especially fitting for the king, who was eventually stabbed to death at the wedding of Roslin Frey and Edmure Tully.
But Madden's character wasn't the only one dressed to the nines during the dreadful episode. Michelle Fairley, who played Lady Stark, also looked exceptionally beautiful during her last scene. "Catelyn's basically been in the same costume for practically all three seasons because she's on the road," Fairley said. The strong matriarch was dressed in her national costume for the marriage ceremony, which featured delicate details you probably never noticed.
"The work involved in the sewing and embroidery of the fish -- because they're all little fish, I don't know if you can see that detail, but they're a delight to wear and they're comfortable," Fairley explained.
Probably more comfortable than getting your throat slit, right, Michelle?
Were you surprised to hear that the cast was sporting the same outfits for most of their "Game of Thrones" appearances? We were a bit shocked! Next time, we'll pay close attention.
© Copyright IBTimes 2023. All rights reserved.