'Game Of Thrones' Season 5 Spoilers: Creators Tease More Dragons, Biggest Scenes Ever In New Episodes [VIDEO]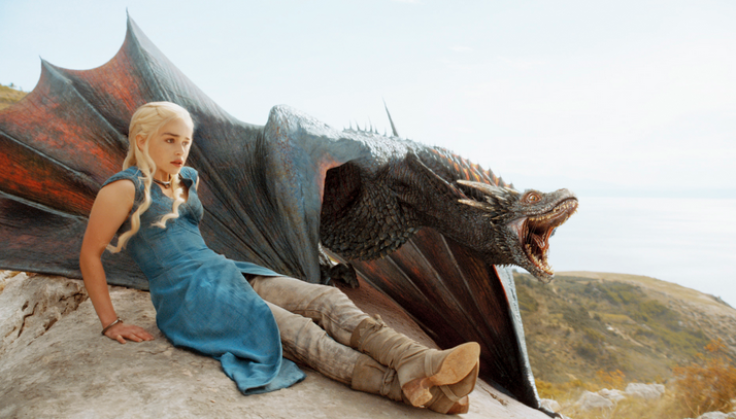 "Game of Thrones" is the biggest TV show on the planet. In addition to scoring some of the highest ratings on television, the show's massive production – two filming units across multiple continents over months each year – has no equal. Things are only going to get bigger in Season 5 as the show introduces new characters and locations, but the show's creators – David Benioff and D.B. Weiss – just revealed that the new episodes will also feature the two largest scenes fans have ever seen on the show.
Speaking to Entertainment Weekly, Benioff and Weiss described the toughest challenge they faced while filming Season 5.
"There are two scenes that are so much larger in scale than anything we've tried to do. Maybe 17 days to shoot one sequence. That's something we've never attempted before. There are lot of special effects pieces in that scene," said Weiss.
What could those scenes be? For starters, Stannis Baratheon (Stephen Dillane) has his army up north now and is planning to move south to invade King's Landing ... if he does not get in a fight with the Wildling army first. The large-scale scene could be another huge battle featuring the would-be king's army. Also, the trailers for Season 5 have revealed that Daenerys (Emilia Clarke) has run into some roadblocks while trying to rule Meereen, and will be ambushed by a group of dissidents in a fighting pit. Either of those scenarios could result in a pretty epic scene.
However, Weiss and Benioff may have answered the question in the very same interview when asked about the role Daenerys' dragons will play in the new season.
"They're bigger in terms of personality and in terms of their actual size, and that makes them more complicated to deal with in story terms and production terms," said Benioff. "You talk about characters having their most important seasons so far, this is definitely the biggest season the dragons have had to date."
Perhaps some fire-breathing dragon mayhem is responsible for the complicated scene the creators teased. That would explain the need for all the special effects they mentioned.
Fans will find out when "Game of Thrones" returns to HBO on April 12 – one again, bigger than ever.
Watch the trailer for Season 5 below:
What do you think the big scenes will be? Tweet your thoughts to @Ja9GarofaloTV.
© Copyright IBTimes 2023. All rights reserved.