'Game Of Thrones' Season 5 Spoilers: HBO Releases New Photos Before April 12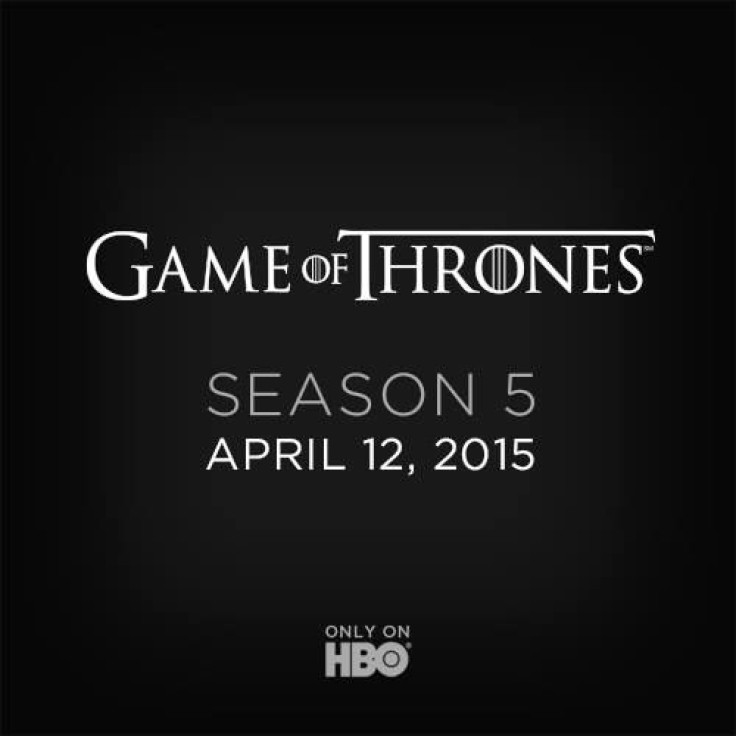 Fans of the HBO hit series "Game of Thrones" appear to have a delightfully insatiable appetite for teasers about the show's coming fifth season. Now, the network has released its first round of photographs to tease the show's return, and they're chock-full of possible hints concerning what fans can look forward to.
The real tease for the show came after its IMAX release, when HBO gave the first official trailer for Season 5 its debut. In terms of plot, most of the photos didn't reveal much that the trailer didn't. However, the new images aren't without their own potential spoilers and new reveals about the April 12 premiere. Particualrly with regard to the future of Stannis Baratheon (Stephen Dillane) as well as the imminent threat facing King's Landing form the Martel family.
Check out the new teaser images below:
The boys are back in town. It's pretty unclear which town, though. After the events that capped Season 4, Tyrion and his best chum Varys have fled King's Landing and seem like they're hot on the trail of Daenerys Targaryen (Emilia Clarke).
Something is clearly bothering Cersei Lannister (Lena Headey) as she walks in the opposite direction of, what looks like, the cart of King Tommen (Dean-Charles Chapman). These two photos show something clearly bothering the well-guarded royal mother.
Grey Worm (Jacob Anderson) and Missandei (Nathalie Emmanuel) have been making eyes at each other since the beginning of Season 4. Now it looks like the two of them will continue their impossible romance in Season 5.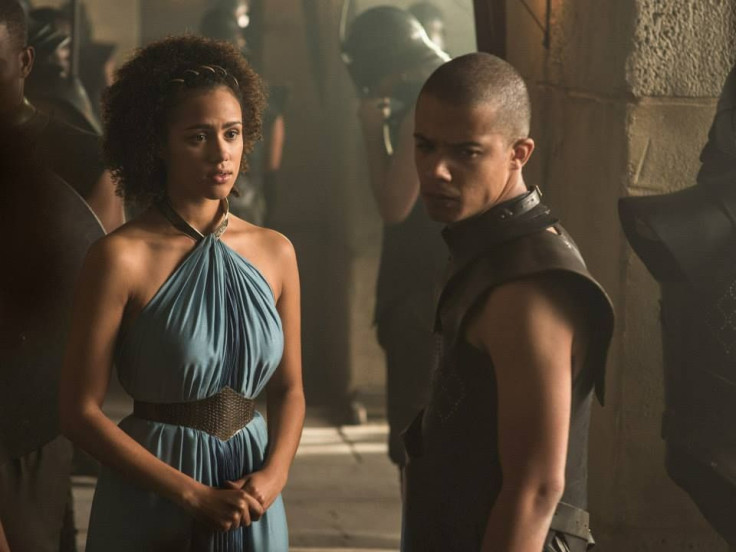 It's no secret, especially to book readers, that Arya Stark (Maisie Williams) is headed to learn the ways of the faceless men in Braavos. The audience loves her character, so many assumed that she'd be welcomed with open arms. Judging by her face as she stands in front of, what is presumably, the House of Black and White, it looks like her training montage is a far way away.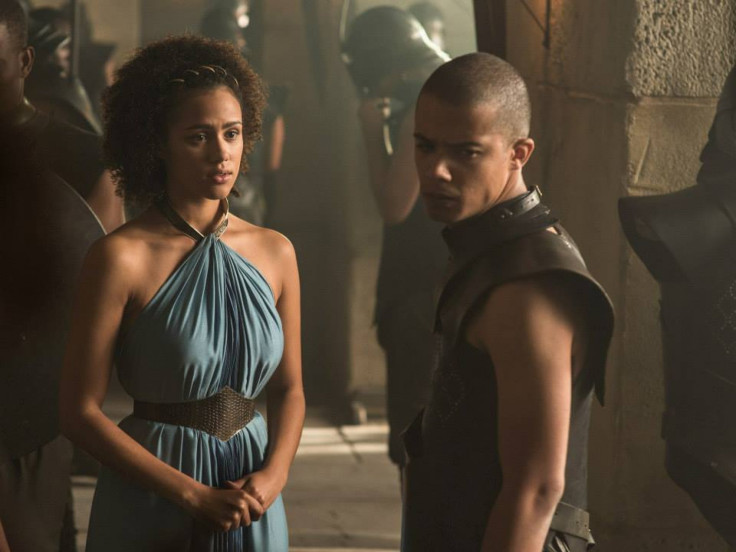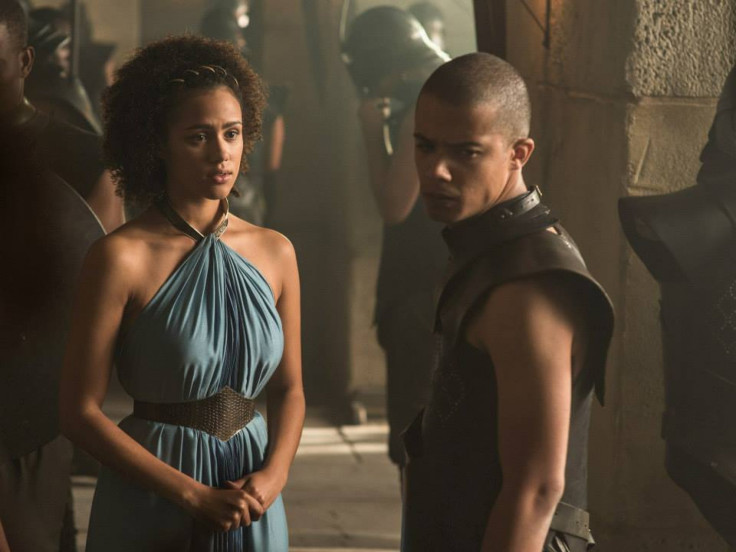 A loving mother Cersei walks with the baffled new king, Tomman.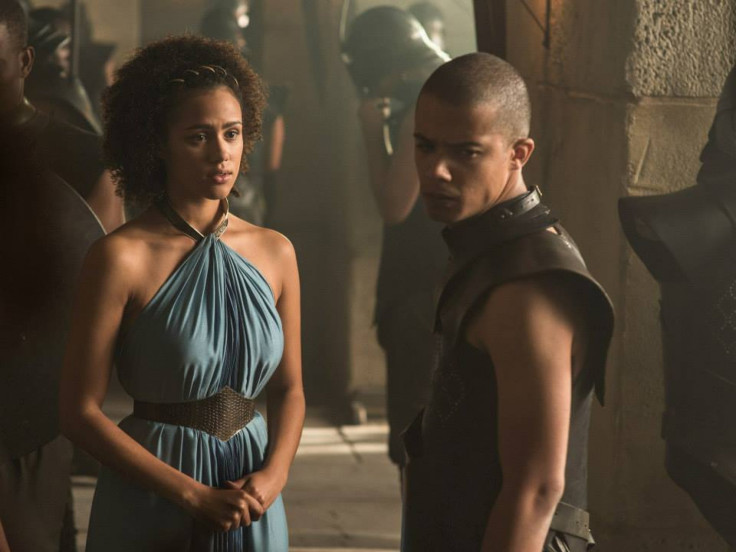 This is the first time fans have seen Indira Vama as Ellaria Sand since the character was forced to watch [SPOILER ALERT] her lover's head get crushed by The Mountain. However, if her and Oberyn (Pedro Pascal) taught us anything, it's that the Martells of Dorne aren't ones to take such an injustice lightly. She's burning with a passion for something in this shot as she speaks to a new character played by Deobia Opaeri. Odds are good that she's thinking of revenge.
Fans were given their first look at Alexander Siddig as Doran Martell.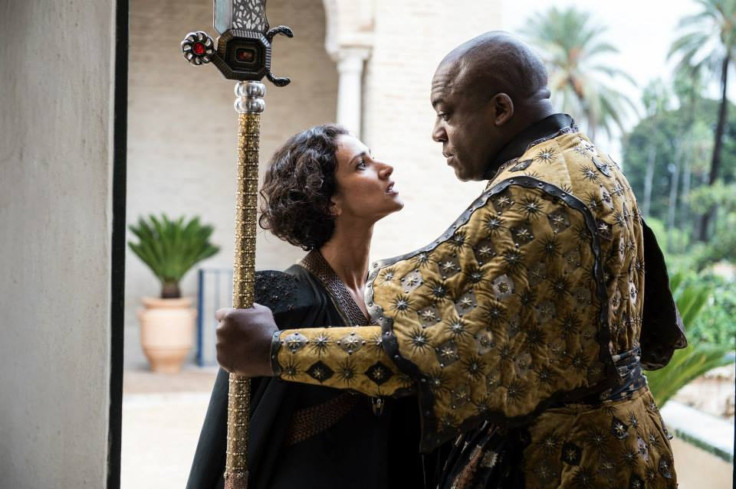 Season 4 ended with an explosive battle on The Wall. Things looked grim for the remaining men of the Knight's Watch until they were rescued by the freshly purchased army of Stannis Baratheon. It looks like Season 5 will pick up right where that battle left off dealing with Wildling prisoners of war, rituals from the Red Woman Melisandre (Carice van Houten) and more powwows between Stannis and Jon Snow (Kit Harington).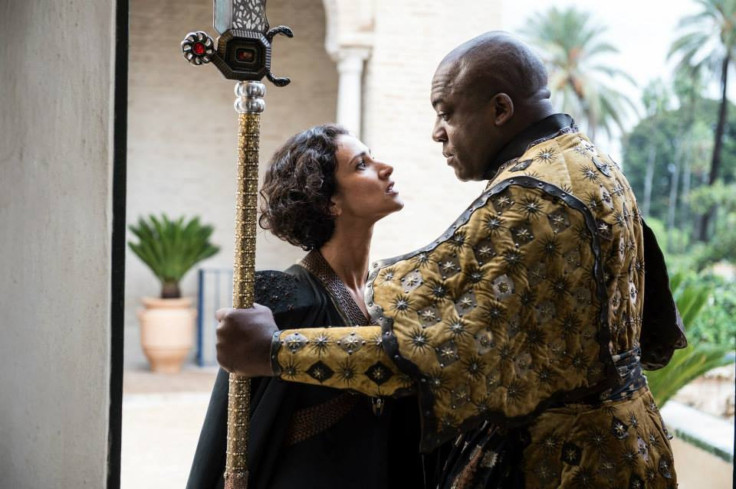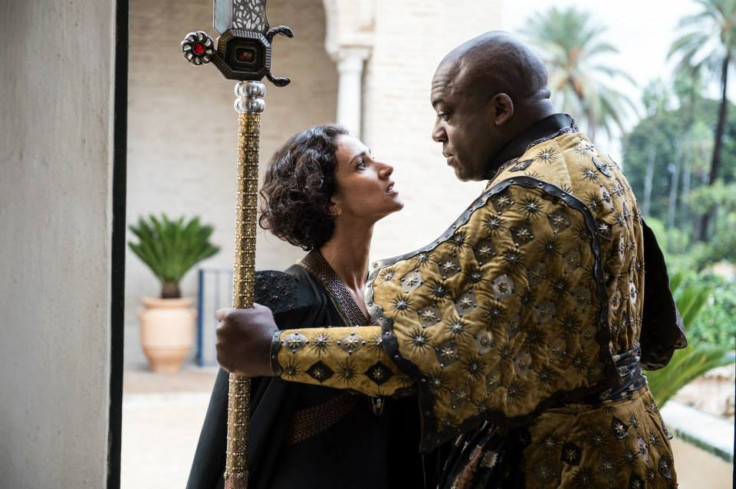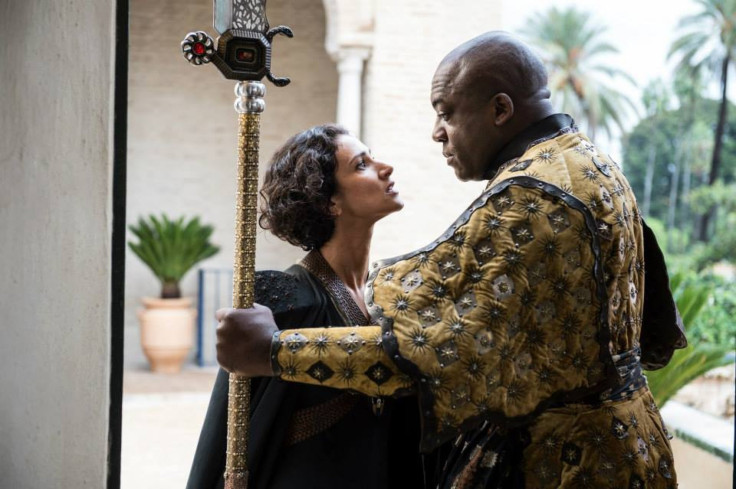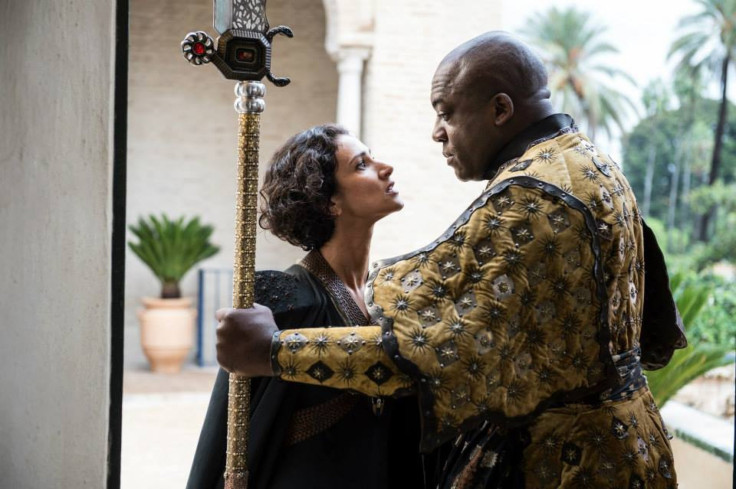 I'll bet I know what these two are talking about: The loss of [SPOILER ALERT] their father at the end of Season 4 is likely going to cause a deep rift in the Lannister siblings' already struggling relationship.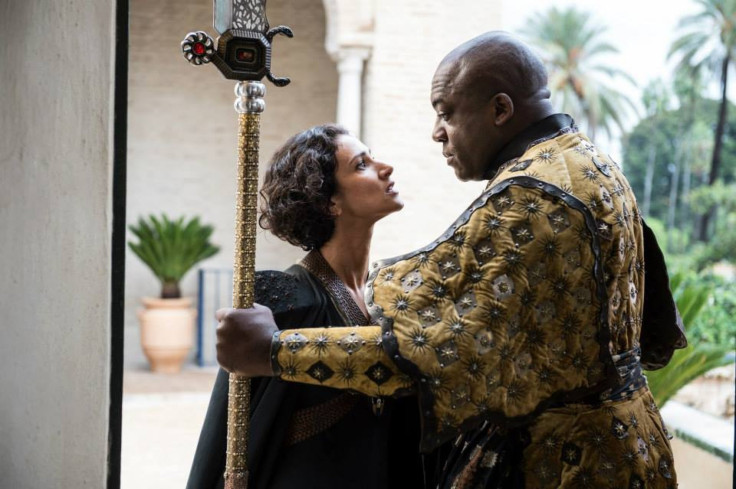 Sansa Stark (Sophie Turner) pretty much joined whatever crooked plan Petyr Baelish (Aiden Gillen) has going on, but it looks like things aren't really going her way in this picture. It's also worth noting how strikingly similar she looks to her mother in this photo.
No real plot news here, In fact, this could just as easily be a shot from Season 4, but, man, it's great to see these two again.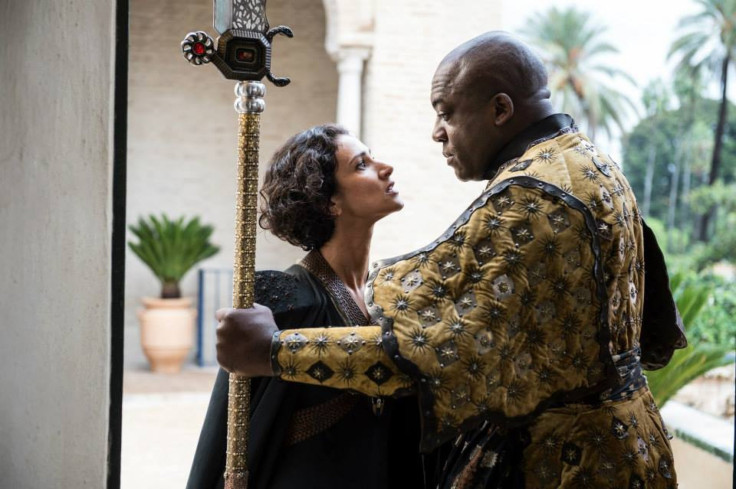 It's scary to see Ramsey Bolton (Iwan Rheon) again, especially next to his father, the one responsible for the infamous Red Wedding (Michael McElhatton). Who, however, is the new woman standing respectfully next to them? According to the picture's description, her name is Elizabeth Webster, and she plays Walda Frey.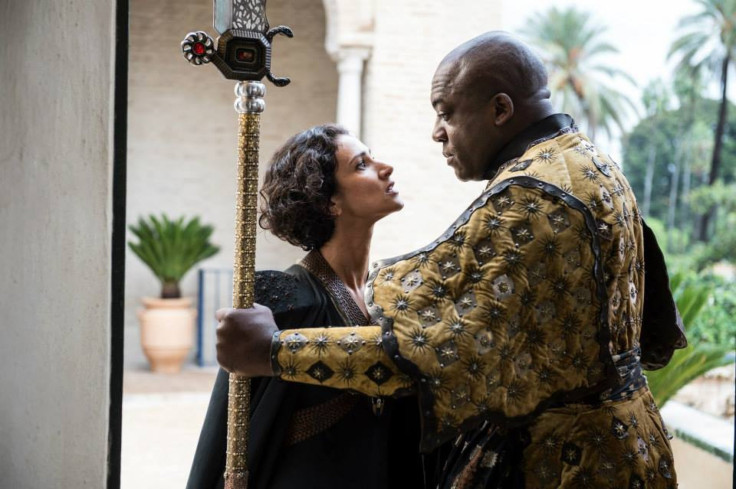 Fakest. Smile. Ever.
It looks like Margaery Tyrell (Natalie Dormer) and Cersei Lannister (Lena Headey) are going to keep being forced into the strangest friendship ever as Tyrell continues to try and marry the king.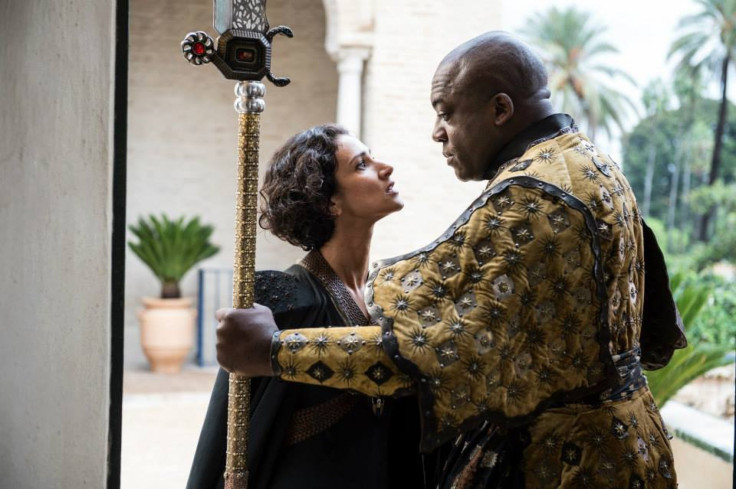 © Copyright IBTimes 2023. All rights reserved.