'Game Of Thrones' Season 5 Spoilers: Sophie Turner Teases What Trauma Sansa Stark Will Face In The New Episodes [VIDEO]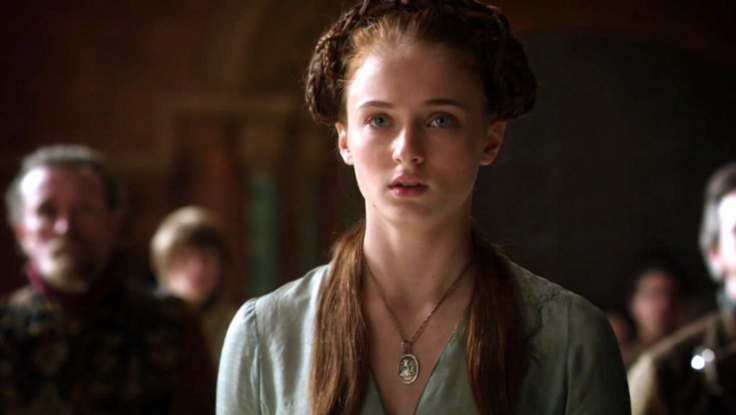 Filming for "Game of Thrones" Season 5 has officially wrapped, and fans have a new teaser to enjoy, but what will happen in the HBO series' new episodes remains a big mystery. However, Sophie Turner, the actress who plays Sansa Stark in "Game of Thrones," revealed in a recent interview that dark things lie ahead for her character.
In the interview with Stefan Pape of HeyUGuys, Turner, 18, described filming a scene for the coming season. Turner said, "There was one scene that I did do that was super, super traumatic, and I love doing those scenes. It was just really kind of horrible for everyone to be on set, but those scenes are just kind of what feed me, that's why I started out, to do all the crappy, horrible stuff."
Watch the interview below:
Fans have been speculating about which scene Turner is referencing to no avail. Not much is known about the character's storyline in Season 5 as the show has nearly caught up to the character's storyline in George R.R. Martin's "Song of Ice and Fire" book series.
When "Game of Thrones" viewers last saw Sansa Stark, she was living undercover with Alayne Stone, the niece of Petyr Baelish (Aidan Gillen) in the Eyrie, where she had witnessed and helped to conceal his murder of Lysa Arryn (Kate Dickie). Fans know Baelish has a bit of a thing for Sansa. Could the traumatic scene be a sexual assault? Or perhaps she will be a conspirator in another one of his murderous plots, as she was, although not totally willingly, with Lady Arryn.
Sansa Stark was also featured in a recent teaser video for the new season released via the show's Three-Eyed Raven social media campaign. The teaser was viewable only once by each participating fan on a mobile device, but there were widespread technical problems with the teaser's release.
Fans will have to wait to see the new episodes to know for sure what scene Sophie Turner was talking about. "Game of Thrones" returns to HBO for Season 5 in the spring of 2015.
What do you think Sansa Stark's traumatic scene will be? Tweet your thoughts to @Ja9GarofaloTV.
© Copyright IBTimes 2023. All rights reserved.