'Game Of Thrones' Season 6 Spoilers: Melisandre Actress Responds To The Big Jon Snow Fan Theory At Comic-Con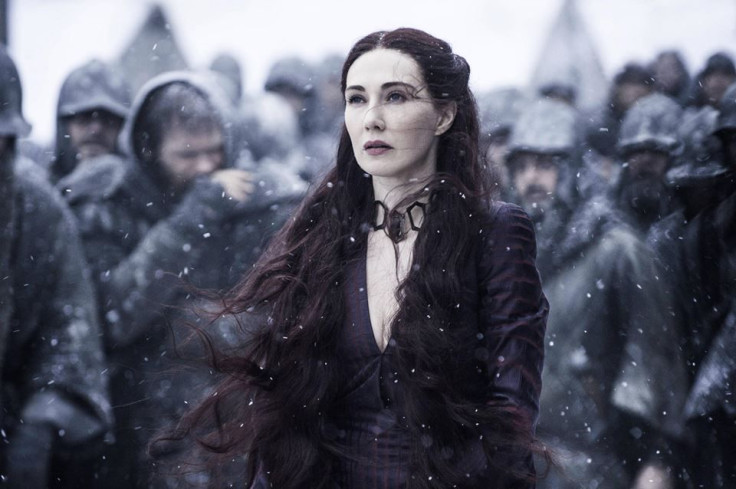 Ever since the shocking Season 5 finale of HBO's "Game of Thrones" fans have been wondering whether or not the fate of one key character is set in stone. Speaking at San Diego Comic-Con, actress Carice van Houten addressed some of the rumors that her character will have a big part to play in what's ahead for Season 6.
[SPOILER ALERT: The remainder of this article will discuss the events in the Season 5 finale]
After Stannis Baratheon (Stephen Dillane) fell in battle at the hands of the Boltons, but mostly Brienne of Tarth (Gwendoline Christie), his red priestess Melisandre (van Houen) finally confronted the fact that she was wrong about him being the savior of Westeros prophesied in her religion. Defeated both mentally and spiritually, she road back to The Wall to lick her wounds and figure out what's next. Not long after, everyone's favorite Lord Commander of the Night's Watch, Jon Snow (Kit Harington), was seemingly stabbed to death at the hands of a mutinous band of his soldiers. This led many fans to believe that the red priestess would find her new savior in Jon Snow and resurrect him from the dead.
Unfortunately, it's just a theory and fans won't know for sure if Melisandre has a part to play in Jon Snow's storyline until Season 6 debuts next year. However, that didn't stop fans at Comic-Con from asking the actress directly if she'll resurrect Jon Snow.
"I'm as in the dark as you are all," said Van Houten (via The Hollywood Reporter). "But who knows, man. I can't tell you anything."
While the actress was unable, or unwilling, to share details about the fate of Jon Snow, she did tease some minor details about how her character will progress in the wake of losing Stannis. Now that she's figured out she's wrong about who Stannis was, van Houten teased a bit of a crisis of faith and identity for the red woman when we see her next.
With Melisandre looking for a new savior, it's possible she'll find one in the recently deceased Snow. However, whether or not she even has the power to bring him back remains a mystery. As savvy fans will recall, both they and Melisandre were introduced to the concept of the Lord of Light resurrecting people from the dead in Season 3 when she met up with the Brotherhood Without Banners. That's when she was both shocked and terrified to learn that the perpetually drunk Thoros of Myr (Paul Kaye) was capable of resurrecting people through the red god's power. As Vulture notes, it's possible she studied up on how to do this herself, but it's also possible she still has no clue how that power even works.
Unfortunately, as long as the actress continues to remain tight-lipped on the subject, the world will just have to wait for Season 6 of "Game of Thrones" to answer the burning questions.
© Copyright IBTimes 2023. All rights reserved.