Gavin Newsom Angers Twitter While Addressing 'Unprecedented Heatwave' In A Sweater
KEY POINTS
California's power grid peaked at an all-time high of 52,061 megawatts Tuesday
Gavin Newsom asked Californians to set their thermostats to 78 degrees
Twitter users found it laughable as the governor spoke about heatwave wearing fleece
Gavin Newsom has been trolled yet again on social media after he addressed California's "unprecedented heatwave" and appealed to residents to cooperate, while wearing a fleece jacket indoors.
The Golden State governor's re-election run has been laced with hurdles arising from triple-digit temperatures that have resulted in record-breaking power demands, threatening rolling power outages.
"Californians, you've stepped up to help in a big way to keep the lights on so far. But we're heading into the worst part of this heat wave and the risk for outages is real and it's immediate," Newsom said. "These triple-digit temperatures throughout much of our state are leading, not surprisingly, to record demand on the energy grid."
A Flex alert was issued Tuesday between the hours of 4 p.m. and 9 p.m. local time, to avoid power outages resulting from increased consumption during the evenings as people return home from work and switch on air conditioners, lights, and other appliances.
"Everyone has to do their part to help. Step up for just a few more days. Individuals, the state, industries, business, all doing their part to help reduce strain on the grid," the gov. added, advising residents to turn their thermostat up to 78 degrees or higher and avoid using large appliances after 4 pm, Tuesday and Wednesday.
The video, which was shared by the official Twitter handle of the California Governor's Office, has gathered almost half a million views at the time of writing. Many questioned if Newsom was practicing what he preaches.
"He's sitting inside wearing a warm jacket during a heat wave, telling the rest of us not to use AC," one user tweeted.
"Why is the AC blasting so hard in the room you're in that you need to wear a jacket?" one Twitter user enquired, while another remarked, "AC cranked so high he is wearing a sweater."
"Gavin, I am sweating inside my own house right now with 1/4 of the clothing on that you're wearing in this video. Where are you?" asked another.
"How is he talking about a heat wave and people restraining their energy usage while wearing a jacket? Must be pretty cool in the building he's in," remarked a third.
One user highlighted that Newsom was addressing the state from a setting similar to a studio, which is generally kept cooler to avoid the overheating of equipment due to the heavy lights.
"Meanwhile, Gavin's thermostat is set so low he needs to wear a jacket inside, while under stage lights and cameras... lol enjoy the bay though and hot ass house when you get home," tweeted an irate user.
"Ima take a stab in the dark, and say you must have the AC on full blast since you're wearing a light jacket," wrote another.
"You're wearing a sweater to a conference about 'unprecedented heat waves'?
Got it," read another tweet.
California ISO said its power grid peaked at an all-time high at 52,061 megawatts Tuesday, but the state escaped rolling blackouts despite thousands of statewide PG&E customers facing power cuts, reported KCRA.
A Flex Alert has been issued for Wednesday, making eight alerts in as many days.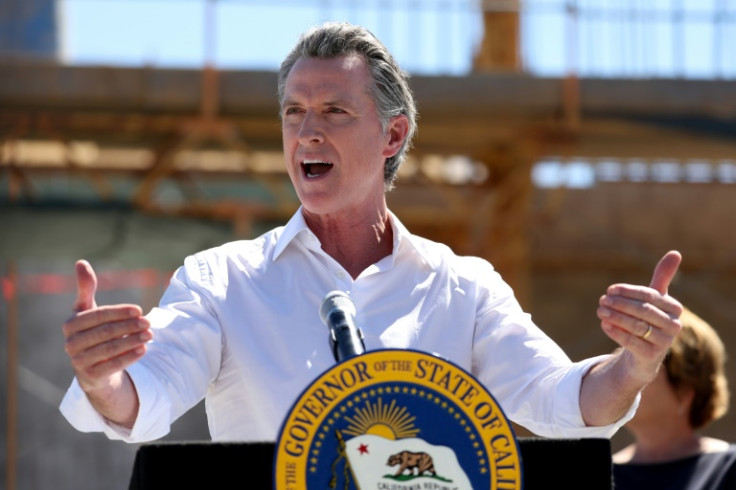 © Copyright IBTimes 2023. All rights reserved.