'General Hospital' Spoilers: Will Cameron Realize Josslyn Cheated On Him With Dex?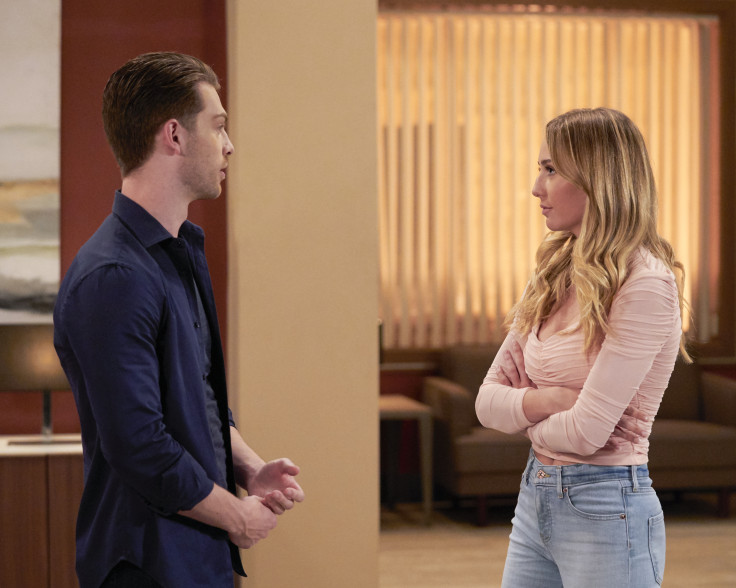 Josslyn claimed she broke up with Cameron because they grew apart, but on the Monday, Jan. 23 episode of "General Hospital," Cameron may suspect Dex is to blame for their break up.
In the promo video of the ABC soap opera, Cameron (William Lipton) asks if Josslyn (Eden McCoy) broke up with him to be with Dex (Evan Hofer). "GH" spoilers suggest Josslyn will be put on the hot seat.
In the previous episode, Cameron learned that Josslyn was dealing with a family crisis and decided to visit her dorm to offer his support. However, he was unaware she already had someone to lean on.
Josslyn vented to Dex about how Carly (Laura Wright) lied about Nina (Cynthia Watros) being Willow's (Katelyn MacMullen) biological mother.
Dex later told Josslyn that he would only be working for Sonny for six more months and would explain everything then. The news led to Joss and Dex having a rendezvous in the sheets followed by an impromptu sushi order.
However, when a shirtless Dex went to the door with Josslyn trailing behind him in her robe, they were shocked to see Cameron instead of a delivery person.
It appears Cameron will be furious to see that Josslyn moved on so quickly after their break up. Viewers are aware that Josslyn cheated on Cameron with Dex before she ended their relationship.
Will Cameron realize that Josslyn cheated on him, or will he give her a chance to explain?
Elsewhere in the ABC promo video, Sonny (Maurice Benard) doubts Spencer's (Nicholas Chavez) plan. "General Hospital" spoilers reveal Spencer surprises Sonny.
Spencer believes he can successfully get custody of Esme (Avery Kristen Pohl) and Nikolas' (Marcus Coloma) baby. Although Spencer spoke with a lawyer about his intentions, he has yet to share the news with Sonny.
Will Spencer update Sonny about his plans to get custody of his half-sibling, or will he hide the truth from his uncle?
Other "GH" spoilers tease Nikolas asks for Laura's (Genie Francis) support, Ava (Maura West) and Austin (Roger Howarth) find common ground, Dante (Dominic Zamprogna) sets a deadline for Heather (Alley Mills), and Liz (Rebecca Herbst) gets a shock.
"General Hospital" airs on weekdays at 3 p.m. ET on ABC.
© Copyright IBTimes 2023. All rights reserved.