'General Hospital' Spoilers: Will Elizabeth Convince Nikolas To Let Esme Go?
Elizabeth and Nikolas thought they were protecting the residents of Port Charles by keeping Eme locked away, but on the Monday, Dec. 19 episode of "General Hospital," Elizabeth delivers a bombshell that could change everything.
After Elizabeth (Rebecca Herbst) learned that Esme (Avery Kristen Pohl) was at Wyndemere Castle during the hook killer's latest attack, Liz feared she made major mistake. "GH" spoilers reveal Liz and Nikolas (Marcus Coloma) will butt heads.
In the previous episode, Elizabeth headed straight to Wyndemere following the hook killer's latest attack and questioned Nikolas about whether Esme escaped at any point.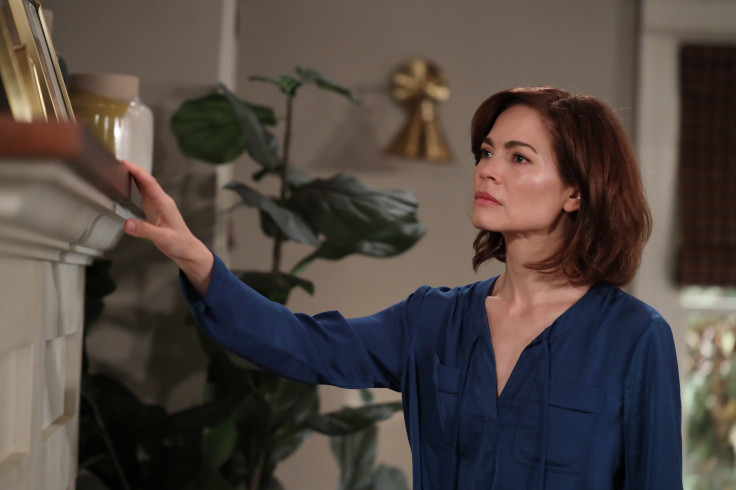 Viewers know that Elizabeth has been helping Nikolas hold Esme captive because the police suspect she is the hook killer. Since Esme is also pregnant with Nikolas' child, he and Liz don't want her to have the baby in jail.
After Nikolas assures Elizabeth that Esme has been in the tower all night, she will reconsider the plan to hold the pregnant young woman captive.
It appears Elizabeth and Nikolas will have opposing views about the plan, but will Elizabeth convince him to let Esme go, or will she help Nikolas continue holding Esme captive?
In the ABC promo video, Alexis (Nancy Lee Grahn) tells Drew (Cameron Mathison) he caught her attention once he mentioned Harmony's (Inga Cadranel) name. "General Hospital" spoilers say Drew meets with Alexis.
Despite his latest setback, Drew will continue his search to learn more about Willow's (Katelyn MacMullen) birth parents.
Viewers are aware that Carly (Laura Wright) paid a woman to lie and tell Drew that Willow's birth mother was dead. Carly later gave the woman more money to say the same about Willow's biological father if Drew inquired about the man.
It appears Drew's search will hit another dead end, and he will go to Harmony's former friend Alexis for help.
Will Alexis be the key to helping Drew get a lead in his search for Willow's biological parents?
Other "GH" spoilers tease Sonny (Maurice Benard) and Nina (Cynthia Watros) check on Ava (Maura West), Carly comforts Josslyn (Eden McCoy), and Chase's (Josh Swickard) news stings Brook Lynn (Amanda Setton).
"General Hospital" airs on weekdays at 3 p.m. ET on ABC.
© Copyright IBTimes 2023. All rights reserved.