'General Hospital' Spoilers: Will Spencer Tell Trina About His Plan To Betray Esme?
Spencer was thrilled when the charges were dropped against Trina, but on the Wednesday, Aug. 17, episode of "General Hospital," Spencer may reconsider sharing his true feelings with Trina.
In the ABC promo video, Trina (Tabyana Ali) asks Spencer (Nicholas Chavez) if he plans to tell her what changed. "GH" spoilers reveal Spencer has second thoughts.
In the previous episode, the charges against Trina were dropped, and Josslyn (Eden McCoy) encouraged Spencer to tell Trina the truth about his plan to bring down Esme (Avery Kristen Pohl).
Viewers are aware that Spencer always believed Trina was innocent and only pretended to side with Esme to find evidence that she framed Trina.
It appears Spencer will finally get the opportunity to be honest with Trina but will be hesitant to share the truth.
Since Spencer was sentenced to three months in Pentonville, he will have doubts about whether his confession could hold Trina back from moving forward with her life.
Will Spencer tell Trina about his plan to expose Esme, or will he continue to hide the truth?
Elsewhere in the promo video for the ABC soap opera, Carly (Laura Wright) tells Nina (Cynthia Watros) that she deserves everything she is getting. "General Hospital" spoilers tease Nina and Carly come to blows.
During their latest run-in, Carly won't be happy as Nina gloats about having the life Carly once had.
Viewers are aware that Carly knows Nina had twins and is Willow's (Katelyn MacMullen) biological mother, but she hasn't shared the news with the women.
It appears Carly and Nina will get into a shouting match, but will Carly make a mistake and hint that Nina has another daughter?
Other "GH" spoilers tease Ava (Maura West) and Nikolas (Marcus Coloma) conspire with an unlikely person to protect themselves, Willow opens up to TJ (Tajh Bellow), and Jordan (Tanisha Harper) investigates the Esme case.
"General Hospital" airs weekdays at 3 p.m. ET on ABC.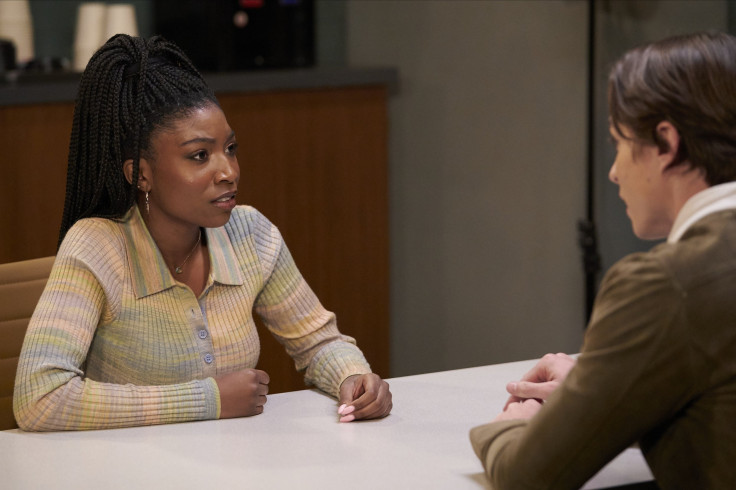 © Copyright IBTimes 2023. All rights reserved.