'General Hospital' Spoilers: Will Trina's Encounter With Victor Push Her To Visit Spencer?
Trina thought she was ready to move on from Spencer, but on the Thursday, Oct. 20 episode of "General Hospital," Victor may cause her to question her blossoming romance with Rory.
In the ABC promo video, Rory (Michael Blake Kruse) questions why Trina (Tabyana Ali) is hesitant to go away with him. "GH" spoilers tease Rory senses a distance from Trina.
Since Spencer (Nicholas Chavez) is serving time in prison, Rory believes his relationship with Trina can finally move forward. Rory and Trina are supposed to be taking a trip together, but it appears she may consider backing out.
Other spoilers reveal Victor (Charles Shaughnessy) will question Trina, which could stir up her old feelings for Spencer.
After Trina decided to cut Spencer out of her life and he went to prison, she learned he had feelings for her but had to hide them to get evidence to prove her innocence. Will Trina's encounter with Victor push her to finally visit Spencer?
Elsewhere in the promo video for the ABC soap opera, Willow (Katelyn MacMullen) lets out a horrified scream after walking into the boathouse. "General Hospital" spoilers reveal Holly Sutton (Emma Samms) returns.
In the previous episode, guns shots were heard at the pier, and Anna (Finola Hughes) believed Lucy (Lynn Herring) was the victim. She assumed Lucy fell into the water, but the authorities couldn't locate a body.
Viewers later saw a woman wearing similar clothing drag herself out of the water, but it appears the person was Holly.
Willow will receive quite a shock seeing as she doesn't know Holly, and most Port Charles residents believe Holly is dead. How will Holly explain her sudden reappearance?
Other "GH" spoilers tease Nina (Cynthia Watros) refuses an offer, Ned (Wally Kurth) and Michael (Chad Duell) butt heads, and Curtis (Donnell Turner) has a change of heart.
"General Hospital" airs on weekdays at 3 p.m. ET on ABC.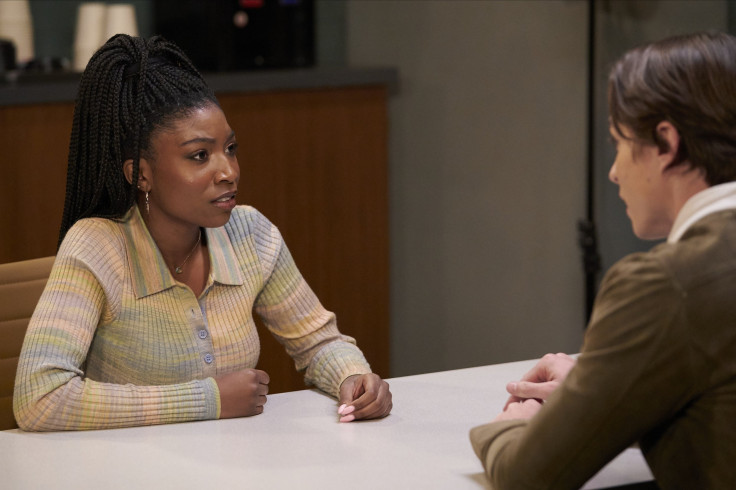 © Copyright IBTimes 2023. All rights reserved.