George Floyd Violence: Trump Urges Show Of Force To Stop Protests, Says Governors Are 'Jerks' For Not Doing So
KEY POINTS
The U.S. has been rocked by six nights of violence, arson and looting across the United States
Floyd died as a police officer knelt on his neck as he begged for breath
Trump has proposed sending in the regular military to quell the unrest
President Trump on Monday unleashed an angry diatribe on governors, telling them during a conference call they will "look like a bunch of jerks" unless they crack down on the violence ripping the nation in the wake of the death of a black Minneapolis man at the hands of a white police officer.
The New York Times, saying it had obtained a recording of the call, quoted Trump as saying protesters should be arrested and imprisoned.
Six nights of protests that devolved into violence, arson and looting have swept the country since last week's death of George Floyd, who died after a police officer knelt on his neck for nearly 9 minutes, despite Floyd saying he could not breathe. The officer, Derek Chauvin, has been charged with murder.
The protests have disrupted plans to reopen the economy amid the coronavirus pandemic, which had killed more than 104,400 Americans as of noon EDT.
"You have to dominate," Trump reportedly told the governors. "If you don't dominate, you're wasting your time — they're going to run over you, you're going to look like a bunch of jerks."
He added: "You have to arrest people, and you have to try people, and they have to go jail for long periods of time." Trump reportedly said 10-year prison terms should be imposed.
The National Guard has been called up in several states to help police quell the violence. Trump last week said the military was prepared to intervene, but he stopped short Monday of saying whether he would send in troops at the same time urging governors "to use the military."
Sen. Tom Cotton, R-Ark., suggested using the Insurrection Act to deploy the military.
Chicago closed off its downtown area Monday to try to keep protesters out of the central business district, blocking highway ramps and suspending all bus and train service into the area to stymie travel. Saturday night vandals smashed windows and looted stores, with the violence spreading outward from there and continuing Sunday in some neighborhoods and suburbs. Mayor Lori Lightfoot told a news conference Monday police fielded more than 30,000 calls Sunday, at times 2,000 calls in 30-minute periods.
"The challenge is significant. People unfortunately believed they could act in a lawless manner without regard to their neighbors," she said. Chicago police have been placed on 12-hour shifts.
New York Mayor Bill de Blasio criticized police efforts, condemning officers' for driving into protesters.
"There is no situation where a police vehicle should drive into a crowd of protesters or New Yorkers of any kind," de Blasio said.
Trump, who was whisked into the White House bunker as violence flared in Lafayette Park, has been blaming antifa for the violence, saying he would designate it as a terrorist group, and accused the media of fomenting "hatred and anarchy."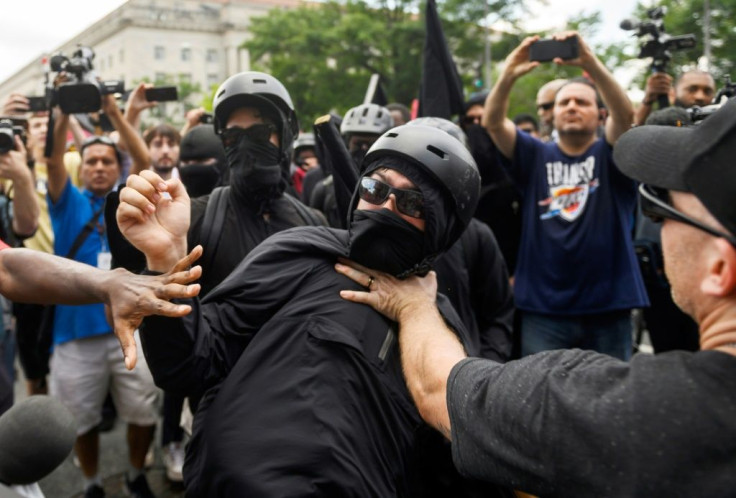 © Copyright IBTimes 2023. All rights reserved.