George Floyd White House Protest: Donald Trump Acting Like Dictator During Racial Tensions, Intelligence And Defense Officials Warn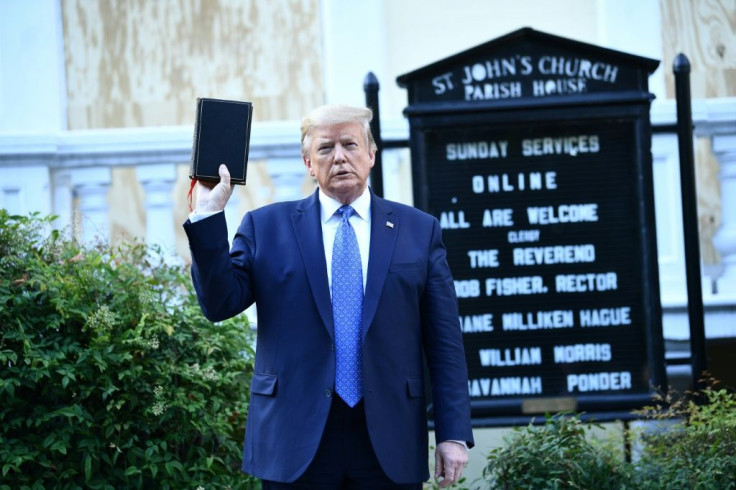 KEY POINTS
James Miller accuses Trump and Esper of violating their oaths of office as a result of tactics used against peaceful demonstrators Monday so he could walk across the street for a photo op in front of a church
Rep. Abigail Spanberger accuses trump of betraying "the very foundation of the rule of law he purports" to support
Two former CIA officials compared Trump's behavior to that of Third World autocrats
An undersecretary for defense policy said he is resigning his post, accusing Defense Secretary Mark Esper of violating his oath of office by participating in a photo op with President Trump across the street from the White House after tear gas and rubber bullets were used to disperse peaceful demonstrators.
The resignation came as intelligence officials voiced concern over Trump's tactics and public comments in the wake of violent protests and looting in several U.S. cities. The unrest began after George Floyd, a 46-year-old black man died after a white Minneapolis police officer pressed his knee on Floyd's neck for nearly 9 minutes.
Trump referred to protesters who have demanded racial justice as "thugs" and demanded governors and mayors use the military to quell the unrest, which has spread across the country.
Continuing protests Tuesday night were mainly peaceful as several major cities imposed curfews.
James Miller said he was resigning his Defense Department post because "there may be few if any lines that President Trump is not willing to cross" and questioned whether Esper is willing to do anything to rein in Trump's worst impulses.
Miller said the actions taken against the protesters were "blatant violations" of both Trump and Esper's oaths of office.
"You may be asked to take, or to direct the men and women serving in the U.S. military to take, actions that further undermine the Constitution and harm Americans," Miller wrote in his resignation letter, published by the Washington Post.
"As a concerned citizen, and as a former senior defense official who cares deeply about the military, I urge you to consider closely both your future actions and your future words. … Where will you draw the line, and when will you draw it?"
Esper told NBC News he did not know about the president's plans in advance, even though Trump on Monday threatened to invoke the Insurrection Act and urged the use of the regular military to put down the protests. Esper said he thought they were just going to talk to the troops.
The hardline tactics have alarmed intelligence analysts who said they have seen this behavior in Third World countries.
Rep. Abigail Spanberger, D-Va., a former CIA officer, said the president's actions Monday betrayed "the very foundation of the rule of law he purports – the U.S. Constitution."
"I've seen this kind of violence," Gail Helt, a former CIA analyst responsible for tracking developments in China and Southeast Asia, told the Post. "This is what autocrats do. This is what happens in countries before a collapse. It really does unnerve me."
Marc Polymeropoulos, who ran CIA operations in Europe and Asia, said he was upset after rubber bullets and tear gas was used to clear a path for the president so he could stand in front of St. John's Episcopal Church holding a Bible. He likened Trump's rhetoric and behavior to that of Saddam Hussein, Bashar Assad and Moammar Gadhafi.
He also called on Esper to resign.
© Copyright IBTimes 2023. All rights reserved.