Germany vs. France: Prediction, Preview And Betting Odds For World Cup 2014 Quarterfinal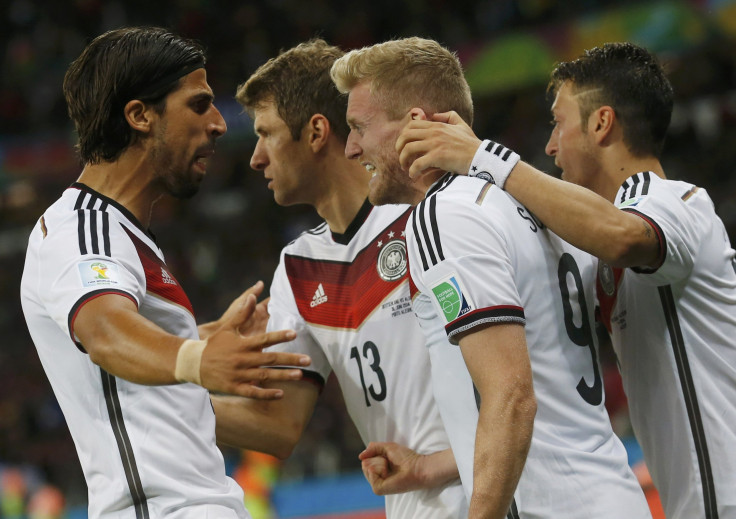 In the Round of 16, Germany escaped by an unexpectedly fine margin against an Algeria side inspired, not only by their deepest-ever run at a World Cup, but by the opportunity to avenge a 32-year-old injustice.
Just four days after a tension-filled extra-time win, Germany faces another perceived victim of theirs from the 1982 World Cup. Having played out a mutually beneficial 1-0 win over Austria that qualified both from the group and eliminated Algeria, the former West Germany went on to play France in a semifinal that witnessed one of the ugliest moments in the competition's history. With the scores tied at 1-1, France substitute Patrick Battiston raced through on goal only to be violently charged into by West Germany goalkeeper Harald Schumacher, leaving the Frenchman with two missing teeth, three broken ribs and back damage that remains to this day. He also slipped into a coma. Schumacher was not even booked, while France were left down a man, having used all their substitutes, and West Germany went onto win 3-1 in extra time.
The two countries have only met once since in a competitive international -- four years later, when West Germany again triumphed in the semifinals. Now in the quarterfinals in 2014, the two European powers are set for a real heavyweight contest.
The ignominious incidents involving Algeria and France in 1982 helped to further stigmatize German play as brutal and machine-like. In the first two of their three victorious World Cups, history does not remember West Germany as the best team. In 1954 a brilliant Hungary had triumphed 8-3 over West Germany in the group stage before somehow losing to the same opponents in the final amid much controversy. In 1974, West Germany won, despite the "Total Football" team of the Netherlands leaving by far the greater legacy. The 1990 World Cup, which witnessed Germany's most recent triumph, is widely remembered for the cynical and defensive football on show.
Ever since their dismal group-stage exit in Euro 2000, there have been moves to reform the German national teams. Those plans really began to take shape in the 2006 World Cup and have continued to evolve at pace under Joachim Löw.
While the past eight years have seen Germany gain new fans and respect for their more adventurous play, they have gone from being perennial winners to the nearly men of the international game. In the past four major tournaments, Germany have lose three semifinals and one final. The aesthetic quality has undoubtedly increased, but some of that unflinching mental and defensive toughness has disappeared.
In terms of its style, this current Germany finds itself almost caught between two stalls. It is a conundrum symbolized by Philipp Lahm. Löw appears to have been influenced by Pep Guardiola's possession-orientated approach, which saw him go into Bayern Munich last season and turn Lahm, the world's best full-back, into a central midfielder. In the first four games of this World Cup, Lahm has been used in that same role, despite Germany having far greater strength in midfield than at full-back, a position in which the team has been repeatedly exposed.
In their last match, Germany's defense was struggling horribly against limited Algerian attacks, while a midfield containing Lahm lacked the precision or the tempo needed to break through the opponents' defense. Then, with 20 minutes remaining, Sami Khedira came into midfield, Lahm moved to right-back and Germany started to create chances at a far greater rate through more direct play.
Khedira and Bastian Schweinstweiger may not be as smooth on the eye as Lahm in midfield, but they could well be more effective, while also allowing Lahm to move to right-back -- a position that has become further problematic by an injury to Shkodran Mustafi. Löw's selection on Friday will be fascinating.
The same is true for his counterpart, Didier Deschamps. In similar fashion, France got much better in their Round of 16 match once a much-called for alteration had been made. For Deschamps it meant ditching the plan of Olivier Giroud leading the line and Karim Benzema being moved out to the left. That combination had worked well against a shambolic Switzerland side, but far less so against a more circumspect Nigeria. Giroud endured a torrid time, while Benzema struggled to affect the play as he had to such great degree in the group stage.
The introduction of Antoine Griezmann in place of Giroud with just under 30 minutes remaining instantly made France more of an offensive threat, helping them to secure a 2-0 win late in the game. It will surely provide the nudge to ensure Deschamps starts the team's best player in his most comfortable position and the lively Griezmann begins on the left. If France can rediscover the verve they showed in their early games in Brazil, then they can do far more than merely ensure that their ill-disciplined recent tournaments are consigned to the past.
Prediction
The selections of both coaches will play a massive part in how this enticing tussle between the two neighbors will pan out. Germany's defense in the shape it was against Algeria would be an open invitation for France to run riot. Yet the backline should be strengthened by the return from injury of Mats Hummels and would be further enhanced by Lahm's move to full-back.
France have been the more impressive of the two teams so far, but have yet to face a team anywhere close to the ability of Germany. It remains to be seen how they will hold up defensively -- their left side was exposed repeatedly by Nigeria -- and mentally. It may ultimately be Germany's greater experience at these late stages of major tournaments that sees them through in a clash that really could go either way.
Germany 2-1 France
Betting Odds (bovada.lv)
In 90 minutes:
Germany win: 29/20
France win: 2/1
Draw: 9/4
To progress:
Germany: 20/29
France: 6/5
When and where: The 2014 World Cup quarterfinal will kick off from the Maracana in Rio de Janeiro at noon ET.
© Copyright IBTimes 2023. All rights reserved.