'Ghostbusters' Set Photos Reveal New Ecto-1 Car And Melissa McCarthy's Uniform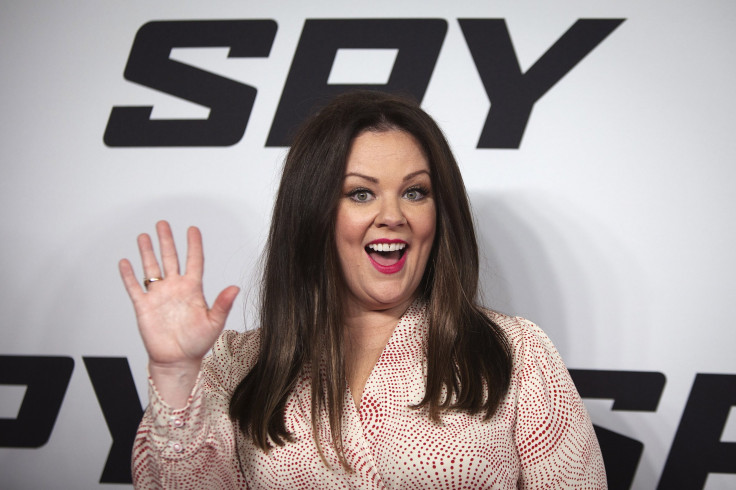 The genders of the "Ghostbusters" cast aren't the only aspect of the reboot that'll differ from the original. New photos from the comedic sci-fi movie reveal an updated uniform and Ecto-1 car. While there are definitely some modifications made, it looks like the new film is using the original for inspiration.
Director Paul Feig tweeted a picture of the "Ghostbusters" uniforms last week and it appears star Melissa McCarthy is the first to be pictured actually wearing it. The original suit from the 1984 film was a plain tan with the "Ghostbusters" logo on the chest and shoulder. Feig's picture revealed darker jumpsuits with reflective stripes, but they kept the logo on the arm, like the original. The front reveals more changes.
In McCarthy's photo, fans can see that the logo on the chest has been dropped. Also, the jumpsuit cinches at the waist, a cut that makes the uniform a little more flattering on women.
Feig revealed the team's new ride on social media as well. The original film had the team in a 1959 Cadillac hearse. The women of the 2016 reboot will upgrade the car, but they're still not driving a modern vehicle. The new hearse appears to also be a Cadillac, but it looks 20 or 30 years old. It might even be the 1984 model. Even though it's a different car, the design stayed strikingly similar, with a white and red theme and the logo on the side and back.
Feig hinted that the new Ghostbusters team won't have new, high tech tools or personal belongings. When a fan asked if his or her backpack looked similar to the new uniform, Feig told the person that "orange is key" and that it should look "not so new." That idea seems to fit with Feig's plan for an origin story. He chose to make a reboot instead of a third "Ghostbusters" film because he wants to show how the group started tracking down ghosts, which means that none of their tools will be very advanced.
"I thought I'd rather do it as a reboot, so I wasn't tied to the old movies," he told AlloCiné in May. "The old movies are so good, I didn't want to mess with them. I also want to see the beginnings of this group. I want to see people seeing ghosts for the first time, and how they are going to fight them for the first time, how they develop their technology."
"Ghostbusters" is scheduled to hit theaters on July 22, 2016.
© Copyright IBTimes 2023. All rights reserved.