'Girl Meets World' Executive Producer Michael Jacobs Teases Shawn And Angela Reunion In Season 2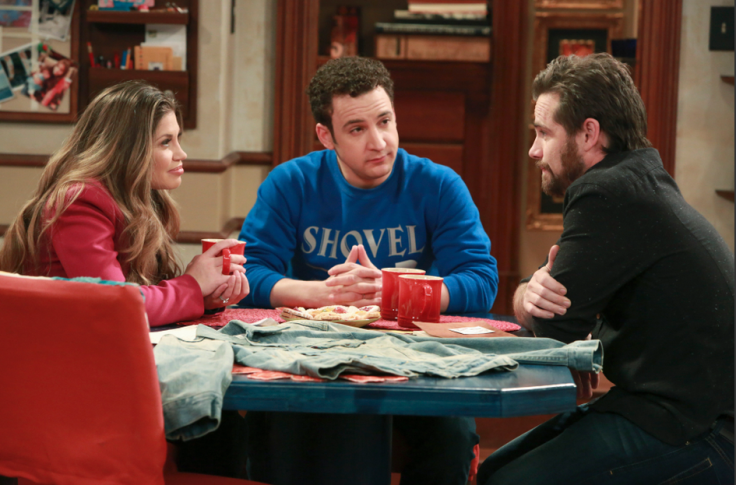 Fans of "Boy Meets World," rejoice! "Girl Meets World" executive producer Michael Jacobs has promised to not only reintroduce some classic characters in Season 2 -- like Eric Matthews (Will Friedle), Mr. Turner (Anthony Tyler Quinn), and Mr. Feeny (William Daniels) -- but he will be offering some answers to old questions.
According to Entertainment Tonight, Jacobs said fans of the '90s classic will finally find out what happened to Angela Moore (Trina McGee), Shawn Hunter's (Rider Strong) former love interest. When the show left off, Angela and Shawn broke things off as she prepared to move to Europe with her father, a military man. Fifteen years later, Jacobs is promising "resolution" in Season 2 of the Disney series.
Shawn reappeared during the show's pilot season revealing that he's grown up, but not much else has changed. He and Cory Matthews (Ben Savage) are still best friends and he is still very much afraid to commit to one woman. What we don't know is what happened to his first love, Angela, who was mentioned a few times during the season. Jacobs has promised that after more than a decade, answers are just days away with the network preparing to kick off a 5-night Season premiere.
"We're about to reveal in an episode called 'Girl Meets Hurricane' what is going on in Angela's life," he said. "For Shawn and Angela, there will be resolution to that relationship."
Promotional photos for the episode suggest Shawn and Angela will have a run-in at what looks like a coffee shop. Others show Shawn looking at his father, Chet Hunter (Blake Clark) -- who fans may remember died during Season 6 of "Boy Meets World, but frequently appears as a figment of Shawn's imagination. Yet another image features Maya (Sabrina Carpenter) and her mother (Cheryl Sexier) involved in a confrontation. As you may recall from the first Season, Shawn and Maya's mother hit it off after being introduced by Riley (Rowan Blanchard). Maya was hopeful that Shawn and her mom would tie the knot, but with Angela back in the picture we expect things to get muddled.
Jacobs says he and the rest of his team thought long and hard about tying up the loose ends left by "Boy Meets World" and, "given the history of these characters," they couldn't pass up to opportunity. He has not said for certain whether the outcome of this reunion will be good or bad, but we're crossing our fingers. The show's producer says he and the rest of the "Girl Meets World" crew will be glued to Twitter, where they expect to be "bombarded" with responses to the episode.
"There will be people who love it, there will be people who don't, but I will tell you that it's real, and that's what we were guided by," he said.
The 5-night premiere of "Girl Meets World's" second Season kicks of May 11 at 8:30 p.m. EDT on Disney Channel. The network plans to air a new episode every night until May 15.
© Copyright IBTimes 2022. All rights reserved.
FOLLOW MORE IBT NEWS ON THE BELOW CHANNELS