'Girl Meets World' Star August Maturo Talks About Being The Son Of Cory And Topanga; Teases Final Episodes Of Season 2
"Boy Meets World" was a show many people grew up with. Since its premiere in 1993, fans watched Cory Matthews (Ben Savage) grow from a boy to a man by the time the series finale aired in 2000. In 2014, the Disney Channel launched "Girl Meets World," which tells the story of Cory's daughter Riley (Rowan Blanchard) as she learns life lessons while growing up in New York City. While Riley has the spotlight most episodes, there is another young actor on set who has some scene stealing moments. Many viewers will recognize August Maturo as Auggie Matthews, the goofy young son of Cory and Topanga (Danielle Fishel) – a role that he's ecstatic to play.
"They were on 'Boys Meet World,' now they're on 'Girl Meets World,' they're the most famous people on Earth," Maturo told International Business Times of his on-screen parents. He's also the brother of Riley, who he said he loves. "I love Rowan, she hugs and kisses me so much, we're really like sister and brother," he said.
The 8-year-old actor said it's incredible to be on the show and enjoys working with the cast, who he says is like one giant family. "My favorite part is listening to what I can do, knowing my lines while learning and listening to everything that I hear," he said. "We play sometimes and we do pranks and have fun and we get to see who the new director is every time and it's very fun with us."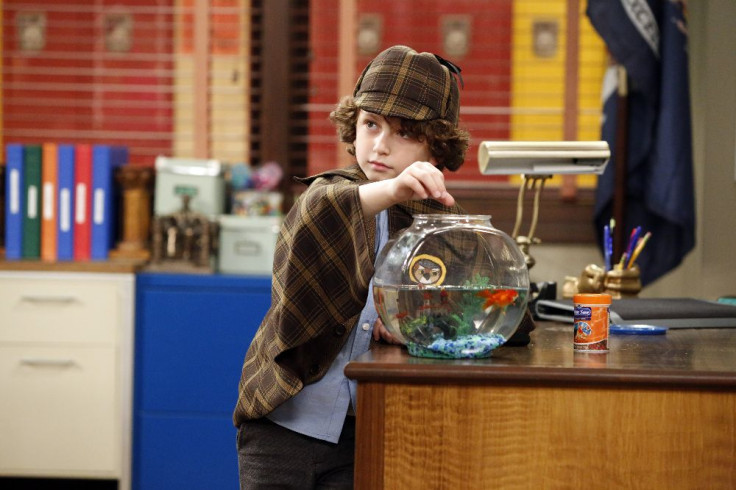 Maturo said it can be a little confusing on set because his character has the same name as him. However, he believes the show chose that name because they liked it. He says his favorite episode he's been a part of so far is "Girl Meets Brother" from Season 1. In this episode, Riley wants to be treated more like an adult, so she's given the task of babysitting Auggie. The two end up fighting with each other, but in the end they both learn a valuable lesson about relationships. The episode also gave Maturo a chance to be funny.
"I like doing funny things like putting my face in the cake, playing with cereal and doing all of that funny stuff," he said.
Another funny actor that Maturo admires is Will Friedle, who starred on the original "Boy Meets World" series as Cory's older brother, Eric Matthews. Friedle reprised his role in 2015. Maturo said Friedle is one of his favorite actors and was entertained by him on the set.
"He's super funny and does things that aren't even in the script, but they're funny so it adds to what's already written," Maturo dished.
There are five episodes left in Season 2 of "Girl Meets World" and the young star says the best is yet to come. "Fans can expect lots of laughing, crying, feelings and amazing acting from the whole cast," he teasded. "Our best episodes haven't even aired yet!"
© Copyright IBTimes 2023. All rights reserved.