'Glee' Season 6 Spoilers: Why Are Blaine And Rachel Teaming Up In Final Season? Lea Michele, Darren Criss Tease Premiere's First Song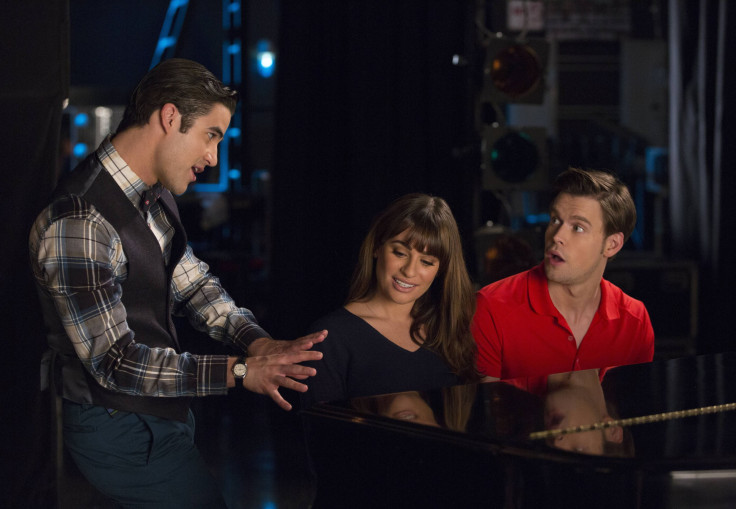 "Glee" Season 6 is looking awfully familiar to longtime fans of the Fox series. Rachel (Lea Michele) is back in Ohio living with her dads, while Blaine (Darren Criss) is coaching the Warblers at Dalton Academy. And that definitely wasn't where Season 5 left off. When we last saw the two characters, Blaine was happily finishing up his freshman year in New York City while Rachel was off to Los Angeles to film a TV pilot. It seems those plans didn't work out for either of them.
"At the beginning of Season 6, we find out what happened with Rachel in Los Angeles and with the TV show and that gets really messed up," Michele told Entertainment Tonight. "She finds herself back in Ohio but for good reason because these kids need her and she's back to sort of reboot the glee club."
In the video below, Rachel is seen in the Lima Bean, the local coffee shop, and is immediately recognized by Principal Figgins (Iqbal Theba), who is now a barista since Sue took over his position at school. Rachel clearly doesn't want to be recognized, but Figgins seems like he has seen a celebrity (and Rachel's big sunglasses and floppy hat make her look like a celeb going incognito). Blaine and Rachel sit down to talk about their lives and Blaine reveals he is coaching the Warblers.
"You don't need a college degree for that?" Rachel asks.
Apparently not because she's headed to McKinley High to do the same, but not before she and Blaine sing a song together. Blaine teams up with Rachel to sing "Suddenly Seymour" from "Little Shop Of Horrors" to cheer up. However, Blaine and Rachel might not be friendly for long once Rachel decides to coach New Directions. The Warblers will have to compete for titles against New Directions and Vocal Adrenaline, which is now coached by Will (Matthew Morrison).
"There's a little bad blood and some tensions early on, so who knows what that's going to lead to," Morrison teased.
Watch the new clips from the premiere and the cast interviews via Entertainment Tonight below:
"Glee" Season 6 premieres Friday, Jan. 9, at 8 p.m. EST on Fox. Do you think Blaine and Rachel's friendship can survive their competitive streaks? Sound off in the comments section below!
© Copyright IBTimes 2023. All rights reserved.
FOLLOW MORE IBT NEWS ON THE BELOW CHANNELS