'Glow' Star Jackie Tohn Reveals How Wrestling Empowered Her, Her Co-Stars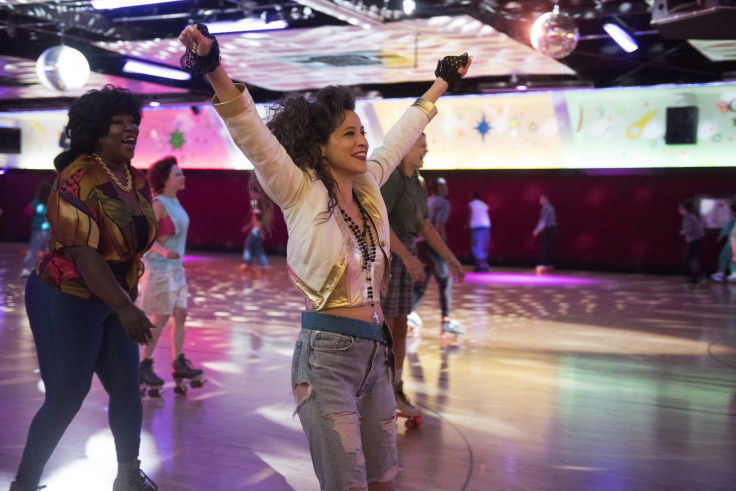 As the old adage goes, "anything you can do, I can do better." That's the message Netflix's "Glow" is sending to viewers and it's one the cast learned first hand.
Jackie Tohn, the quick witted comedian cast as Mel Rose in the series, had no wrestling experience prior to arriving on the set. Uncertain she'd be able to master the moves, but determined to find out, she and her equally inexperienced co-stars settled in for what turned out to be the ride of a lifetime. By the end of filming, Tohn was beyond impressed with her abilities in the ring, though she maintains that she — who self identifies as a "little Jewish girl" — is anything but a fighter.
"I didn't think I was gonna be able to wrestle and then, you get in the ring and you wrestle," she told International Business Times with a laugh. "We all feel like stronger, better women for having been a part of 'Glow' because we were able to do things that not only we never thought we could, but that it never even occurred to us we could. One day you can't even walk in the ring and by the end you're like, 'Who am I taking down?'"
Like Tohn, her character is well versed in sarcasm, always armed with a joke. While she's a novice in the ring, as most of the Gorgeous Ladies of Wrestling are in the show, she never backs down from a fight. What Mel Rose lacks in muscle she more than makes up with in wits.
If you scratch the surface a bit, however, you'll see there's much more that lies within Mel Rose. She uses self deprecation to "cover up insecurities." The wannabe "party girl, socialite music video vixen" has been in and out of rehab facilities, trying to cope with her addictions and "acts sort of like an idiot" — but "Glow" audiences are going to embrace her just as her GLOW family did.
"She generally is a good time and a good friend, but you get the feeling pretty quickly that you shouldn't cross her," Tohn told IBTimes.
Mel Rose is, as we all are, flawed — it's what makes her human and another thing that "Glow" audiences will most certainly gravitate toward. She, like most of the show's characters, is easy to relate to on some level. Tohn credited the depth of each character to astounding writers, who artfully created the people you'll meet when tuning in.
"I deeply relate to Mel Rose. I am Mel Rose, there is no question," she said. "The showrunners and writers see who you are and they put a lot of it into your character. I feel that's what happened with me. They saw who Mel Rose was and saw who I am and there was a really cool marriage there."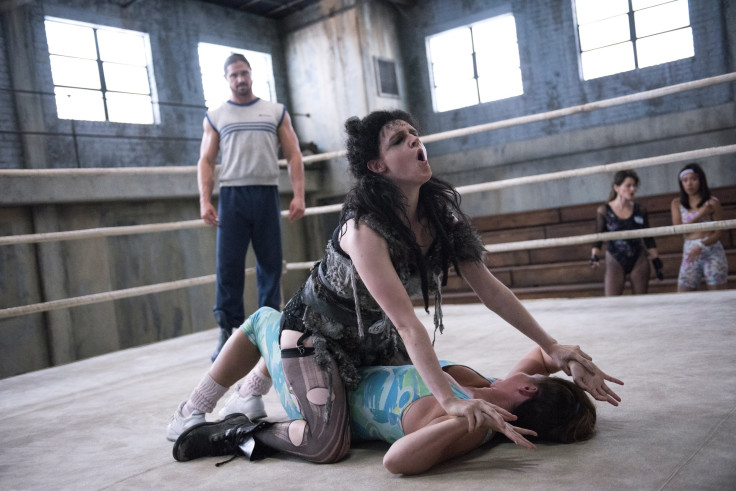 As for the rest of the "Glow" cast, viewers will find that there's someone for everyone. While Tohn saw a lot of herself in Mel Rose, she also relates to Ruth (Allison Brie) and thinks others will too. The varied struggles that each character faces throughout the 10-episode series will undoubtedly resonate with audiences the world over.
"Every character on the show has struggles. At first they're like, 'Why are we here?' and then, little by little, they start loving each other and being there for each other. It's powerful," Tohn teased.
This sentiment has been echoed by critics who've praised the feminist undertones in "Glow." The female-helmed show, based on the the '80s all-girl wrestling group GLOW, is all about breaking down barriers and stomping out gender norms. It's more timely than ever, as women lead the resistance against a misogynistic movement that many feel has found a platform under President Donald J. Trump, and the stars — Tohn included —are hopeful it will "open some eyes."
"I think it's always been important [to see powerful women on TV]. I always think it's extra important now because now is the only place we are. It may have been more important some other time in history, but we're here now," she said. "We need to speak for young women and underrepresented women and women making less money and not being looked at as strong or taken as seriously as men."
Not one for giving advice, Tohn just hopes viewers will feel empowered by "Glow." She's hopeful that after watching this unlikely group of women dominate in the ring, viewers will feel inspired to try new things. You never know what you'll find if you do.
"I think if anything, try to do the thing you think you can't do because you'll surprise yourself," she said.
"Glow" is now streaming on Netflix.
FOR FREE to continue reading
✔️ Unlock the full content of International Business Times UK for free
offer available for a limited time only
✔️ Easily manage your Newsletters subscriptions and save your favourite articles
✔️ No payment method required
Already have an account?
Log in
© Copyright IBTimes 2023. All rights reserved.