Gmail iOS App Update: How To Use Undo Send Feature On Your iPhone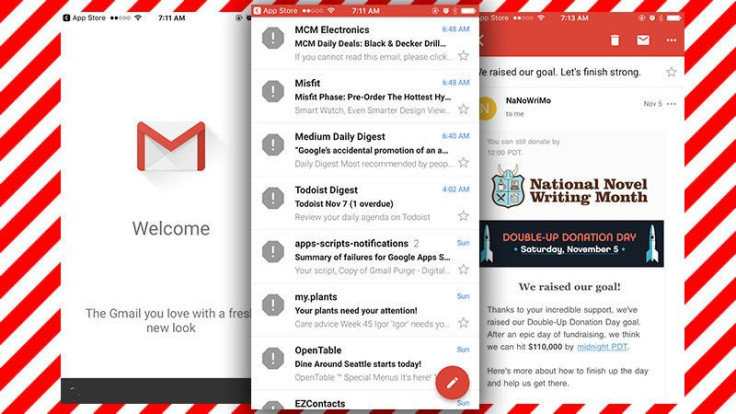 Google has released a redesigned Gmail app for iPhone and iPad that's "a lot faster." Google's new application received some key upgrades for version 5.0.3, which includes a revamped UI that makes it look just like the Android version of the app. The new look also brings in a new color scheme, new icons and will make the performance just as fast as its Android app.
While the new look is one of the first things you'll notice, the app is much quicker than it used to be. Though the basic features remain the same, you'll still have access to all of your Gmail labels and the new search feature. You can easily add multiple accounts, and the app shows the style you've picked for your Inbox. The new colors are bright, emails have an avatar showing you the sender and you can easily switch between accounts.
Google also added another update to the Calendar app for the iPhone app Monday. Not much has changed with the Calendar app, but Google did add some cool features: Events and reminders are now integrated into the iPhone search. That means if you're looking to make Google Calendar your main option, it should be much smoother for you.
In addition to the redesign, Gmail's iPhone app features the ability to swipe on a message to archive or delete it, depending on which you select. Search also gives you better suggestions if you spell something wrong.
The biggest feature for the Gmail iOS app update is the ability to Undo Send, a feature that prevents you from making some pretty stupid mistakes.
How to use Gmail's Undo Send Feature on Your iPhone:
From your computer, sign into your Gmail account. In the top right, click on Settings. In the "Undo Send" section, simply check the box next to the "Enable Undo Send." You'll then be able to set the amount of time you want to unsound an email. The Undo Send feature on the mobile app can be set to 5 seconds, while the Undo Send feature on the web can be set to 5, 10, 20 or 30 second-delay.
The newly redesigned Gmail app for iOS is available on the App Store.
© Copyright IBTimes 2023. All rights reserved.