'God Receipt' Waitress Fired: Applebee's Chelsea Welch Axed For Posting Pastor Alois Bell's Receipt Online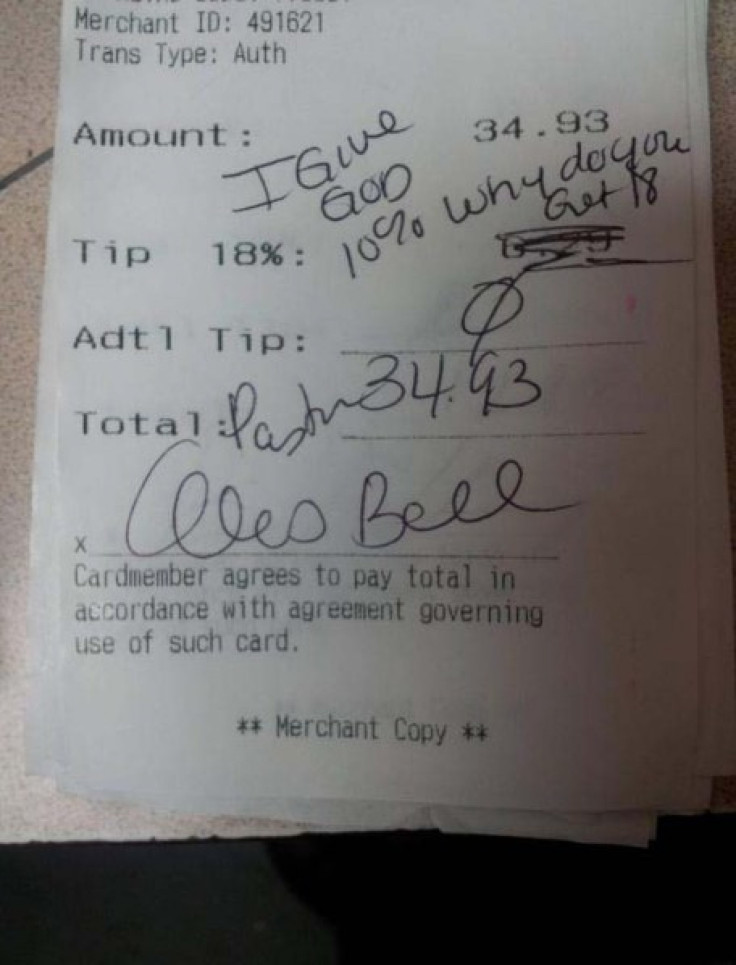 An Applebee's waitress was fired after sharing on the Internet a receipt with a rude comment left by a patron upset at the 18 percent gratuity added to her check.
Chelsea Welch, who worked at an Applebee's location in St. Louis, decided to share an image of the receipt that read "I give God 10% why do you get 18,"on social media website Reddit because she found it funny.
In an interview with Consumerist.com, she made it clear that she was not the Applebee's employee that received the receipt but simply snapped a photo of it at the end of her shift.
"I originally posted the note as a lighthearted joke," Welch told Consumerist. "I thought the note was insulting, but it was also comical. I posted it to Reddit, because I thought other users would find it entertaining."
However, the patron in question, Pastor Alois Bell, did not find the act funny. She contacted management at the Applebee's location and demanded that entire waitstaff be fired, Welch told Consumerist. Instead, she alone was dismissed Wednesday.
Welch insists that she did not think the handwriting was legible, therefore did not think about editing the name on the receipt when she posted it to Reddit's Atheist page.
Later she attempted to replace the image with one where the signature was edited; by that time, the post had become popular on the social media site, with many trying to decipher who the elusive pastor was. The story was then picked up by several news outlets.
It was this that allowed Bell to get wind of the story. She spoke with the Smoking Gun, detailing that a friend called and informed her that her receipt was "all over Yahoo."
She described her actions as a "lapse in judgment that has been blown out of proportion," in an attempt at a public apology.
"My heart is really broken," she told the Smoking Gun. "I've brought embarrassment to my church and ministry."
However, Welch remains without a job; she told Consumerist that she was working at Applebee's in order to save money for college, adding that she checked and found that she didn't break any specific guidelines in the company handbook.
"I was just trying to make a joke, but I came home today unemployed," she said.
Bell dined at the Applebee's with a party of 10, for which the restaurant requires an automatic gratuity of 18 percent be paid for parties of eight or more people. Despite insisting that she left a cash tip of $6, in addition to her comment, Bell wrote "zero" in the additional tip section.
"If this person wrote the note, obviously they wanted it seen by someone," Welch noted. "It's strange to me that now that the audience is wider than just the server, the person is now ashamed."
The service industry notably operates in a fashion where waitstaff earn their living mostly from tips.
"We make $3.50 an hour. Most of my paychecks are less than pocket change, because I have to pay taxes on the tips I make," Welch said. "After sharing my tips with hosts, bussers and bartenders, I make less than $9 per hour on average, before taxes."
Welch explained that flawed system is no excuse for not paying for services rendered, adding that tipping well essentially insures continued good service.
"I posted a picture to make people laugh, but now I want to make a serious point. Things like this happen to servers all the time. I've had worse tips just in the last month. People seem to think that the easiest way to save money on a night out is to skip the tip. But when you don't tip a good server that means that server might move on to a better job. And a worse server might take their place," she said.
During her time at the restaurant, Welch said she was a well-liked and well-respected employee that maintained high sales and was hoping to move up to management within the year.
"But because this person got embarrassed that their selfishness was made public, Applebee's has made it clear that they would rather lose a dedicated employee than lose an angry customer," she said. "That's a policy I can't understand."
FOR FREE to continue reading
✔️ Unlock the full content of International Business Times UK for free
offer available for a limited time only
✔️ Easily manage your Newsletters subscriptions and save your favourite articles
✔️ No payment method required
Already have an account?
Log in
© Copyright IBTimes 2023. All rights reserved.