Gold Miners Seeking Ways To Attract Investors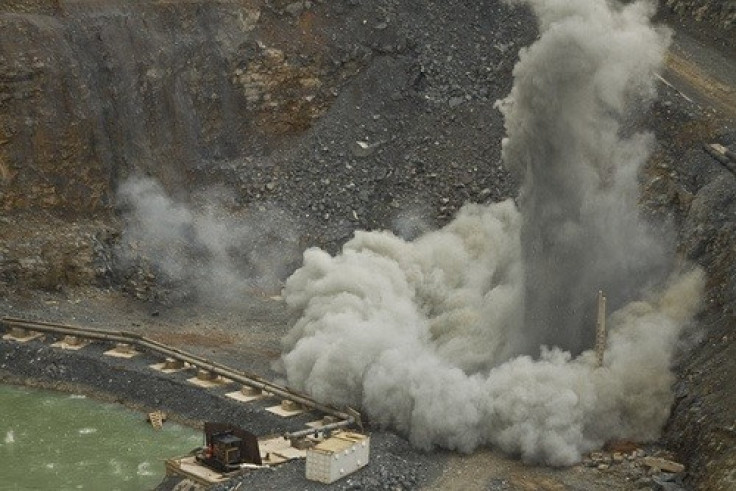 (REUTERS) -- A collapse in gold producers lofty valuations has sparked soul searching about an exodus of restive shareholders, forcing them to tighten operations and boost dividends to lure investors.
Executives of top gold firms acknowledged during the Reuters Mining and Metals Summit this week that they bear blame for losing some investors who have switched to putting cash in gold bullion itself instead of companies that dig it up.
Over the last year or two, investors who love gold... have been quite disappointed in the general gold sector's performance in terms of execution, be it capital blowouts, or a range of operating issues, Chief Executive Greg Hawkins of African Barrick Gold (ABGL.L) told the summit in London.
Up to about five years ago, gold mining companies were accustomed to enjoying valuations that were more than twice those of other mining companies.
The forward price earnings (PE) ratio of gold miners was 30-35 in 2005-2006, compared to less than 15 for world equities, but the situation has flipped.
Valuations for gold firms have slid so much they now trade at a discount to the market, with a PE of 10 versus nearly 12, according to Thomson Reuters Datastream.
At the same time gold companies struggled to control costs in far-flung locations, investors were presented with an easy way to invest in gold bullion through exchange traded funds (ETFs), which have attracted $130 billion of investment.
I think the ETFs may have structurally changed demand for gold company stocks, said Tom Massey, who heads Citigroup's (C.N) metals and mining and chemicals investment banking teams for Europe, Middle East and Africa.
Also, some of the management teams haven't covered themselves in glory in some of the recent gold M&A, he told the summit. Most of our collective gold clients have told us in private that they wonder if the gold premium is coming back.
The high valuations had likely been supported by a group of investors who are most ardent about gold, but if they are shunning the companies, gold firms must broaden their appeal, executives say.
ATTRACT GENERALIST INVESTORS
We can't just continue to battle each other for the same dollars from the same gold funds, Chuck Jeannes, Chief Executive of Goldcorp (G.TO), told the summit in Toronto.
We need to attract those generalist investors, but to do that we need to run our businesses very responsibly, we have to deliver on the financial promises we make and we have to avoid the big issues that scare those investors away.
Other executives also acknowledged they now have to compete with a wide range of other companies for investment and see boosting dividends as a key strategy.
Last month, steep dividend increases helped spur share rebounds in Canada's Kinross Gold (K.TO) and Agnico-Eagle (AEM.TO) and in September global No. 2 Newmont Mining Corp (NEM.N) said it would link dividend payments to the price of gold.
We'd love to see some of the bigger companies in the space forgo some growth capital on high risk projects and say we are actually going to increase our dividend and we are going to put in a program to buy back shares, Agnico-Eagle Chief Executive Sean Boyd said.
I think that would be the start of sending the right messages and really make the sector a forceful competitor to the ETFs.
Also hitting valuations are worries among some investors that gold prices may have seen their peak.
Gold has enjoyed 11 consecutive full years of gains since touching a low of $253.75 per ounce in 2001, hitting a record of $1,920 last September.
Since then, however, it has struggled to regain momentum and some major analysts have forecast falls to $1,000.
Executives are braced for a tough quest to regain investors' confidence in their companies' performance and in the resilience of the gold price.
I don't necessarily see or envisage that the market's going to all of a sudden re-rate the sector and give us back a 1.8 or 2 times premium. I think we're going to have to perform to earn where we should trade, Hawkins at African Barrick Gold said.
Chief Executive Nick Holland at South Africa's Gold Fields (GFIJ.J) agreed that there was no quick fix.
If people start to believe that the current gold price is for real and it's not going to go back to $1,100 or $1,000, then maybe that will give more belief to the equities, but that may take some more time.
© Copyright Thomson Reuters 2023. All rights reserved.