Golden Globes 2014 Red Carpet Recap: The Best And Worst Dressed [PHOTOS]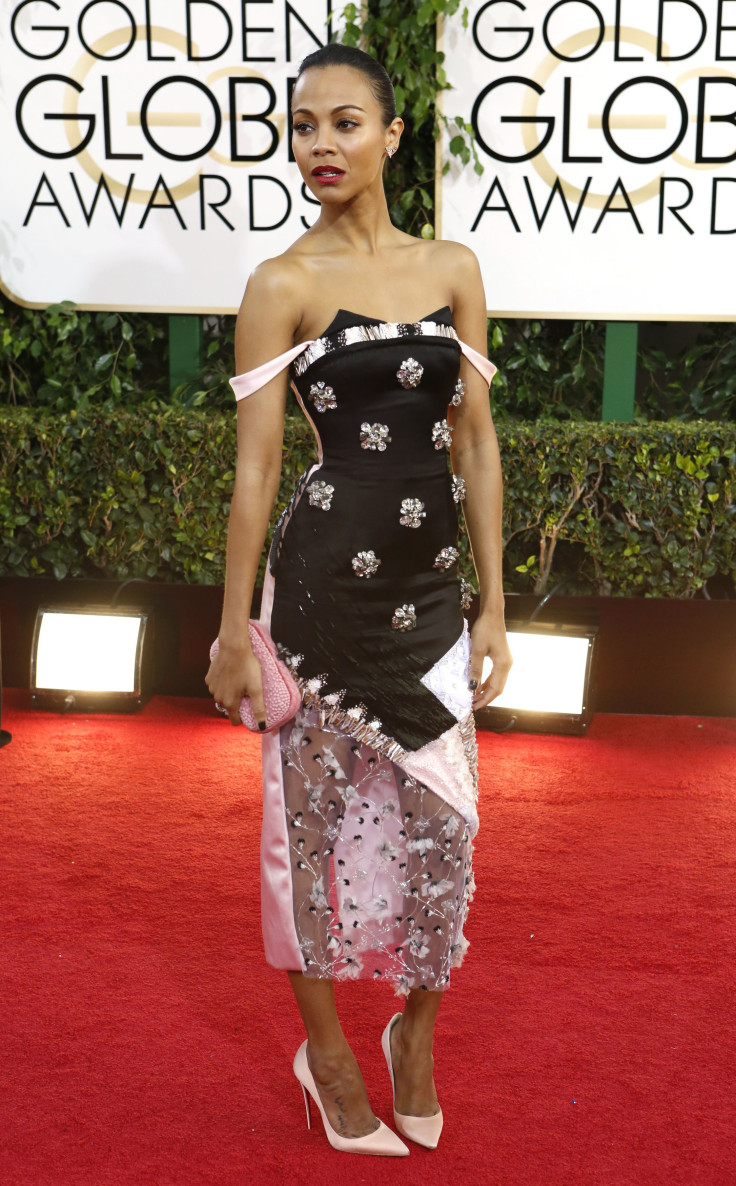 Television and film converged Sunday night for the 2014 Golden Globes and, of course, all were dressed up for the star-studded event in Beverly Hills. As always, it was a cinch spotting the worst dressed at Tinseltown's big night out. But when it came to best dressed at the Globes, it was hard to pick just one winner.
BEST DRESSED
After much deliberating and arguing, we slept on it: For best dressed of the night, it was a close tie between actresses Zoe Saldana and Elisabeth Moss. Both ladies chose super high-fashion, edgy but sweet ensembles that were made for stunning on the red carpet.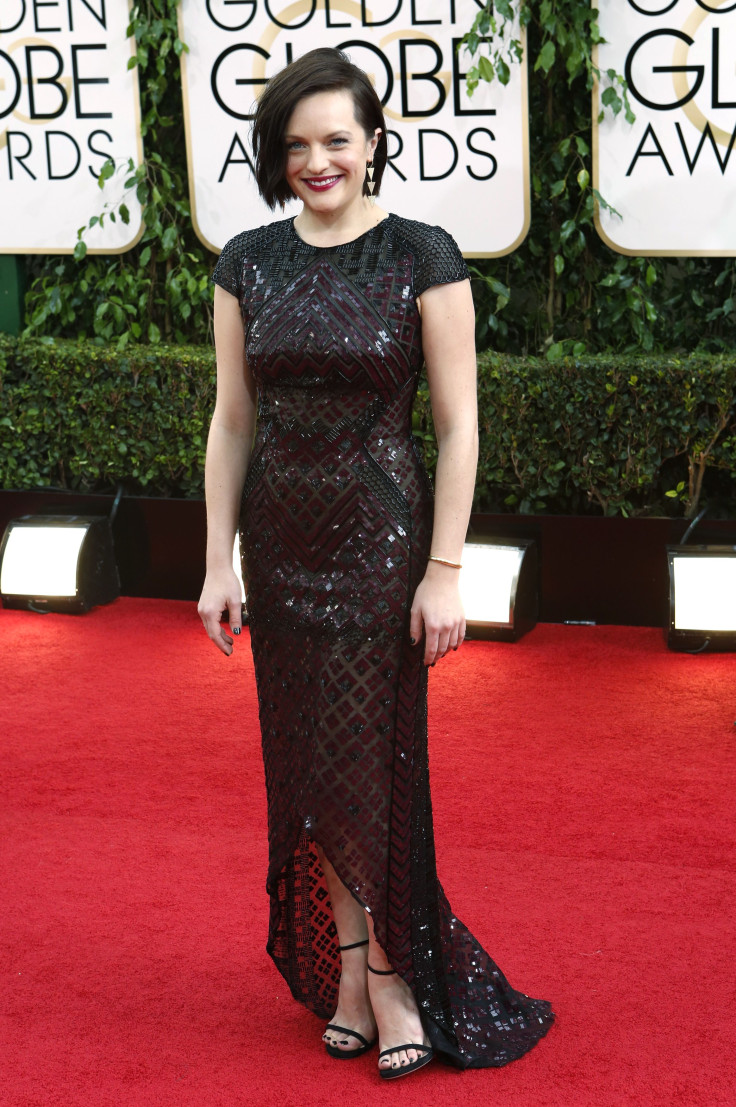 Our winner, Saldana, wore an amazing dress from Prabal Gurung's spring 2014 collection, a show fashionistas have been drooling over since it was presented during New York Fashion Week last September. And when we said her dress was made for her, we meant that quite literally. During E! News' red carpet-arrival coverage, the actress gushed over her strapless, rhinestone embellished pin-up dress, admitting that her "good friend" Gurung said "only Zoe could wear it." While others may not agree, she was a winner in our book.
Moss, who scored an award for Best Actress in a miniseries or TV movie, also scored on the fashion front, in a black and maroon sparkling J. Mendel gown. The only reason we're giving her the runner-up spot is because the gorgeous, geometric details of the gown did not translate to film, appearing lackluster in photos. Trust us, this gown in motion was to die for.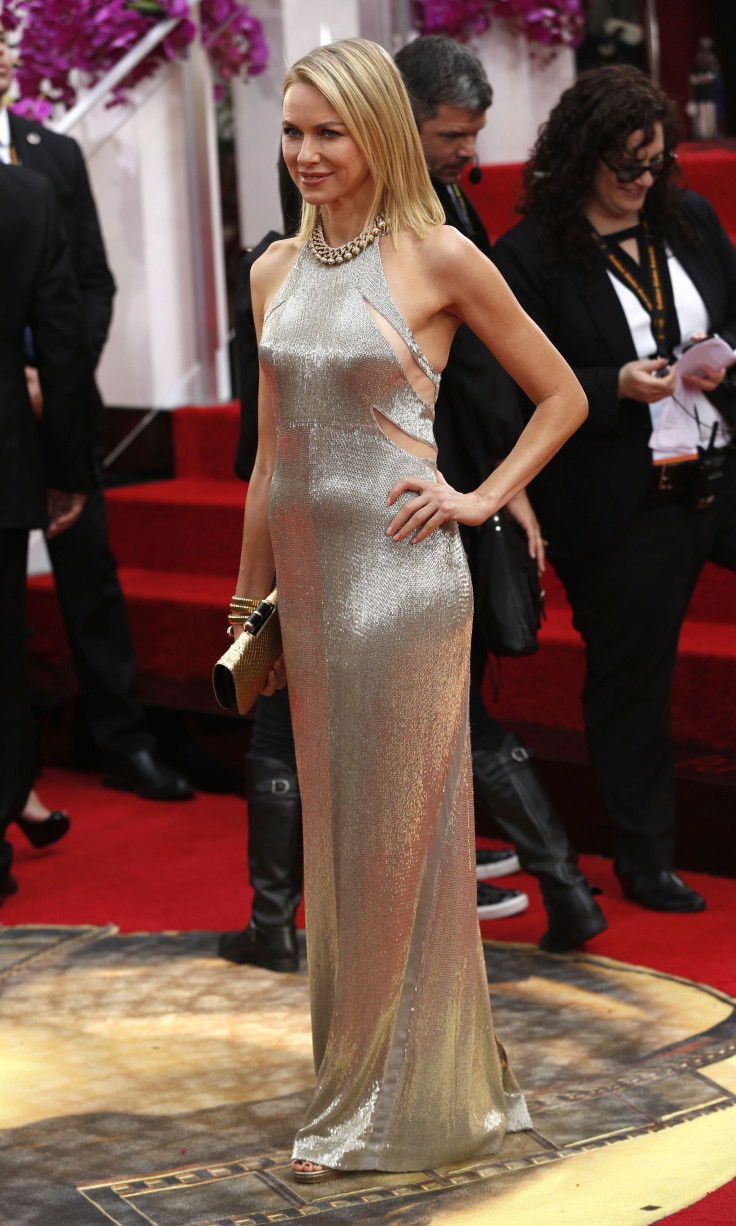 Other memorable ladies in sparkles at the Golden Globes included Naomi Watts, in a perfectly tailored silver-sequined Tom Ford gown, and Kate Beckinsale, in chrome mermaid-cut Zuhair Murad. Lizzy Caplan of "Mean Girls" fame also stunned with some major golden hardware on her Emilio Pucci dress.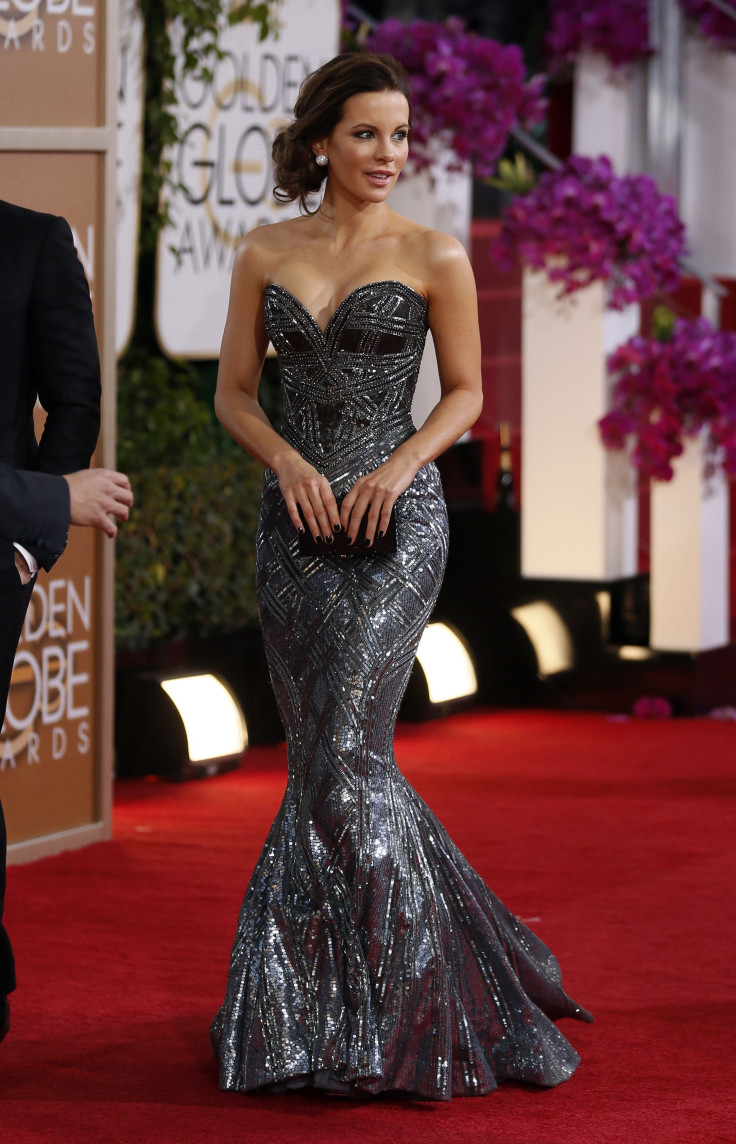 Hollywood newbie and "Wolf of Wall Street" actress Margot Robbie brought out the big guns for her major red carpet debut, wearing a white Gucci dress with rhinestone trim and a super-high, but classy, slit. Fellow newcomer Lupita Nyong'o of "12 Years a Slave" also left us breathless with a caped red gown by Ralph Lauren.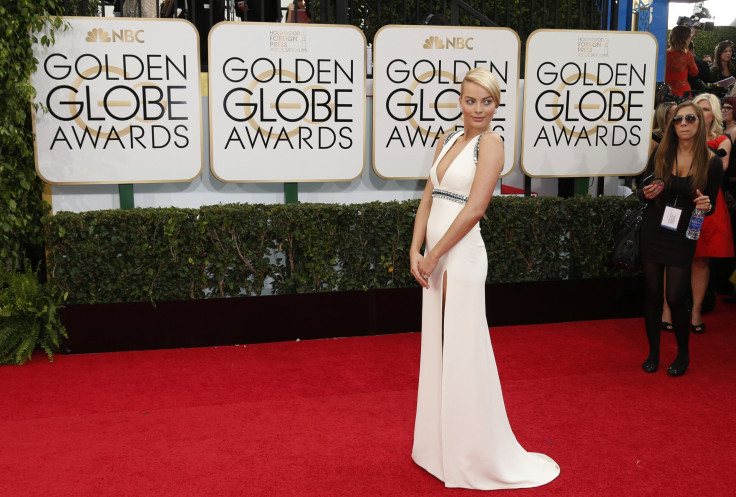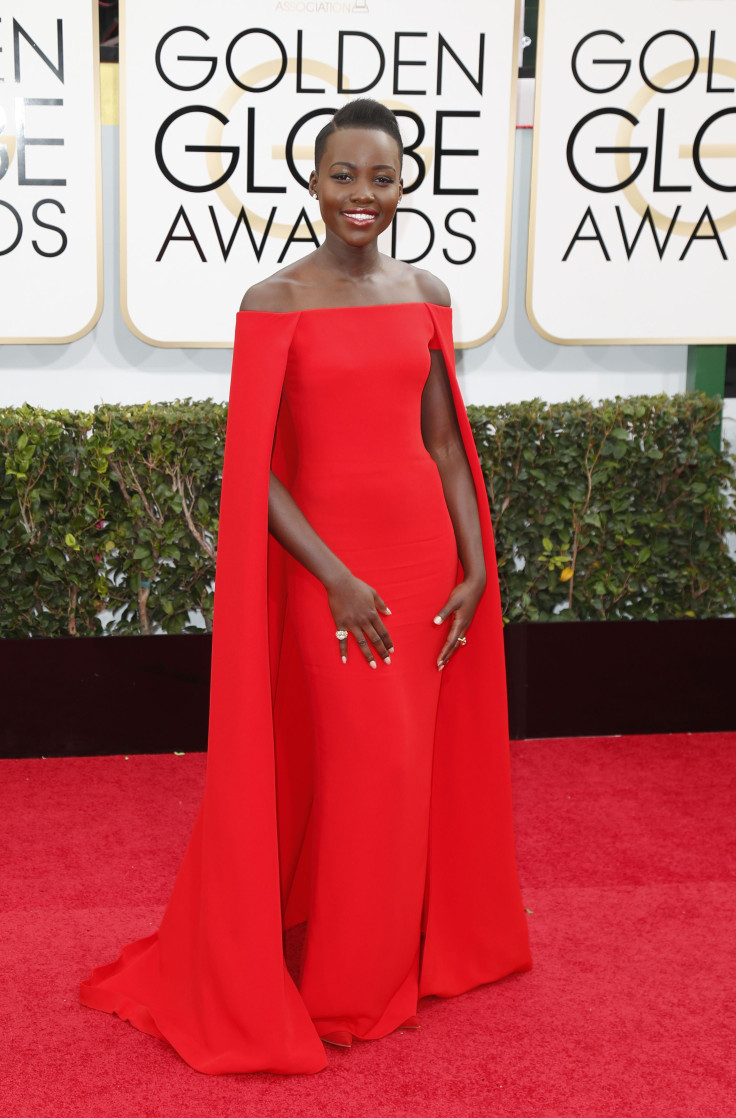 Anna Gunn, who wowed us at the 2013 Emmy Awards, did it again in a simple cream silk gown by Donna Karan Atelier. The "Breaking Bad" actress is definitely one to watch on and off the red carpet. Robin Wright chose a similar palette and looked exquisite in a halter-style gown by Reem Acra. Zooey Deschanel, on the other hand, didn't pull off the neutral palate as well in her too matchy-matchy Oscar de la Renta skirt and top.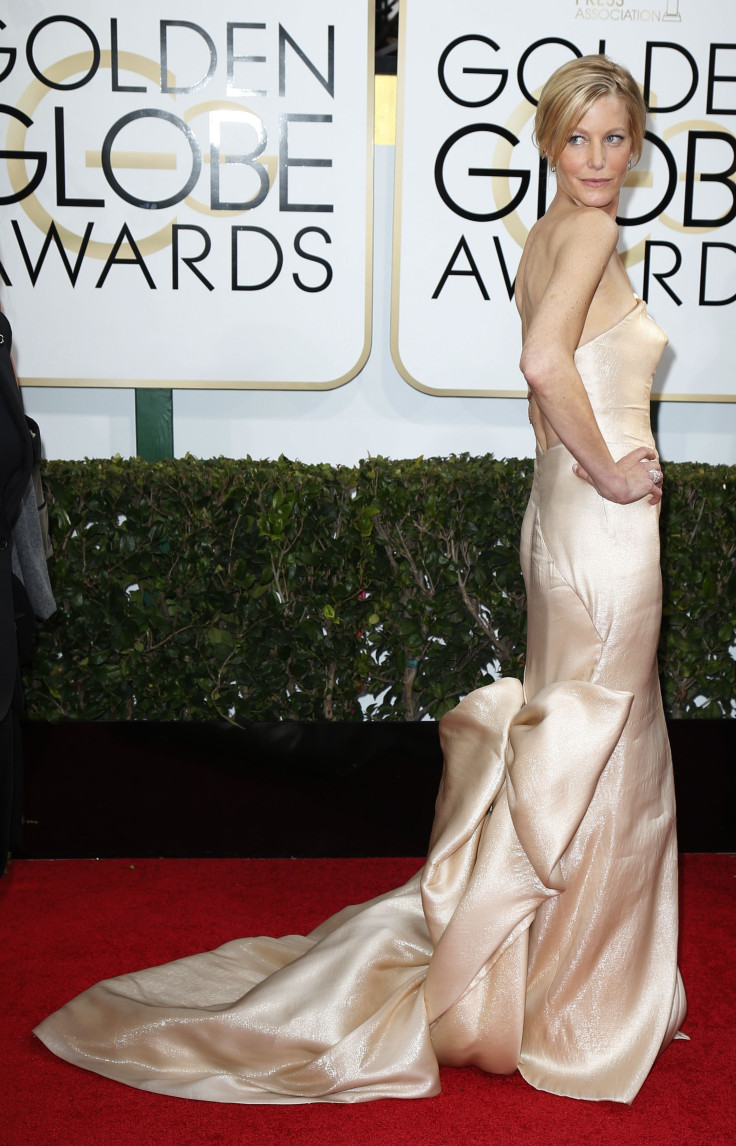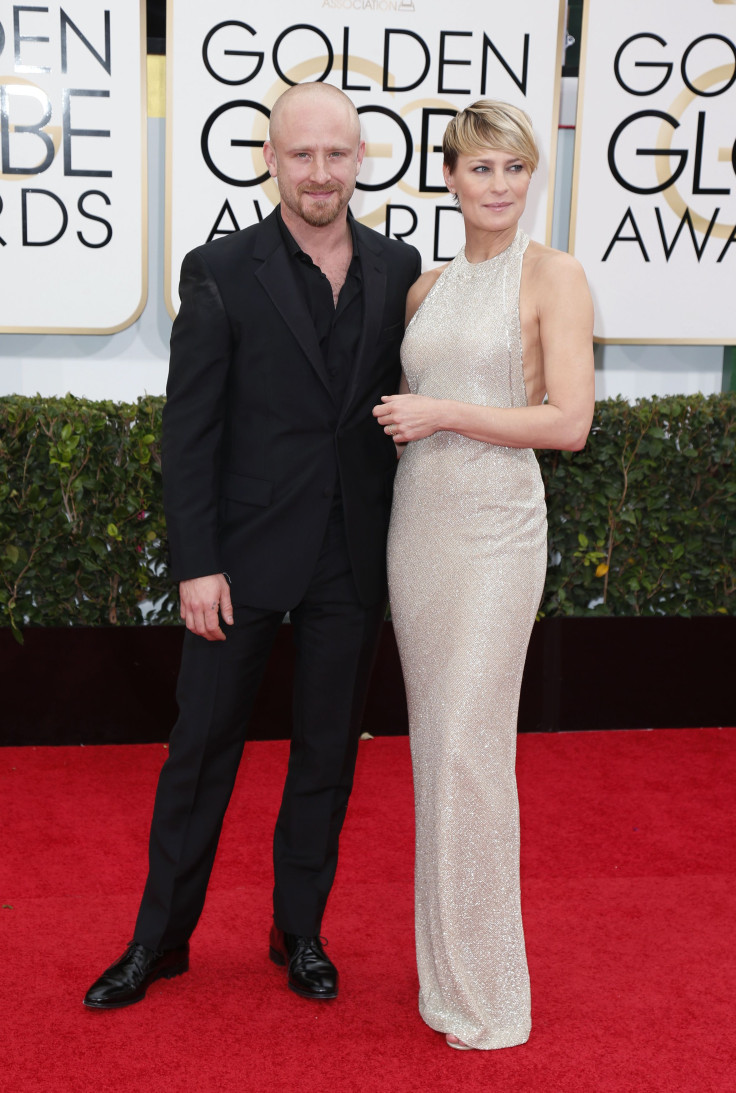 It was a complete draw picking out the best-dressed couple of the night. Both Channing Tatum and wife Jenna Dewan Tatum wearing Roberto Cavalli as well as Matthew McConaughey and Camila Alves wearing Dolce & Gabbana looked beautiful in love.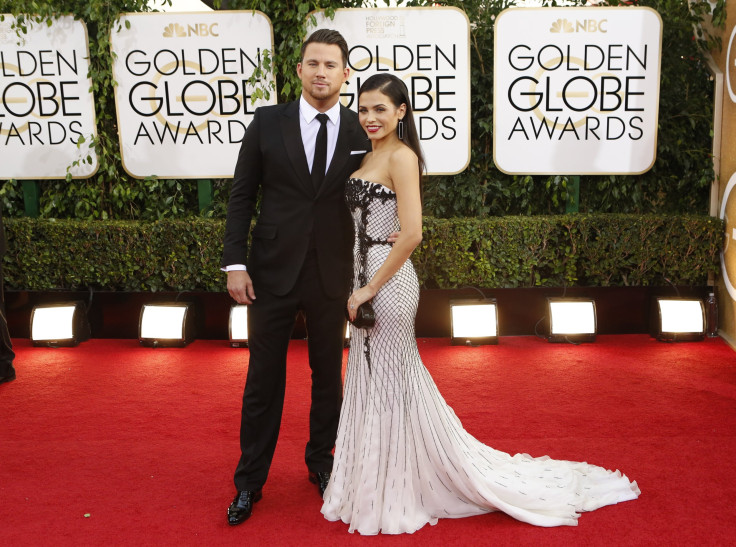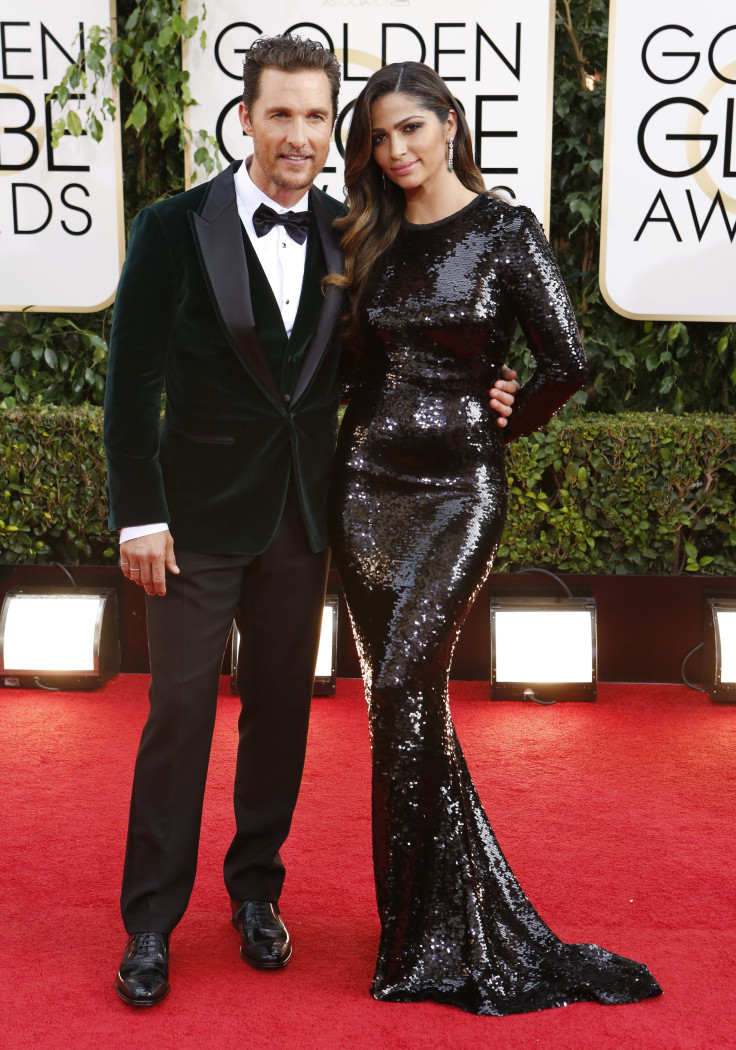 And speaking of pairs, it's no surprise that the hosts of the ceremony, Tina Fey and Amy Poehler, knocked everyone's socks off, and not because of their hilarious opening monologue, but their dress choices. Bombshell Poehler kept it simple and sexy with a black fitted gown by Stella McCartney with an asymmetrical bodice. Her partner in crime donned a more playful choice: a black and fuchsia floral ball gown by Carolina Herrera that she twirled around the red carpet. These funny ladies do not disappoint. And neither do "Girls" stars Zosia Mamet and Allison Williams, who rocked the red carpet in smart, edgy choices by Reem Acra and Alexander McQueen, respectively.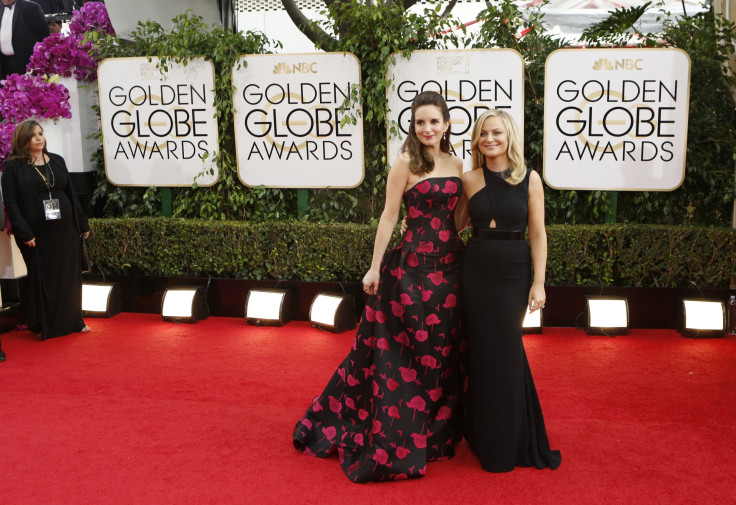 We can't forget to award the pregnant ladies of the red carpet, who were glowing in pre-maternal bliss. Olivia Wilde gets the best mommy award for her fearless choice to highlight her giant baby bump in a green sequin Gucci gown. Also, we need the number of her hair stylist, now. Drew Barrymore was also adorable in a fun pink floral Monique Lhuillier gown with pink and red petals. Kerry Washington was also the talk of the night, finally announcing her much rumored pregnancy on the red carpet and radiating in a white Balenciaga gown that showcased her growing baby bump. Even though her dress choice was a bit too mature for her and not as high-fashion as usual for the 36-year-old, we'll give her a pass for being a knockout soon-to-be-momma.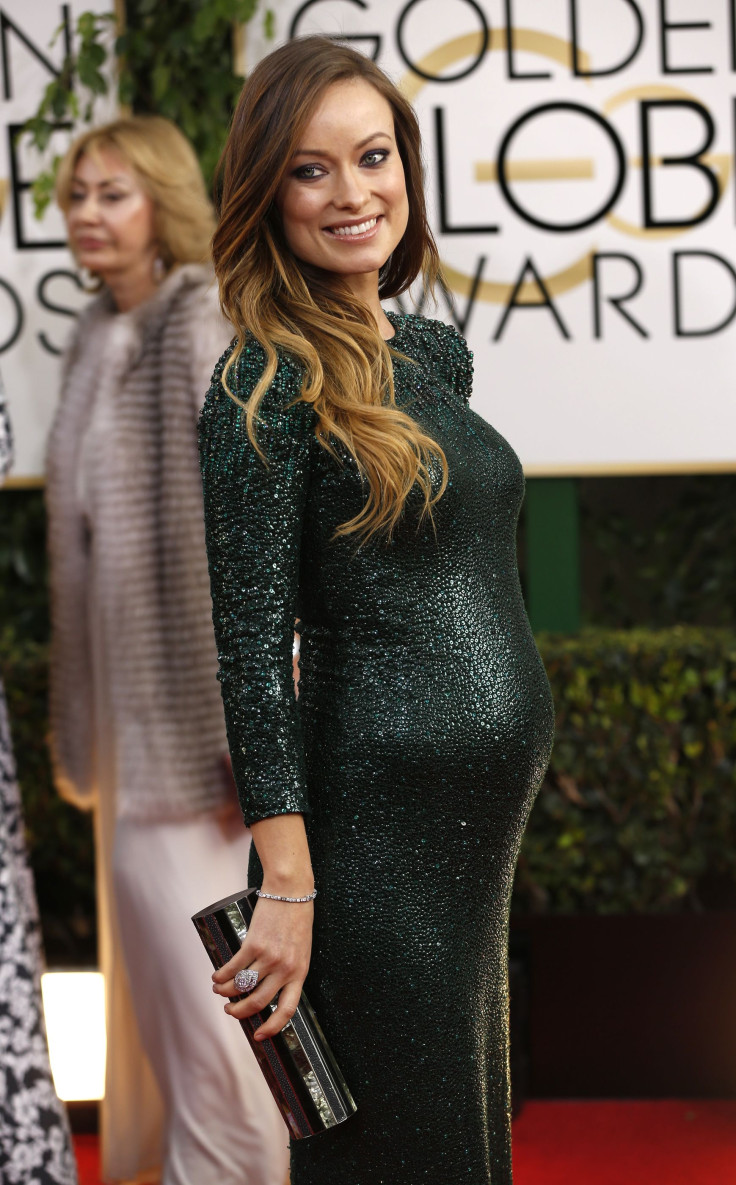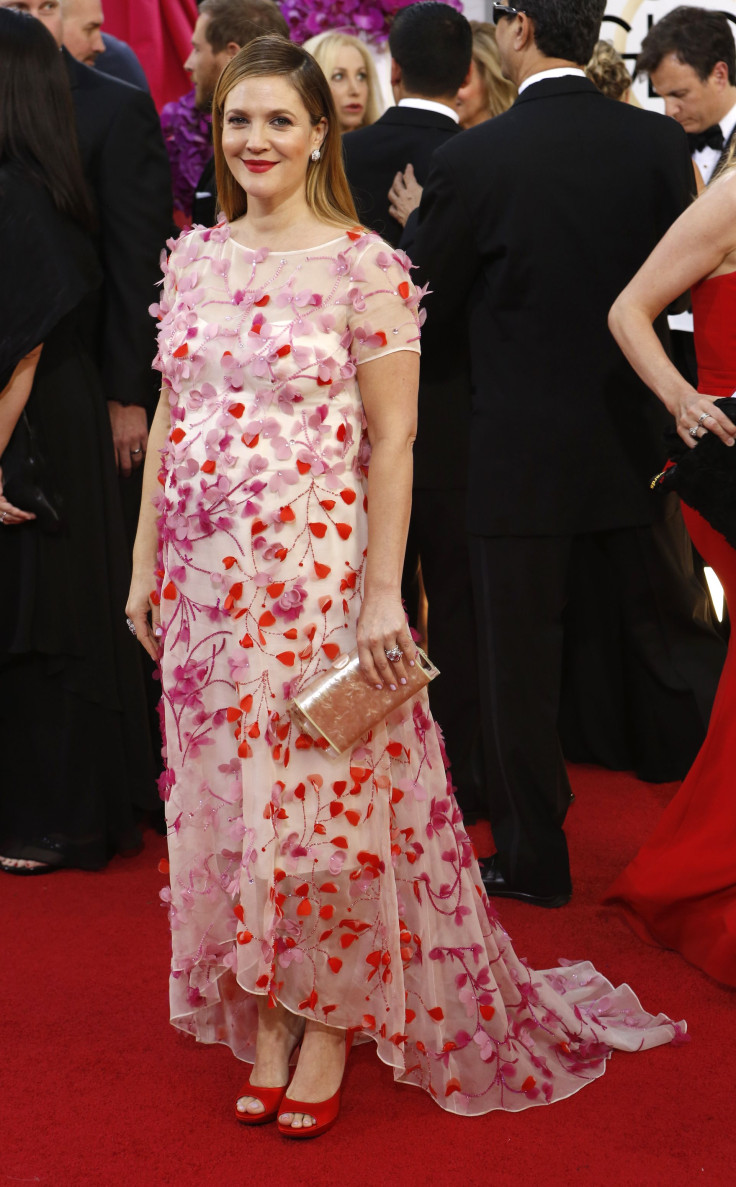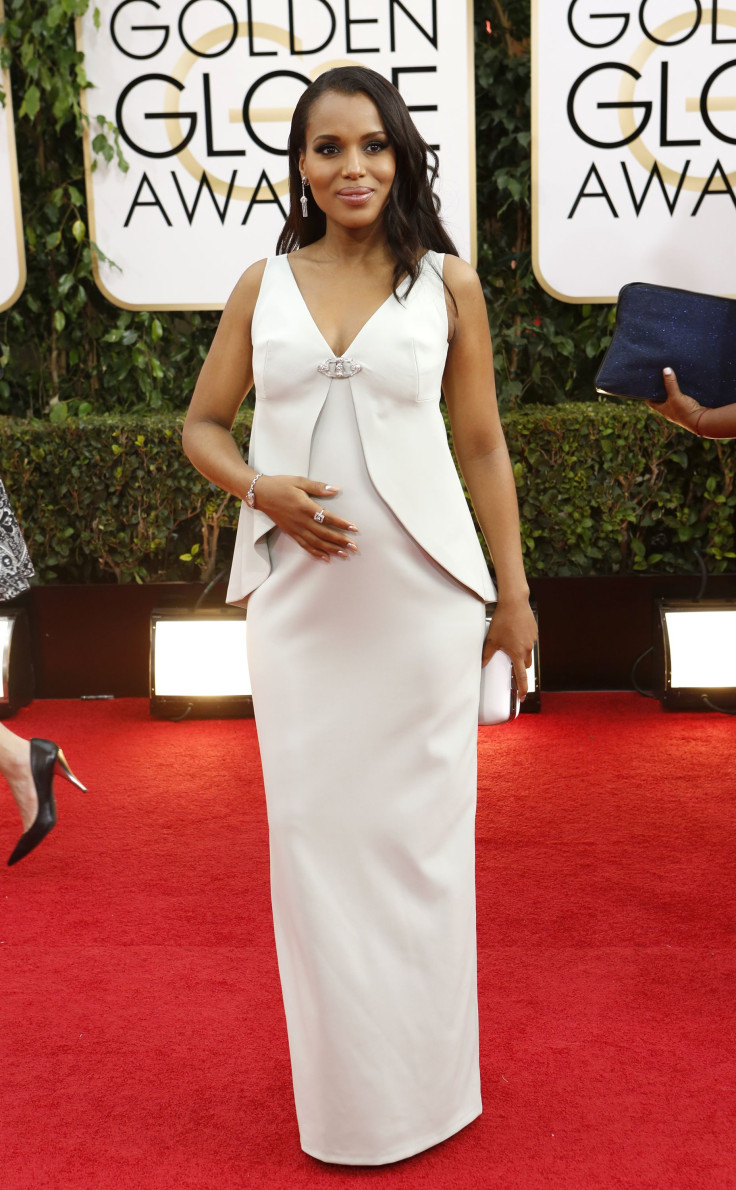 HONORABLE MENTIONS
Kudos to: Uma Thurman in a mock-neck halter gown by Versace, Emilia Clarke in a spotted Proenza Schouler gown, Mila Kunis in Emilio Pucci (though she could have shortened the gown a bit), Sarah Paulson in a Marchesa dress nearly the same hue as Kunis', her "American Horror Story" co-star Emma Roberts in a flawlessly tailored Lanvin gown and Emma Watson with her surprising red carpet twist: Her Dior "dress" that appeared to be a plain, short-sleeved red slab of boring was completely open in the back revealing black pants.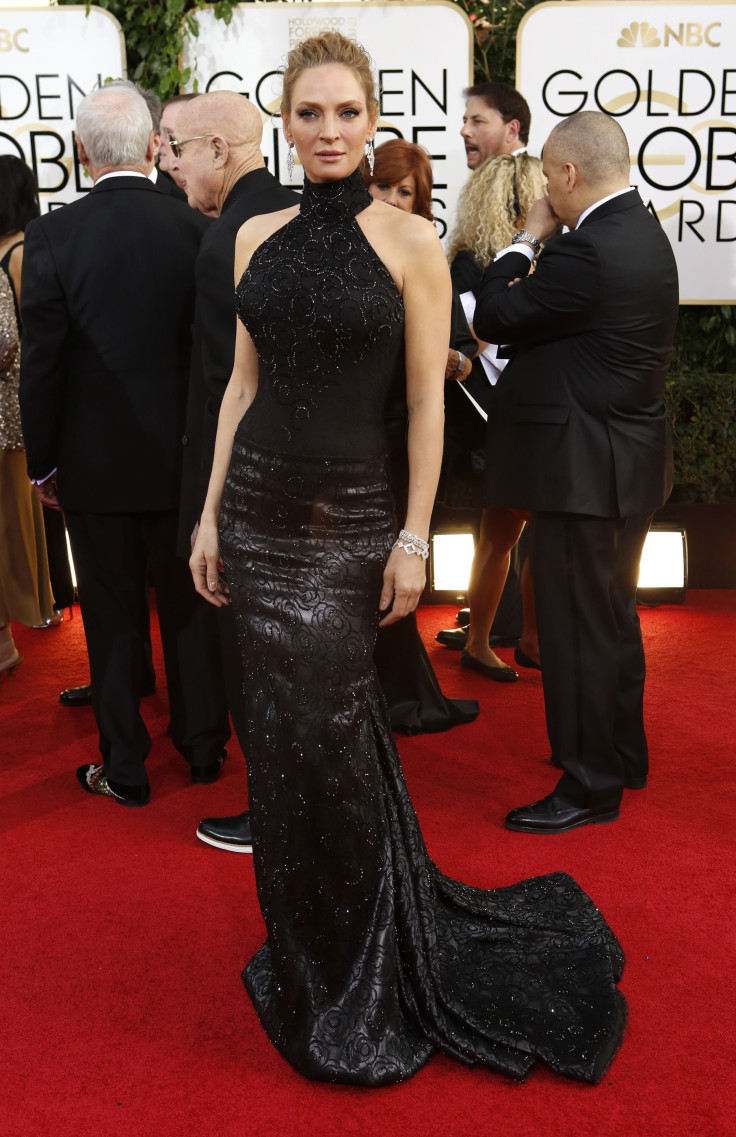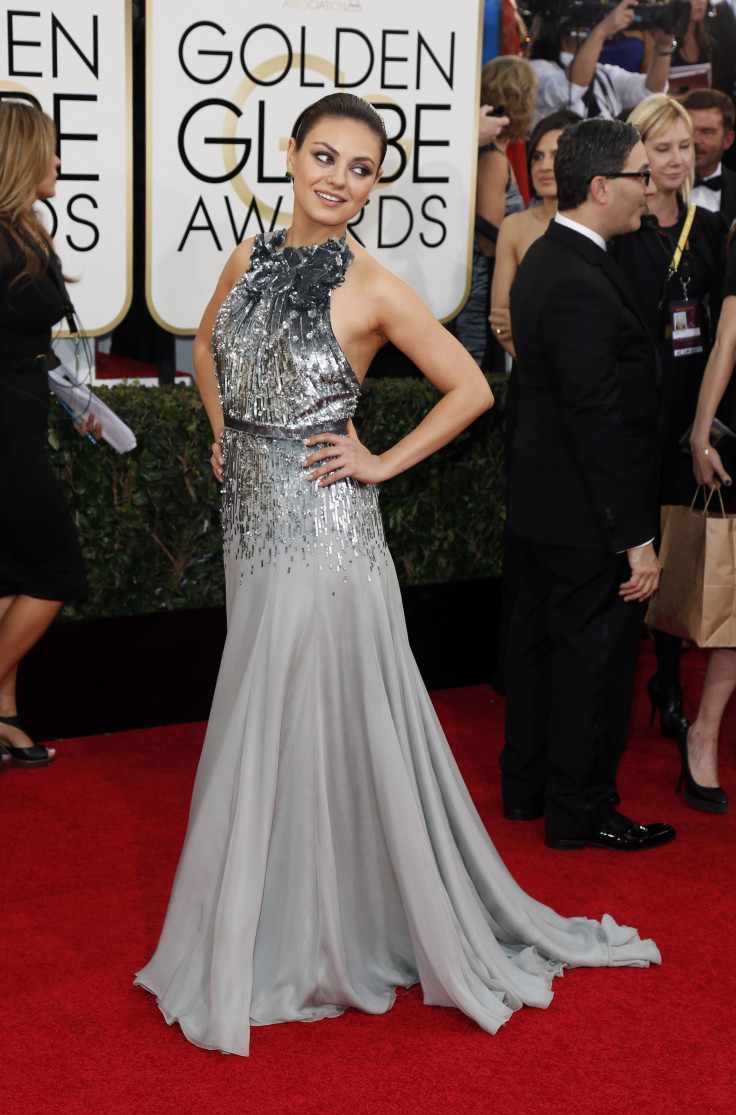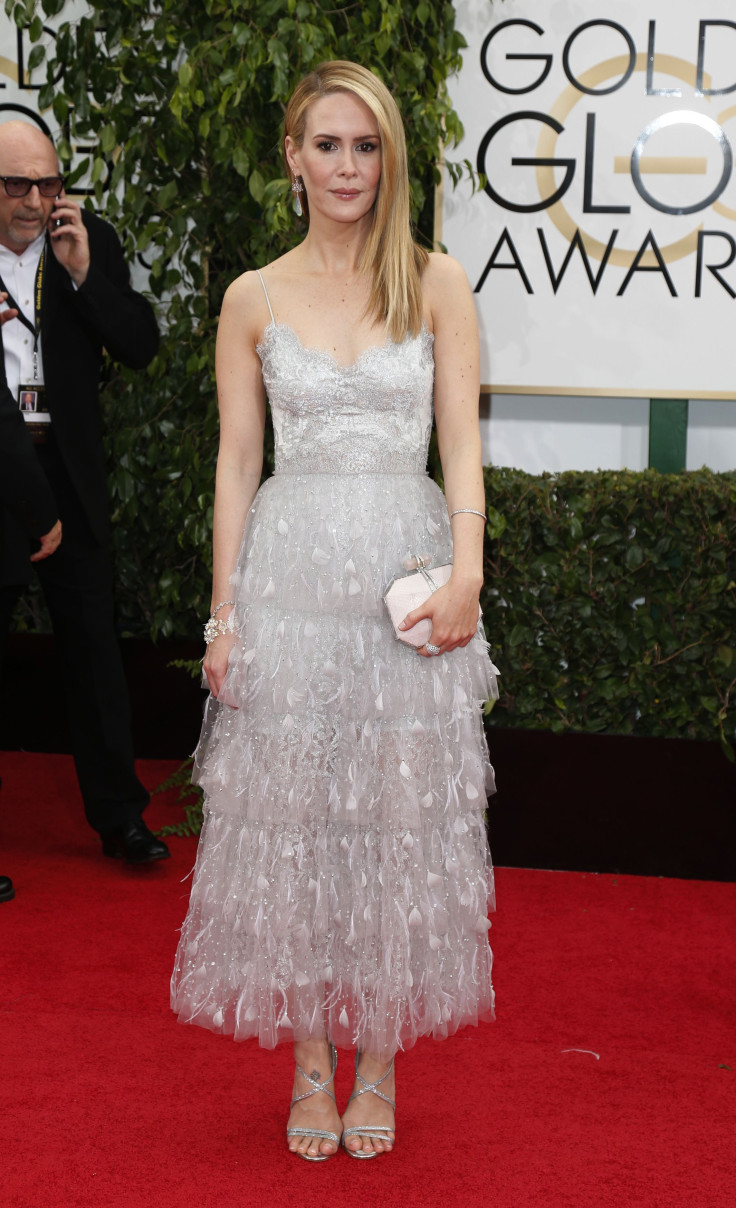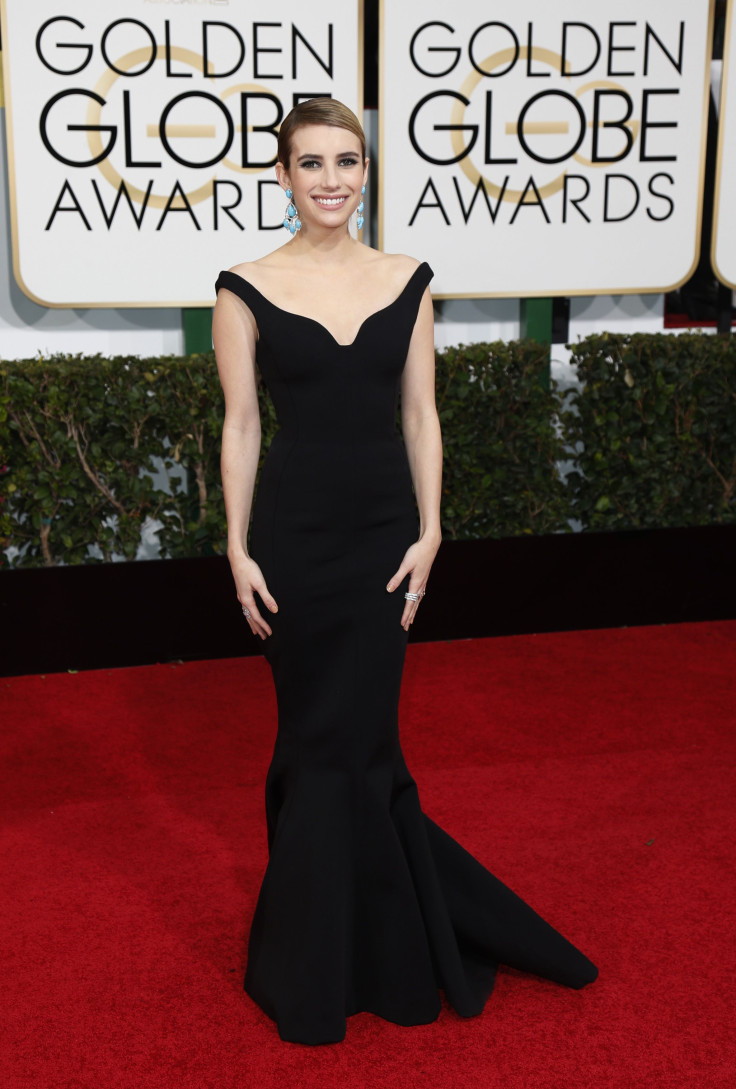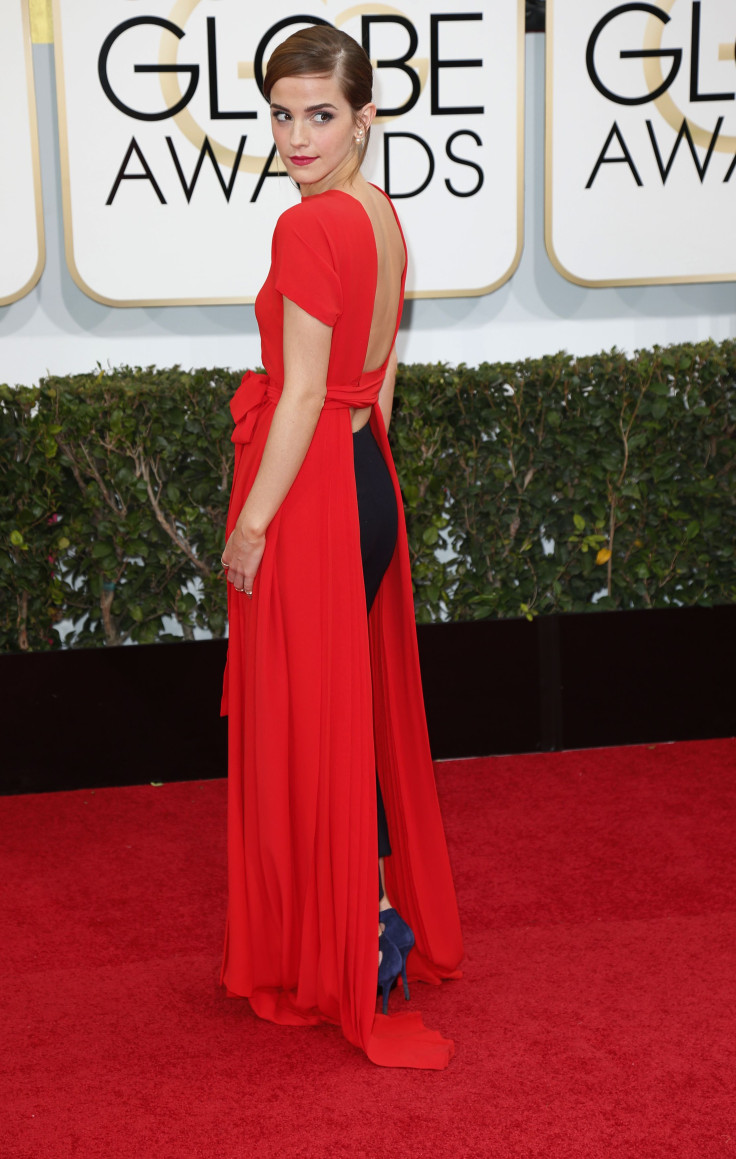 WORST DRESSED
But, as always, there were many sartorial disappointments during the red carpet arrivals. The biggest disaster of the night had to be red carpet veteran Julia Roberts, who wore a really unflattering black-and-white gown by Dolce & Gabbana. She is a pro at awards ceremonies, so for her to pick a strapless gown that appeared to have a white button down shirt attached (which made us think she was imitating designer Carolina Herrera's daily uniform or channeling Sharon Stone circa 1998 Oscars) is unacceptable. Not to mention, she's Julia Roberts. Designers were likely clamoring to dress the Best Supporting Actress nominee. There's no excuse to be in the biggest loser category of the night when you are Julia-****ing-Roberts!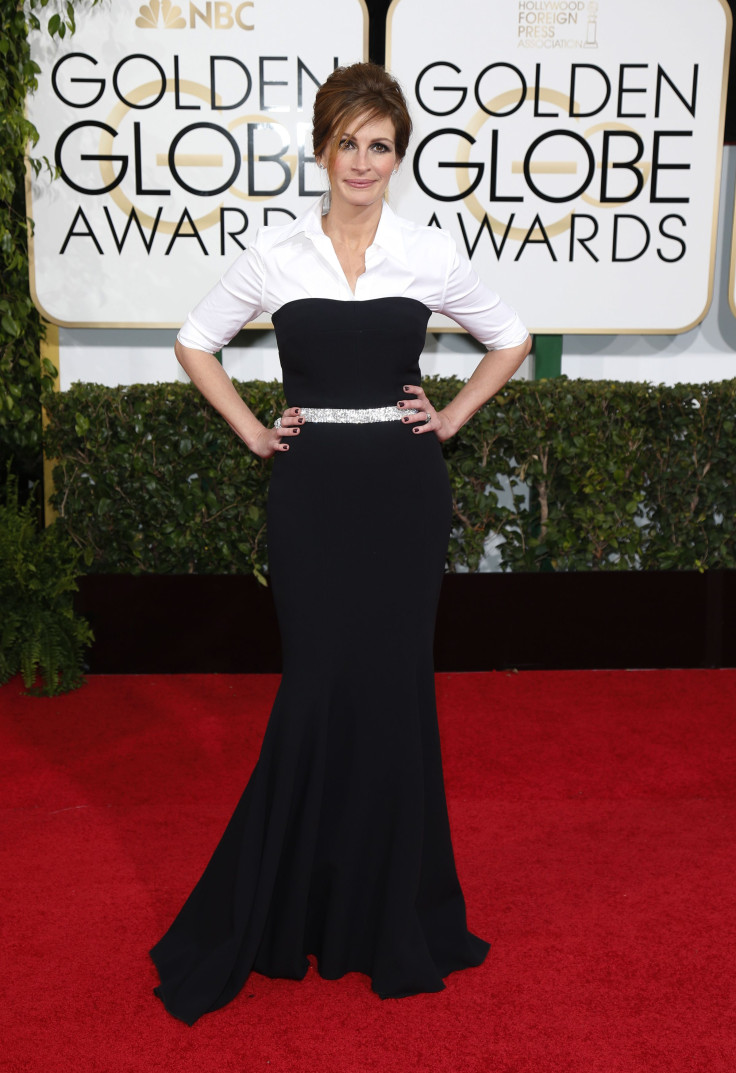 Another absolute worst of the night was Paula Patton in a giant white disaster by Stephane Rolland Couture. Robin Thicke's wife could barely move in the dreadful gown that had a giant ruffle on the left side. Maybe it doubled as a pillow to take a nap during the ceremony? Or were celebs just trying to find multifunctional gowns this year? Edie Falco's red gown by Lanvin came complete with a bowtie hanky.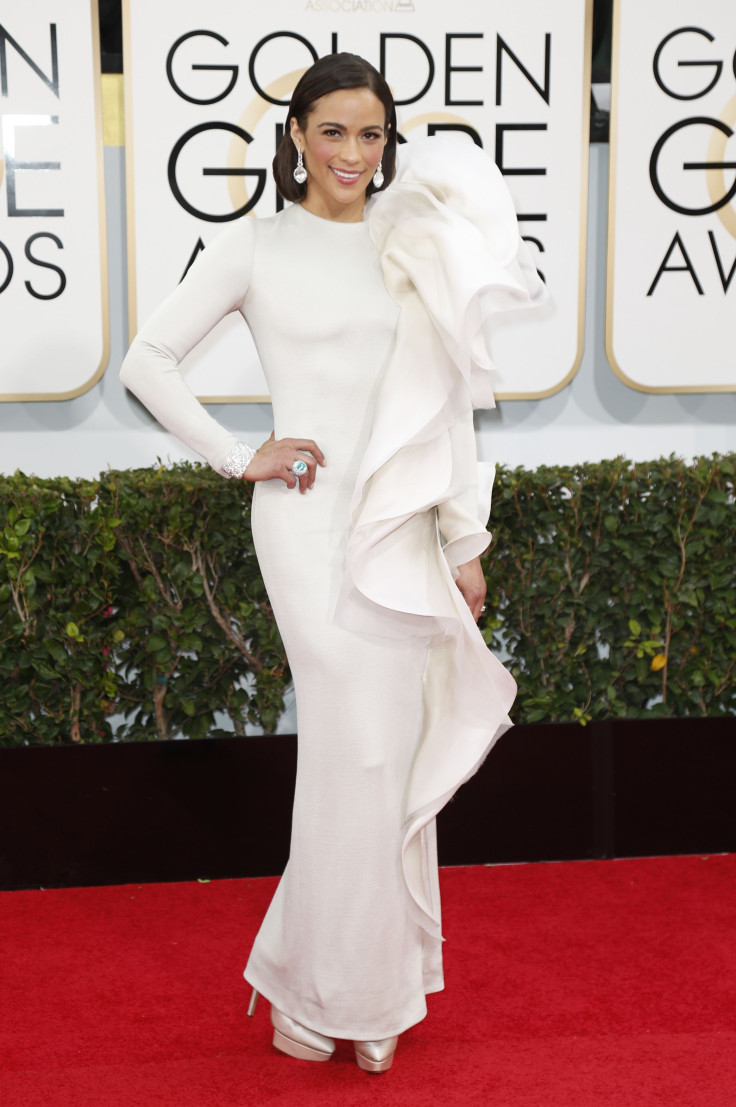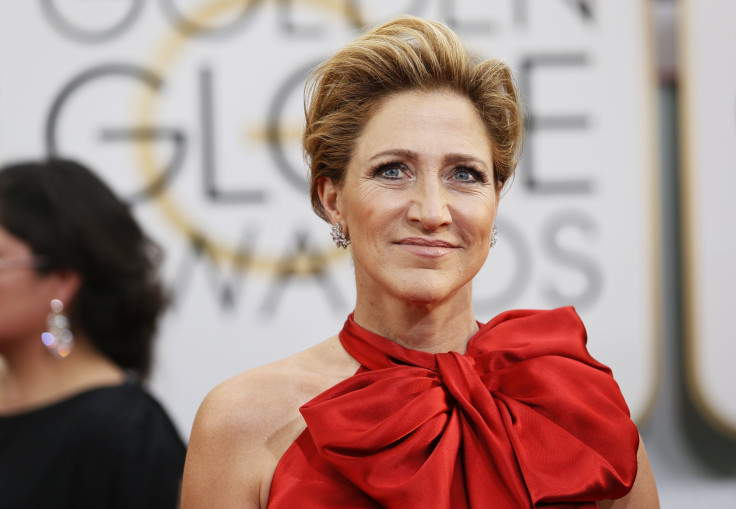 Even more of a confusing, cringe-worthy moment than her speech was 69-year-old Jacqueline Bisset's outfit choice that looked like she dug it out of a bin from the 1980s at a middle America Goodwill. We don't know who designed the failure of a dress and, frankly, we don't care, so we'll leave that detail unknown.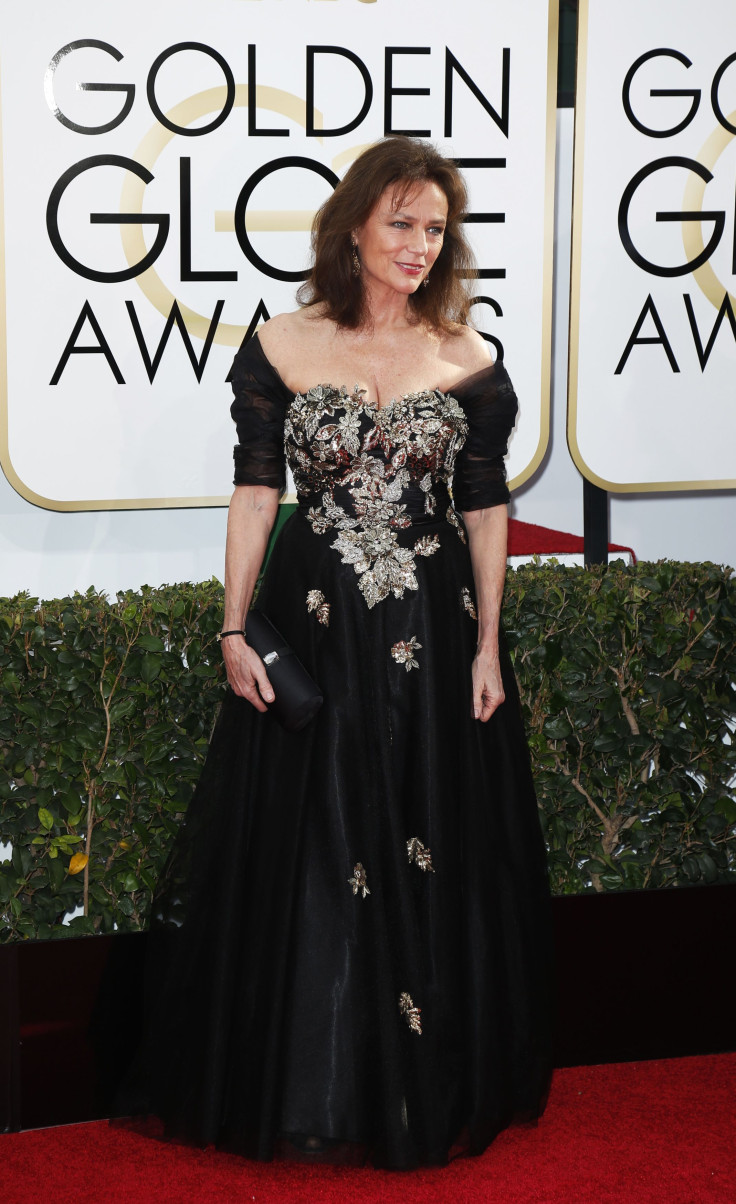 Fellow "sexy over sixty" actress Jessica Lange was also a major letdown. Normally, the 64-year-old "American Horror Story" actress is a supernova on the red carpet, but her crushed velvet monstrosity had us wishing we knew some witchcraft to conjure up a spell for a better outfit. Or to forget we saw it at all.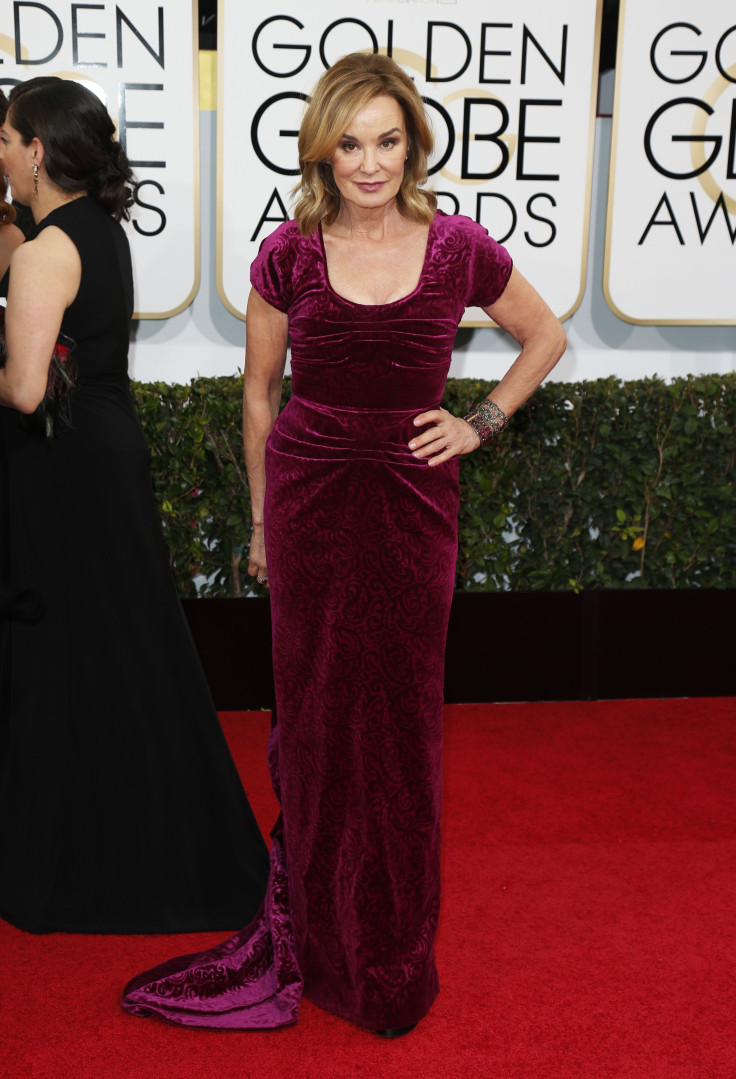 Add Sofia Vergara to the list who, despite her flawless hair, makeup and cleavage, said it herself about her Zac Posen gown: "I feel like I am carrying a tent." Props to her for finally finding a new silhouette, though, but this one didn't work. We'll take back her usual mermaid silhouette, which she thankfully changed into for the Fox Golden Globe after-party.
Then, there are the usual suspects that we're tired of seeing dress so poorly: Lena Dunham in yet another ill-fitted frock by her friend Zac Posen, this time in an eye-blinding neon yellow hue (Disclaimer: We'd give her the worst dressed award but it's obvious she is feeding off her negative accolades, at this point); Mayim Bialik, again, in her usual heinous long-sleeve whatever; and the ridiculously talented and gorgeous Gabourey Sidibe, still showing us she needs to find a stylist that can dress her full-figured body to enhance her curves. She's joining the ranks of Melissa McCarthy who outfitted herself in curtains with a silver scarf for the Globes, and a Snooki pouf.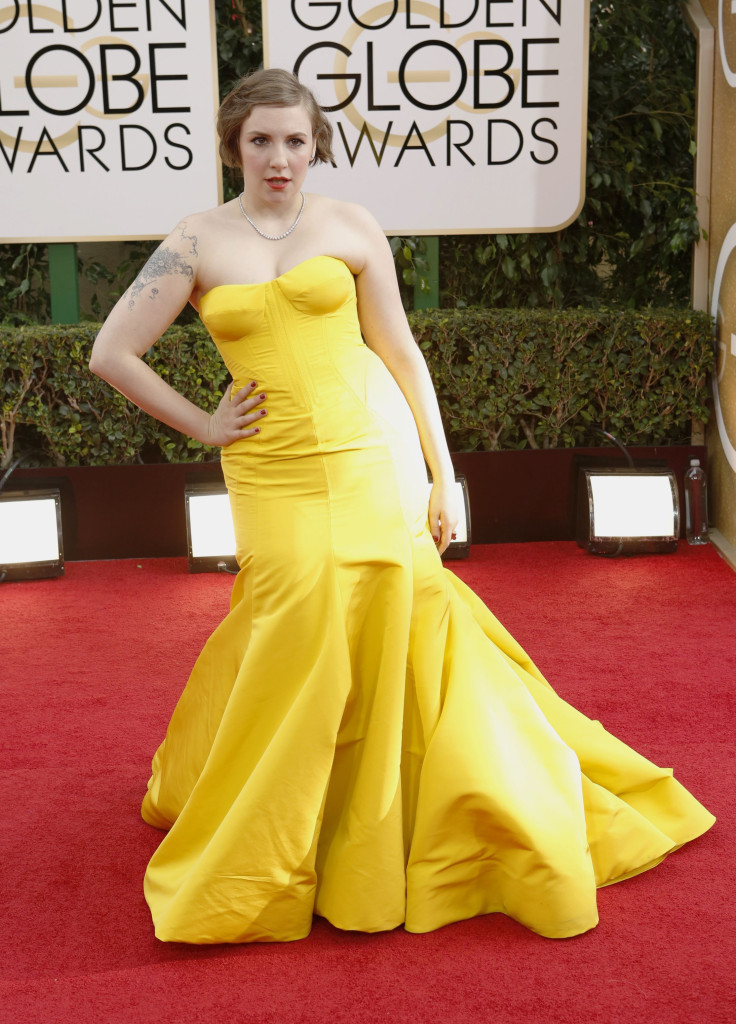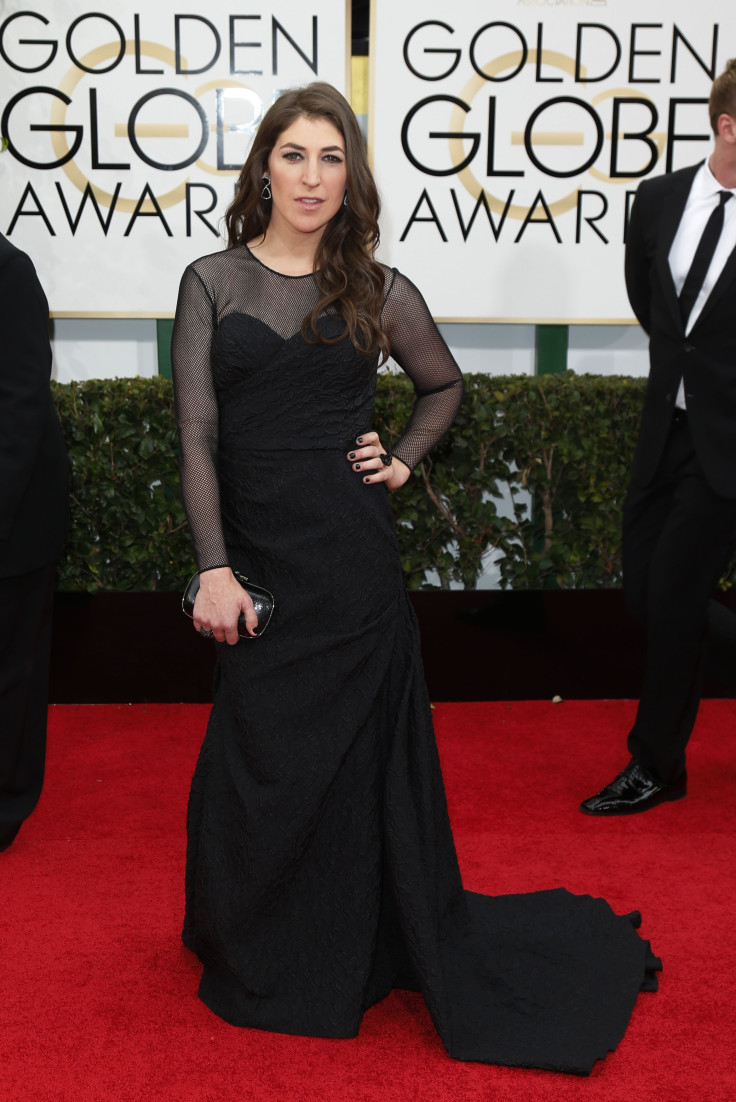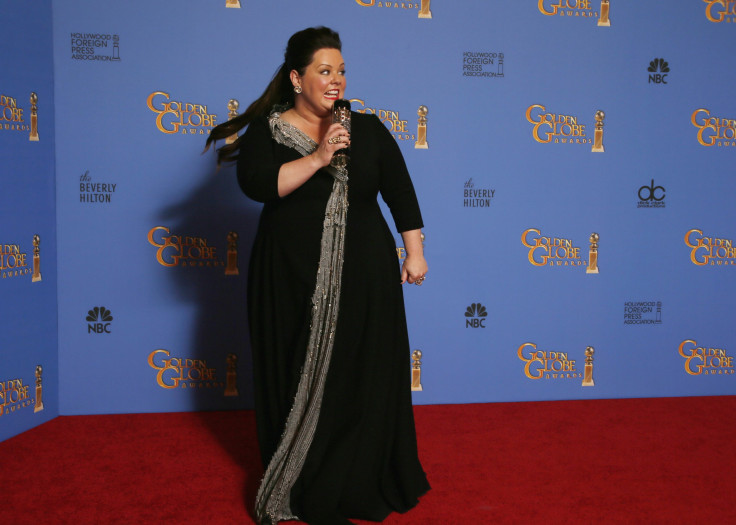 We also have no idea who "British socialite" Lady Victoria Hervey is, but her naked dress she wore to The Weinstein Company & Netflix after- party certainly turned some heads. But one thing we do know: She definitely doesn't wear underwear.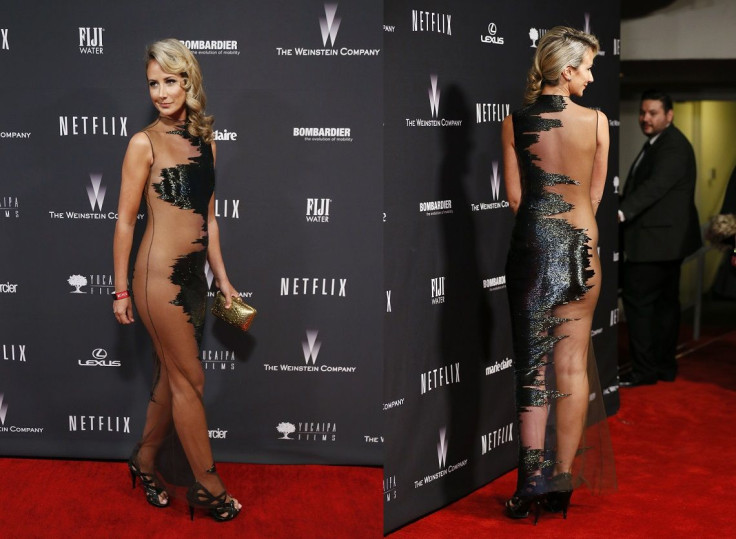 DISHONORABLE MENTIONS
The meh's: Taylor Schilling in a green lace frock by Thakoon (maybe she should stick to orange); Kaley Cuoco in Ronnie Zakem, only because we're not sure if we love the floral corset number or hate it; Hayden Panettiere in a black-and-white Tom Ford that didn't suit her cute figure; Julie Bowen in Carolina Herrera, which resembled a bad Halloween costume; Sandra Bullock in a silk Prabal Gurung tablecloth; Amy Adams, with greasy hair, in a piece from her "American Hustle" wardrobe, oops, we meant Valentino; Sarah Hyland and her milkmaid updo in Georges Hobieka Couture; Cate Blanchett in a really intricate Armani gown that was not only a bit too much for the Globes but a phrase we'll coin as "Grim Reaper Couture"; and Kate Gosselin. Oops, we meant Jennifer Lawrence, whose tri-layer marshmallow Dior gown spawned a new social media movement called "Lawrencing," or wrapping yourself in a white bedspread. As if she needed any more attention.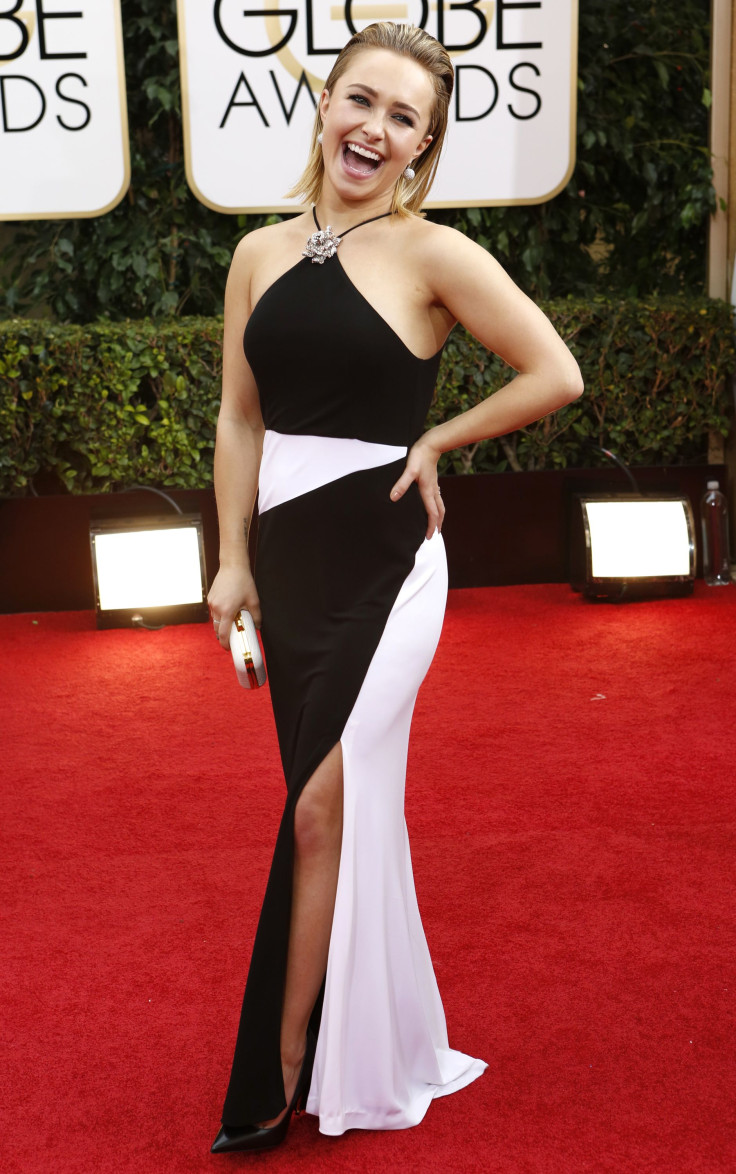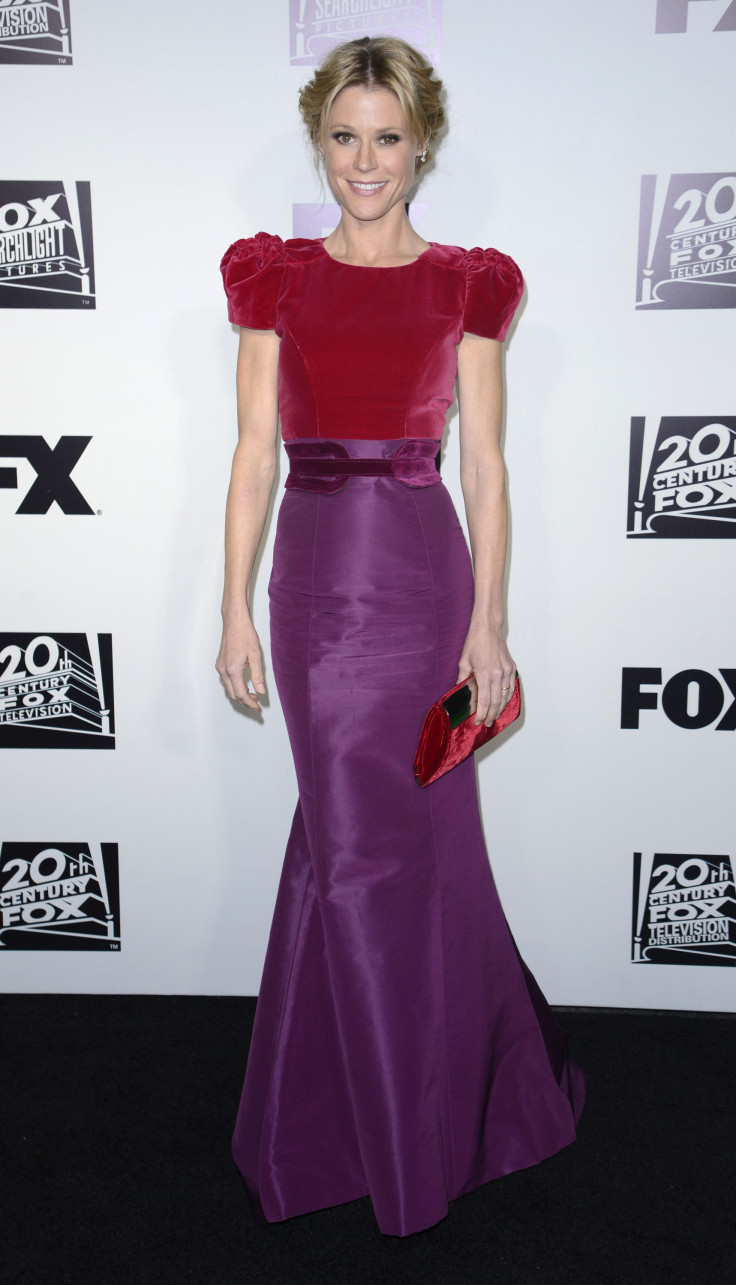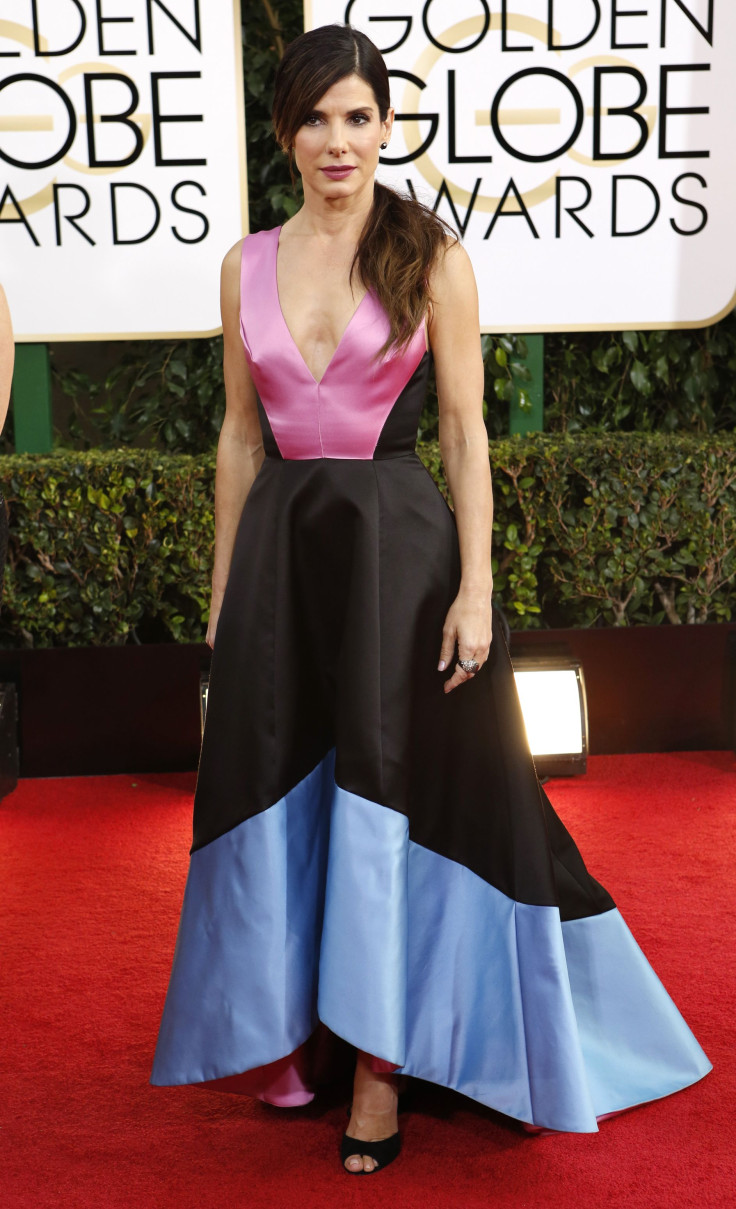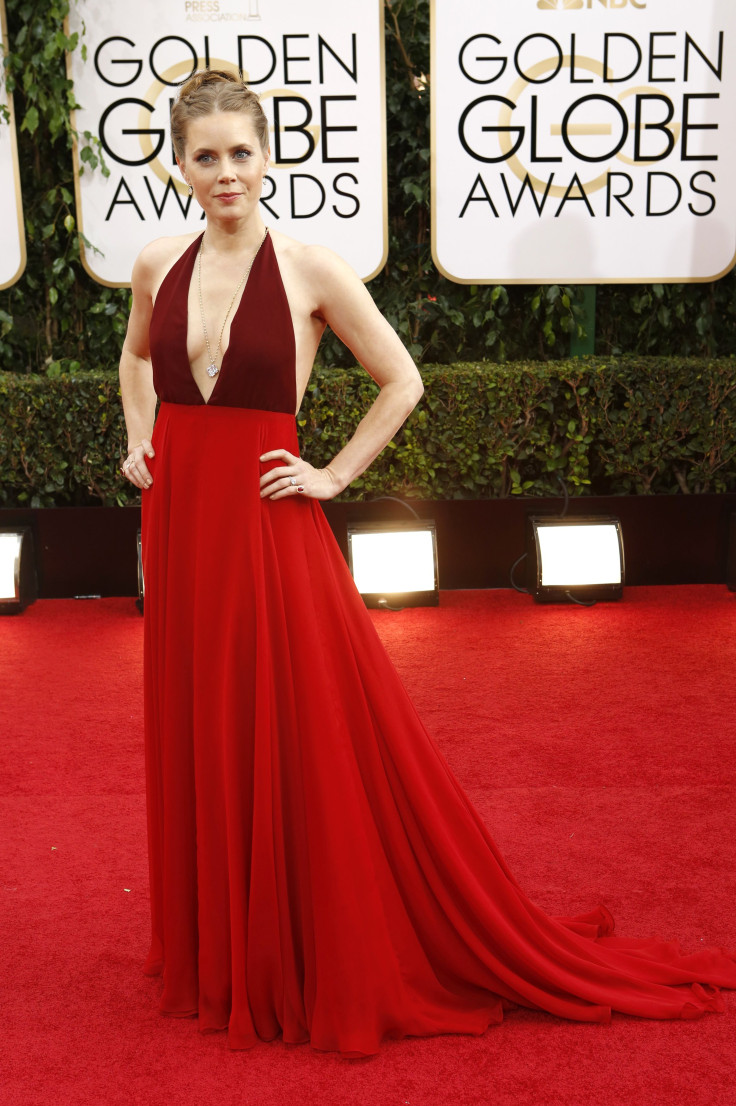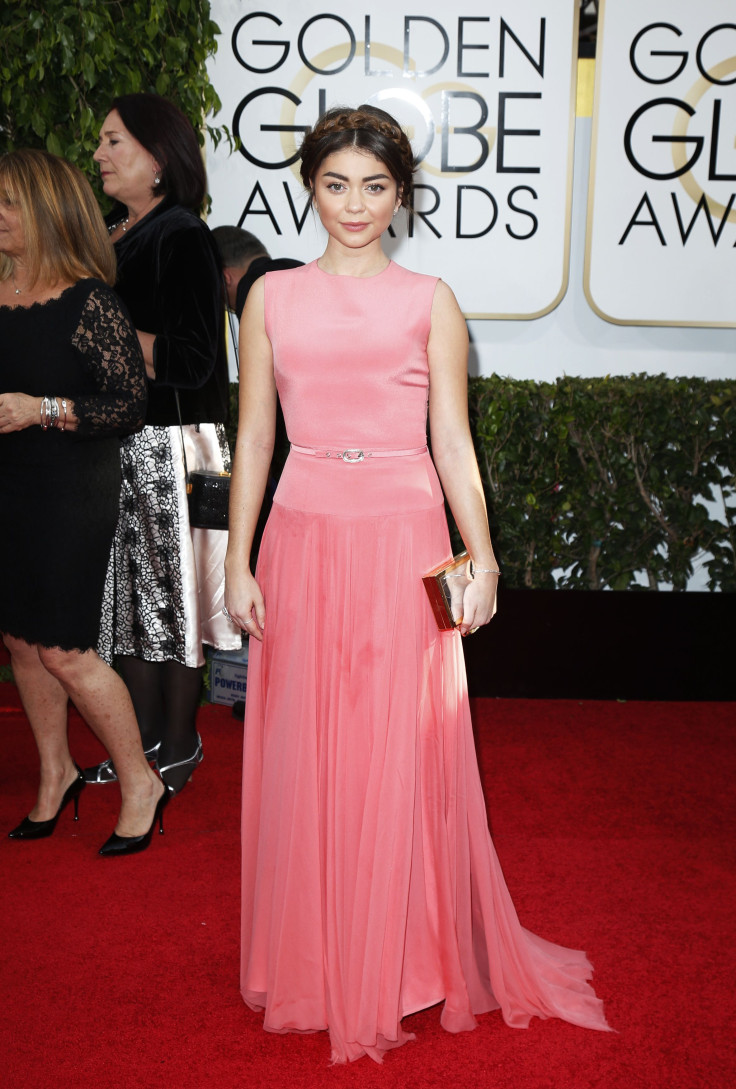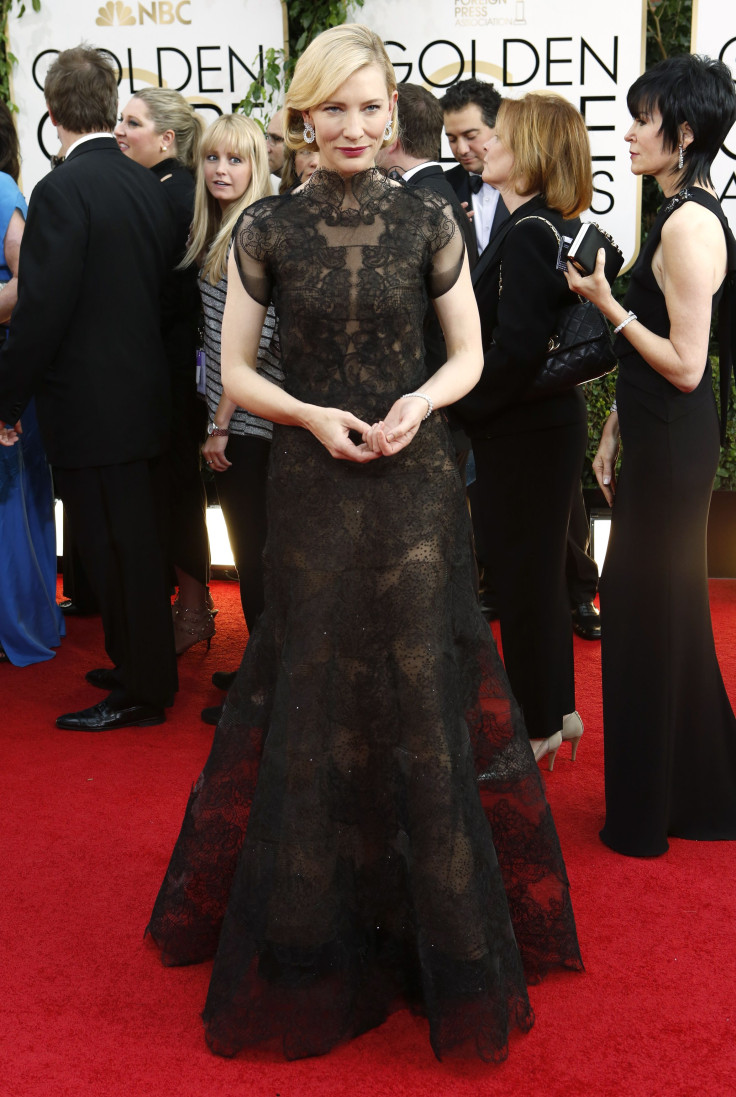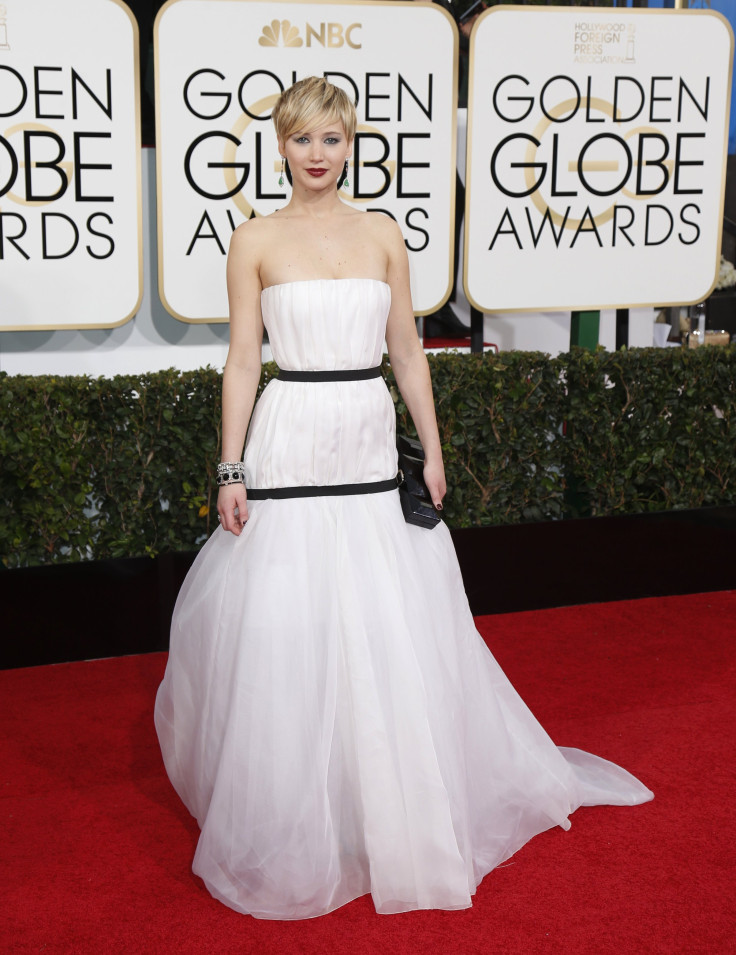 Those who could have used a little more attention from their stylists as victims of "too plain syndrome:" Julia Louis-Dreyfus in a red Narcisco Rodriguez and her just-got-back-from-the-gym ponytail, Reese Witherspoon in Calvin Klein though her hair was perfection, Ariel Winter in a bad bridesmaid dress by Mikael D. and Taissa Farmiga in a bland, short Elie Saab.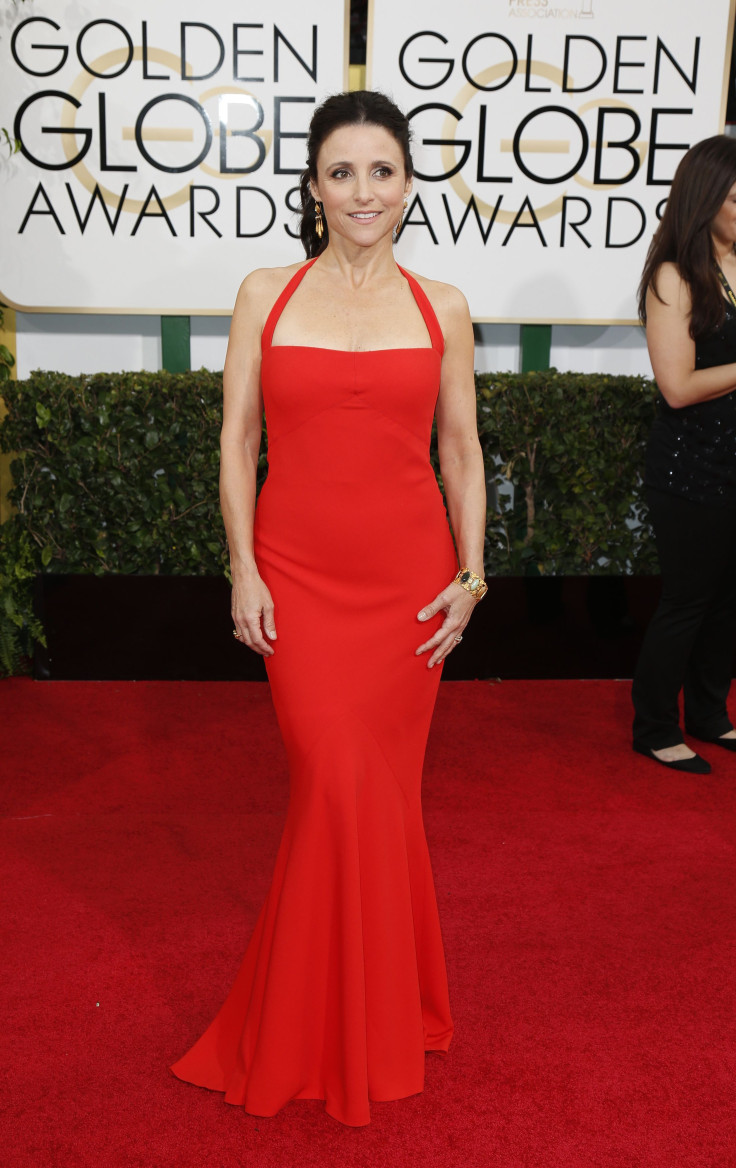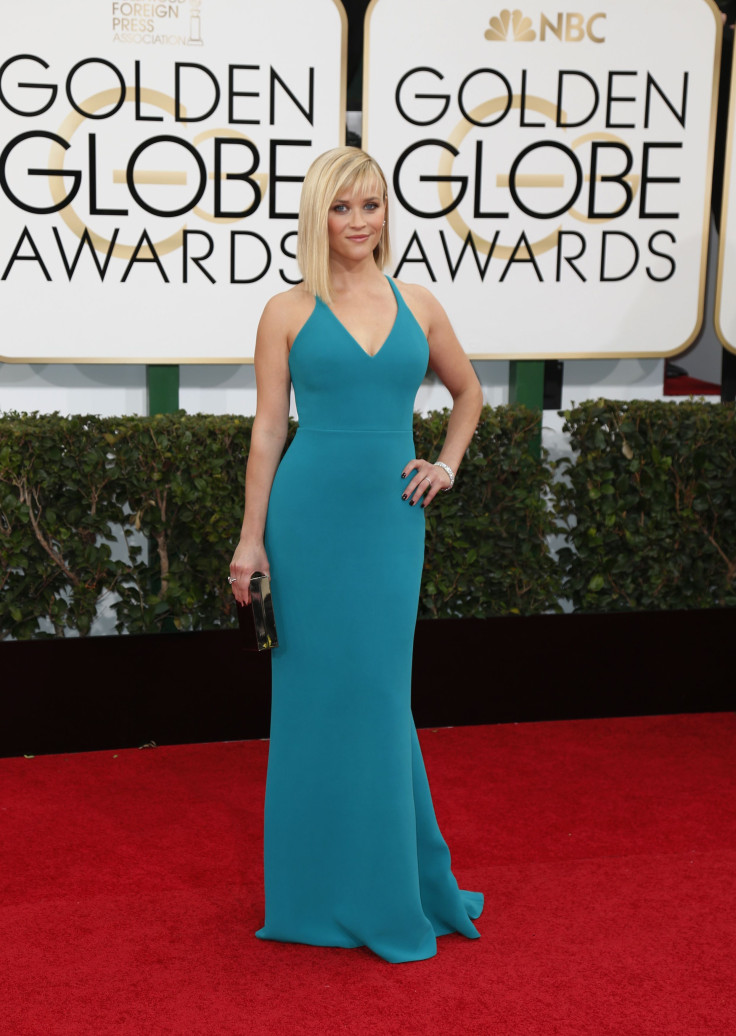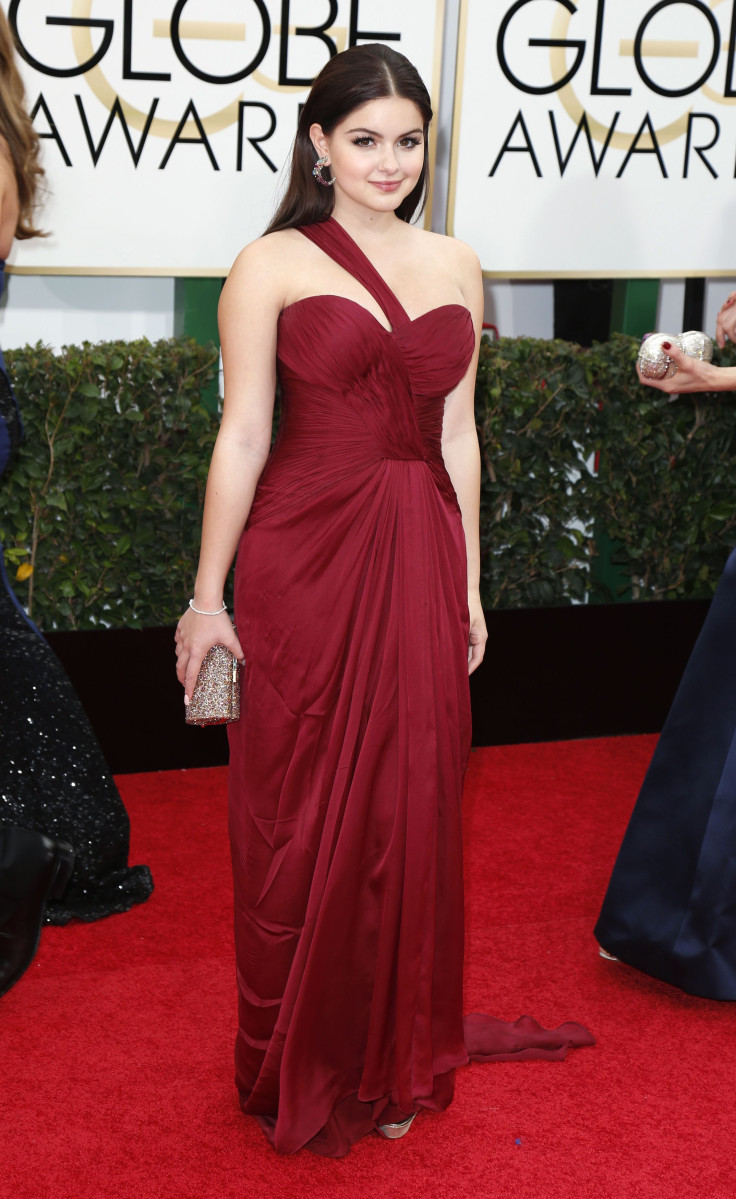 © Copyright IBTimes 2023. All rights reserved.