Golden Shower Gate Latest: Trump Dismisses Russian Controversy As 'Fake News,' Claims Political Opponents Behind Scandal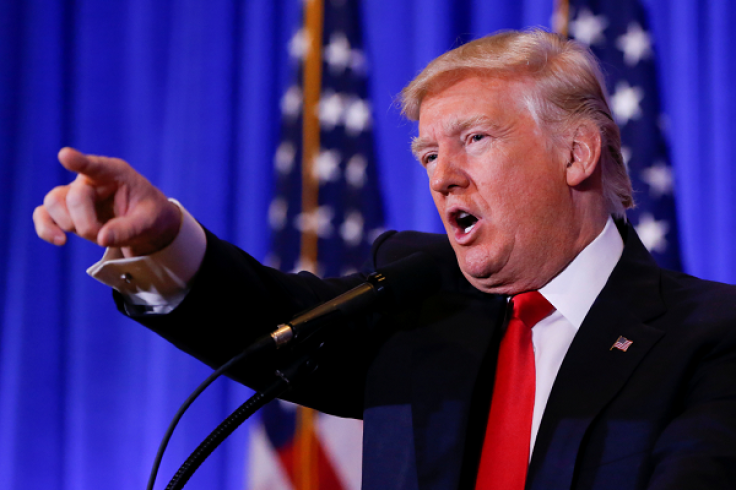 President-elect Donald Trump lashed out at his political opponents early Friday as being responsible for the allegations that Russia had compromising information about the real estate mogul. He once again dismissed the claims as "fake news."
"It now turns out that the phony allegations against me were put together by my political opponents and a failed spy afraid of being sued....," Trump tweeted Friday, the first of a series on the matter.
"Totally made up facts by sleazebag political operatives, both Democrats and Republicans - FAKE NEWS! Russia says nothing exists. Probably...," he continued. "released by 'Intelligence' even knowing there is no proof, and never will be. My people will have a full report on hacking within 90 days!"
The unverified report, first published Tuesday by BuzzFeed, made several allegations about Trump's business dealings in Russia and claims regarding the real estate mogul's "use of extensive sexual services there from prostitutes."
Trump also called former presidential candidate Hillary Clinton's aides out for "complaining" about the FBI's treatment of Clinton. The former secretary of state and her aides accused the FBI's scrutiny of Clinton's use of a private email server when she was the top U.S. diplomat of having affected the outcome of the 2016 election.
Clinton herself called FBI Director James Comey's handling of the matter "extremely careless."
"Based on the information they had she should never… have been allowed to run - guilty as hell. They were VERY nice to her. She lost because she campaigned in the wrong states - no enthusiasm!" Trump tweeted Friday.
The Department of Justice's Inspector General Michael E. Horowitz announced Thursday he would open an investigation into Comey's handling of the Clinton private server case, specifically his decision to disclose he had new information about the case and may reopen it just 11 days before Election Day.
Horowitz reportedly said he will not look into the FBI director's decision not to prosecute Clinton. Clinton and several of her supporters believe the so-called "October surprise" cost her the 2016 presidential race.
© Copyright IBTimes 2023. All rights reserved.
FOLLOW MORE IBT NEWS ON THE BELOW CHANNELS